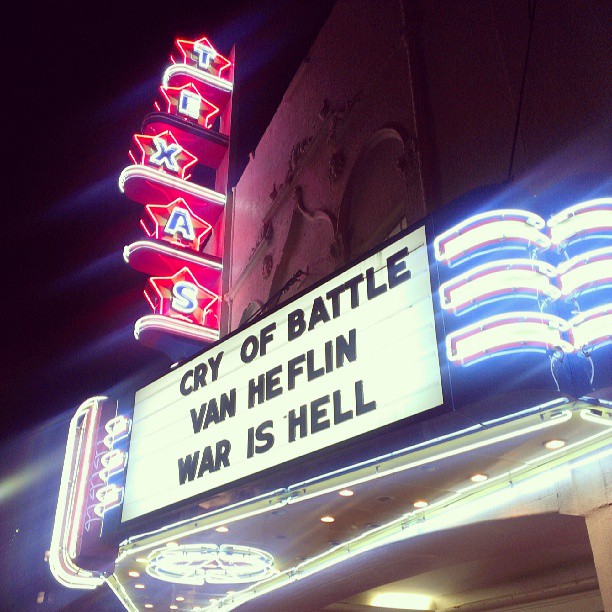 My friends over at the Texas Theatre in Dallas are running a Seed & Spark campaign to add digital projection to their theater.
And this blog post is to encourage you to consider donating to them.
Why the hell should I help the Texas Theatre get a digital projector, you ask?
Well for one, a digital projector, in conjunction with their current 35mm projector, will help the theater expand their business and continue to stay around for many years to come.
And, the reason why the Texas Theatre should be around for many years to come is because it's a historical landmark. Not only was the theater founded by Howard Hughes (and boasts the first movie theater AC unit in Texas), but it's also the location where Lee Harvey Oswald was apprehended after "assassinating" Kennedy.
How do you like them apples?
Hughes and Oswald.
Both Texans.
Both crazies.
This Oak Cliff gem takes a creative cue from funky film theaters like the Alamo Drafthouse. At this theater, libations run freely from their bar, Crispin Glover hosts beautiful and exhausting screenings of his masterpieces and David Lynch-themed parties are held. Folks can watch new or vintage releases all while wondering what the hell seat Oswald was arrested in.
The Seed & Spark campaign offers some pretty sweet perks, like your name appearing FOREVER in theater pre-shows ($100), the ability to create your own "No texting or talking" PSA ($250), premiering your own film ($500) or running a yearlong ad for your business ($750). For smaller amounts like $25 and $50, you get free tickets or a sweet Zapruder camera t-shirt.
If you set a little dough aside each month to donate to crowdsourcing campaigns, please consider donating to the Texas Theatre. It is a true Texas landmark with an awesome team behind it.
And if you live in Central Texas and haven't been to the Texas Theatre yet, do yourself a favor. Dallas has some pretty cool things going on.