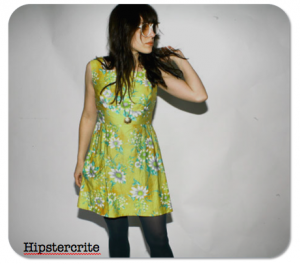 I have a NY driver's license, a LA mailing address, and an Austin physical address. I have no idea what the hell I'm doing. If you want to know what my blog is about, I have no idea either.
Here, this guy said it best, "Hipstercrite bridges the gap between blogging about yourself and blogging about pop culture. For all you English Studies people out there, I'll translate that: "She transgresses the socio-political boundaries between the Cultural and the Personal".
That sounds pretty good to me…and no, I didn't write that in the third person.
Hipstercrite, a.k.a. Lauren Modery, was  born in Central New York during the Reagan administration. She enjoyed wearing suits and fantasized about being middle-aged Jewish men as a child, most notably four out of the five Marx Brothers, Rod Serling, and Woody Allen. Her childhood obsession with film led her to LA at the age of 20, but like many naive cinephiles who move to Hollywood, she quickly learned (quickly being five years of denial and drinking) that the film business was not for her. Having lost all her creativity and tired of living the plotline to Swimming with Sharks, she jumped in her car one day in 2008  and drove to Austin, Texas where she knew no one, had no job lined up and only $500 to her name.
It was the best decision she ever made.
Hipstercrite recently co-wrote the SXSW 2013 accepted feature film Loves Her Gun starring Trieste Kelly Dunn and Francisco Barreiro and directed by Geoff Marslett. She writes a column on Culture Map Austin and is a contributor on ScoutMob.  Her work can also be found on The Guardian and xoJane, to name a few.
Follow Hipstercrite on Twitter.
Follow Hipstercrite on Facebook.