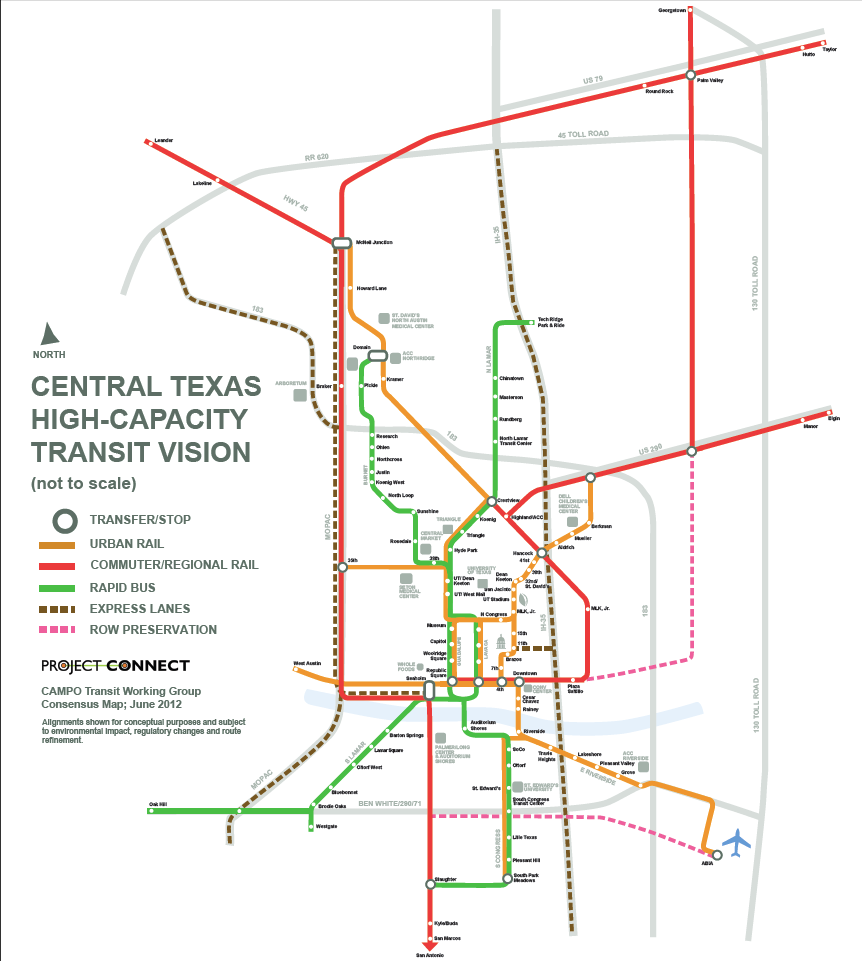 If you're like me, deciding whether or not to vote for Austin's light rail and road bond, Prop 1, has been challenging.
There are countless op-eds, endorsements and disapprovals from Austin publications and citizens to sift through, and just when you think you've made up your mind, you read an article that changes it.
I've been asking my friends what their thoughts are on Prop 1, and they've sent me a slew of helpful articles. My Facebook friends are split 50/50, while my Twitters friends are predominantly against it. I'm still formulating my own decision, though I'm leaning towards no. I do think it is a weak and expensive plan for the city overall, but what I take most issue with is the continuation of segregation in Austin with continued development of north-south routes. I live in a neighborhood where it's difficult, in good conscience, to vote for a bond that will raise property taxes $200+ for individuals who can barely afford them now. The new route will not benefit them (though mass transit is strongly needed in East Austin) and one account says it could be a decade before routes to the eastside materialize. However, I'm still on the fence and open to answers and arguments that quell my concerns. I want what is best for the city and I'm a big supporter/user of rail (Amtrak forever!), but I fear Prop 1 could be another example of Austin not helping minorities.
If you're in the same situation as me, I've created a primer of who is for and against Prop 1 and why. I hope you find this helpful, and I encourage you to share your opinions on Prop 1 in the comment section!
And remember, early voting started yesterday! Exercise your right to vote!
Who is for Prop 1:
(I selected a handful of organization; Let's Go Austin has an extensive list on their website)
Austin Chronicle
Austin Statesman
ATX Safer Streets
Burnt Orange Report
SXSW
Downtown Austin Alliance
Bike Austin
Greater Austin Black Chamber of Commerce
Greater Austin Hispanic Chamber of Commerce
Austin Music People
Austin Environmental Democrats
Mayor Lee Leffingwell
Mayoral candidate Mike Martinez
Mayoral candidate Sheryl Cole
Senator Kirk Watson
U.S. Rep Lloyd Doggett
Progress Texas
Who is against Prop 1:
40 of the 49 current City Councils candidates (updated graph via Amy Hartman)
Austinites for Urban Rail Action (AURA)
The Daily Texan
Travis County Taxpayers Union
Citizens Against Rail Taxes (CART)
Coalition on Sustainable Transportation (COST)
Our Rail
(I truthfully had a much harder time finding businesses, publications and notable people that are against Prop 1; however, many individual people I talk to are against it. Terrifyingly, several conservative groups are also against the light rail expansion.)
Reasons why people are for Prop 1:
–It will help alleviate traffic.
-Austin is growing and needs more transportation options.
–It's a good first start.
–If we don't vote for Prop 1, when will we be able to vote on light rail again? (Last time was 2000.)
–We are be offered free money from the government that we should take to get this made.
-The bond also gives $400 million to road improvements.
–Respected Austin organizations and businesses support it.
Reasons why people are against Prop 1:
–It's too costly.
–It won't alleviate traffic.
–It's worse than nothing.
-It's a bad plan.
–It will raise Austinite's property taxes hundreds of dollars.
–Not many people will take the light rail.
-It could be many years for additional routes to be built (if at all).
Articles in favor of Prop 1:
-Austin Chronicle: "Most of us believe that the next important step to Austin's multimodal transportation future is to get started now on a rail system that will slowly but steadily encompass the whole city and link to inter-regional lines (including the growing Red Line)."
-The Burnt Orange Report: "But we think Prop 1 merits support as a good first step — ideally one of many that results in a robust, multi-modal system that gets Austinites out of their cars or at least provides a meaningful alternative."
-Statesman: "Investing in transportation infrastructure, in exactly the way Proposition 1 does, may be the single best thing we could do for Austin's low- and moderate-income households."
-Austin Tech Leaders: "Technology has been a major factor in why we all love Austin – from Dell's explosive growth and SXSW Interactive to publicly traded companies like HomeAway and startup hubs like Capital Factory. With your support of Proposition 1 in this upcoming election, our industry's growth will continue to play a positive role in shaping our wonderful city's future and maintaining our vibrant economy."
-The Daily Texan: "As a result, every single dollar Austin voters approve for the construction of this route will be matched one-for-one by the federal government. That's as much as $700 million that would go to another city or even another state if we fail to approve Prop. 1."
Articles against or questioning Prop 1: 
-The Daily Texan: "While Project Connect, the plan's creator, constantly touts the 'data-driven' plan, we question the metrics used in this designation. Project Connect used projected, as opposed to current, density data to drive its route proposal."
-Austinites for Urban Rail Action (AURA): "Rail helps a transit system when it achieves high ridership, and it hurts the system when it doesn't. This low-ridership route would drain sorely needed operating funds from buses, decreasing the system's overall people-moving capacity."
-Austin Statesman: "Here are a couple of final question to think about: Of the 49 City Council District candidates who have stated their position on the City of Austin's Proposition 1, why have 44 of them (that's 90 percent) said they will vote no on this urban rail plan? What do they know that causes them to oppose what the current City Council supports?"
-KUT: "Jeff Wood is with Overhead Wire, a San Francisco-based consulting firm. He says these sorts of projects, despite being billed as traffic-busters, actually create congestion."
-KUT: "Any expansion of that first light rail line with a second, third, or fourth light rail line would likely need to be funded with additional debt, meaning more property tax increases…By that point, an average value home in Austin could have over $1,000 in additional property taxes annually."