I received a message on Instagram to check out an upcoming bar in East Austin. Since I live in East Austin, I was curious and went to the bar's Instagram account.
And I saw this: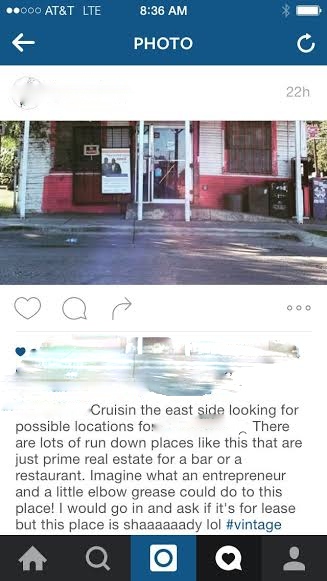 There are so many things wrong with this photo:
-Why does this person think that what he perceives as "run down places" in East Austin are just screaming for a new bar or restaurant? Last I checked, East Austin has an assload of them.
-Why does this person think that the owner of this well-liked and well-utilized neighborhood grocery store is not an entrepreneur? (This is the neighborhood grocery store at Comal & 3rd.) Definition of entrepreneur: A person who organizes and operates a business or businesses, taking on greater than normal financial risks in order to do so.
-Why does this person think that East Austin "needs" entrepreneurs who could put a little elbow grease into all these "run down places"? East Austin needs saving by people with money, I guess. Forget all the folks who have (more…)