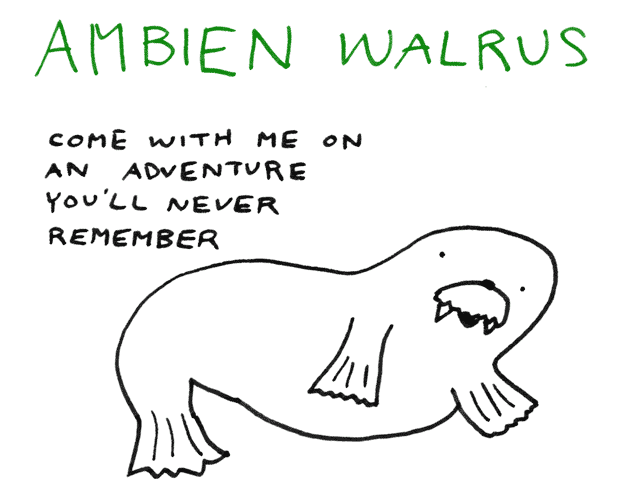 So, last Saturday I tried Ambien for the first time, or as what I like to call the "HOLY SHIT! AM I DYING?!?!" pill.
The Ambien was not prescribed to me, but rather to my boyfriend who is in the process of convalescing from arm surgery (hey, don't judge- you probably would have taken it too if it was in front of you and you had no clue that it is the tears of the Devil). Last weekend he was out of town and due to my anxiety of living in a neighborhood where you often call 911 because someone dressed like a ninja is sitting on your front lawn at 4:30AM, I thought it would be helpful if I took the sleeping aid to prevent any "Is there a ninja currently on my front lawn?!" panic attacks.
I had never taken Ambien before, but some friends are frequent users and I figured, "Hey! What's the worst that can happen?"
If seeing double-headed clown monsters is the worst than can happen, then I experienced the worst.
Imagine my surprise when I discovered that Ambien is not a blissful little pill that rocks you off to sleep, but rather EVIL-NESS that causes you to hallucinate, see double, want to throw up, have difficulty understanding formulaic Hollywood movies and hear angelic voices of a prepubescent boys' choir.
Walking to the bathroom felt like walking through The House of Mirrors and I neither recall peeing nor later talking to my boyfriend about how I ate his Ambien.
Though I was out like a light for six hours, I woke up early and felt like the inside of Lindsay Lohan's nose for the rest of the day.
I posted about my experiences on Facebook and I received a slew of similar stories. I've since been told of Ambien escapades where the user slept-walked, cut their hair, drove, and died. In fact, deaths caused by Ambien is on the rise, and not just in abusers (please excuse The View-esque soapbox tirade right now).
Question: why the hell does this pill exist?
Did I have a bad reaction? I know that the pill was not prescribed to me, but it very easily could be. I have sleeping issues and Ambien is taken by millions of people of all ages who have difficulty sleeping. Why are we giving pills to people that cause hallucinations and dangerous behavior?
Anyhoo, I'm never taking Ambien again. Next time I'll go see if the front lawn ninja wants any.