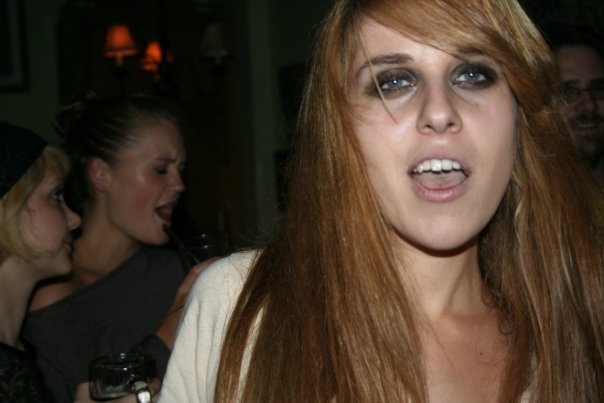 (girl, lemme get you some eye makeup remover)
Dear Lauren,
Whoa, girl, whoa.
Hold onto your still firm butt (bitch!)- it's about to get all kinds of shitty in here.
You're excited right now. Excited to begin your adult life in Hollywood, the place you dreamed of going to as a child, but boy oh boy, are you going to feel like the essence of canine fecal matter on the bottom of someone's shoe very soon.
Your twenties are going to feel like those old wooden roller coaster rides that make you both mentally and psychically ill.
Am I going to throw up? Did someone just throw up on me? Did I just break a rib from being tossed into the side of this rickety coaster car? Will my fate play out like Fabio with a bird smashing into my face? Am I about to be catapulted hundreds of feet into the air and impaled on the little kids' swirly cup ride? 
Life is full of so many questions right now.
You're going to spend the first half of your twenties drinking alone in your tiny-ass apartment, taking photos of your drunk ass with a point-and-shoot because you're a.) narcissistic and b.) think they might come in handy for a Lena Dunham-type narcissistic art project pertaining to the narcissism of twenty-somethings (you have no idea who Lena Dunham is because she's still in high school). You also don't know who M83 is, but you're going to be listening to a lot of them while laying on the floor crying and writing unintelligible Bukowski-inspired poems about how lonely you are.
You're sad because you're away from your family and friends, you haven't met a support group in LA yet (you will realize that you indeed had one right before you decided to leave 5 years later) and you have an incredibly stressful job as a personal assistant. You want nothing more than for someone to hold you and tell you that everything is going to be OK, but you will not find that. You will, and I still can't figure out why, go after men who do not want to tell you that everything is going to be OK because they are as lost as you were.
If life was like a low-budget sci-fi rom-com with a weak story, then I should be telling you not to make some of the stupid decisions you're about to make, most of them involving men, but in truth, I'm glad you made them. These dumbass decisions made us who we are. All those dudes- the wannabe actor who looked like Wes Bentley on a bad day and only called you after 2am, the wannabe musician who lived on a Scabies-filled mattress in a cabin in the woods and the wannabe comedian who didn't want to put you before his work and now has a cable TV show (now that I'm older I can simultaneously respect and resent that decision)- all that heartbreak and wondering what was wrong with YOU (I'll tell you now- there is nothing wrong with YOU except for the fact that you go after douchebags or men who were not ready or willing to date you or anyone else) is 100% worth it because it brought us to where we are today.
After your move to Austin at the age of twenty-five to reassess your life, everything starts falling into place the way you've always dreamed of. It doesn't happen right away, but by the home stretch of yours twenties you meet a nerdy cowboy filmmaker (the kind you used to write about!), become a freelance writer and co-write and co-produce a film. Can you believe it?! Somehow you got your shit together, girl. I'll give us a candy bar today as a symbol of this achievement (remember when I berated you earlier in this letter for having a firmer ass? This is what you get!)
We'll be turning thirty in one month.
One month!
Remember how you couldn't imagine life after thirty? It seemed so far away, so unattainable. You thought you were left wandering the barren wasteland known as your twenties forever. But now they're almost over.
Want to know what almost turning thirty feels like? It's scary and thrilling all at once. Scary in that you're most definitely no longer a kid, but thrilling in that this is when life really starts happening- for good or for bad. You do not miss the confusion, bad decision-making and stress pimples of your twenties. Don't let me fool you, life is not about to get easier- we will just know how to handle it better (though about once a year you still enjoy a drunken narcissistic photo-taking-filled evening soundtracked by M83).
Love,
Lauren