Watching the Occupy Wall Street movement unfold has been both fascinating and educational. It has created stimulating conversation and really challenged young Americans to think about how we feel about our Government, our economy, our financial institutions and how we make and manage our money.
There are two pieces of writing that have come out of  Occupy Wall Street that have really made me stop for a moment. They both were reportedly written by young people (one is confirmed) and they are preaching exact opposite views. One middle-class student proudly claims they are not part of the 99%, the other is a famous musician having difficulty making ends meet. Both are thought-provoking opinions but I feel miss the point of Occupy Wall Street entirely.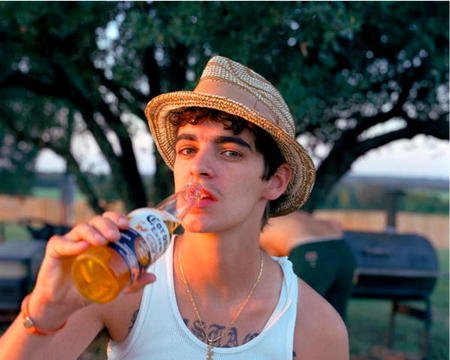 The first piece was written by musician JD Samson for Huffington Post and is titled "I Love My Job, But it Made Me Poorer." Samson explains how she came from a middle class background and was fortunate enough to achieve the American Dream by moving to New York City and becoming a famous musician. She then adds that in order to stay on pace with her other famous and successful friends she lived beyond her means. At this point she is currently feeling the crunch of being a working artist in New York City; she laments of the cockroach infested Brooklyn apartments she's had to live in. Throw in the fact that she is a lesbian with a mustache and things have not been easy for her.
I agree with what most of Samson says and I commend her for her bravery in not only challenging gender norms, but for being so frank in regards to her current financial standing. I'm sure her journey has not always been easy. However, there is one underlying statement that she continually brings  up that is ample bait for critics of Occupy Wall Street (like the one below) to run with- she lived beyond on her means. "I forgot to save money and think about my future," Samson writes.
So how are we supposed to take her judgement on Wall Street and the 1% seriously when it is she who put herself in her current economic state?
_____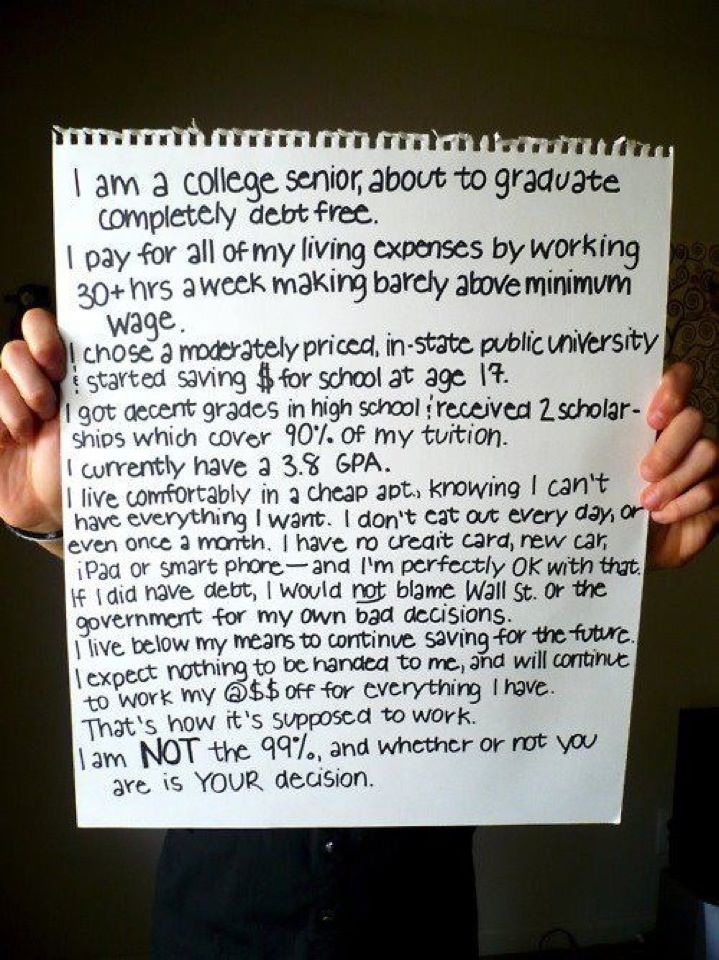 The second piece is written by a young man or woman (who conveniently won't show their face) proclaiming how they are not part of the 99% because they work hard and live within their means. As if almost a direct response to Samson's article above, the doctrine states that he/she also came from middle class roots, selected an in-state university, had university 90% paid for by having "decent grades" in high school, is frugal with their money and because of this they are and will be debt-free. They also add that they did think about their future and if they hadn't they wouldn't have blamed Wall Street or the 1%. "I am NOT the 99% and whether or not you are is YOUR decision," the paper ends with.
Though I respect that this "young person" worked hard in school and made smart financial decisions, it's a little idealistic to think that getting "decent grades" in high school will automatically grant you scholarships that pay for 90% of college. Or that if a student starts saving for college at the age of 17 that would be enough to support you through school. This person is lucky that they have no debt. What if they wanted to go to medical school or law school? With a current unemployment rate of 9.1%, what if this person graduates and has difficulty finding a job like so many millions of others? Would they be singing the same tune?
____
Neither one of these declarations  addresses the real matter at hand: financial institutions and corporations mismanaged their and our money and were bailed out with our tax money for their mistakes. CEOs of these institutions received and continue to receive exorbitant salaries and bonuses though they're the ones that helped get us in our current economic state. Tax loopholes exist that these same corporations and institutions can benefit from.
Whether or not you went to a public university or bought too many designer hipster jeans in Brooklyn has nothing to do with this simple fact. In the mixed messages coming out of Occupy Wall Street, it is becoming a war of the haves and have nots. Do we, the youth, really know what we're asking for? Is it no longer about Wall Street reform and accountability?