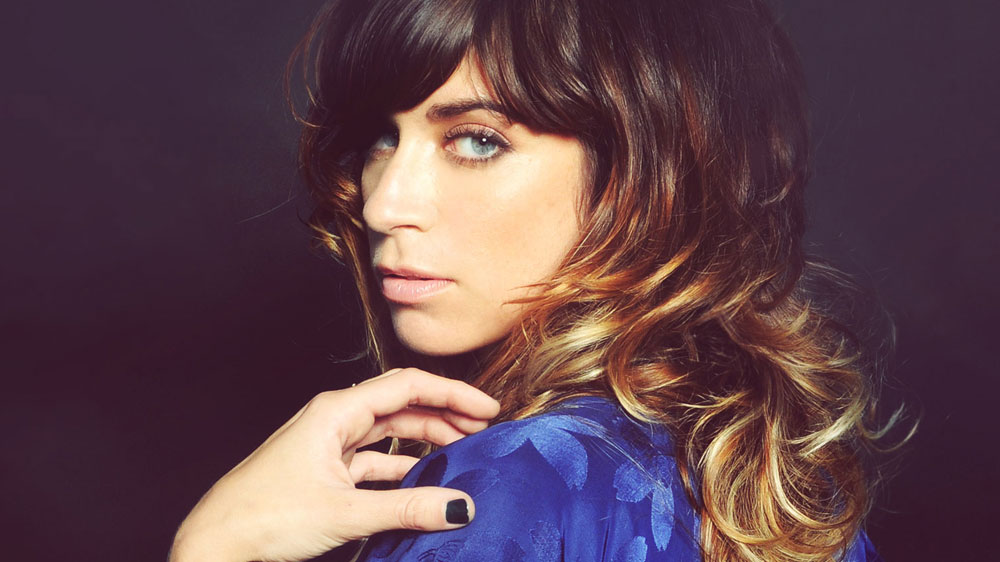 pic via Bowery Boogie
For some magical reason, one of my favorite musicians, Nicole Atkins, did an interview with me for my blog.
As some of you may know, I've gushed about her before with a blog post titled "Lady Crush of the Day: Nicole Atkins."
I guess that post didn't scare her away (or she hasn't seen it yet), and she was kind enough to talk with me about her brand new spankin' album, Slow Phaser.
Slow Phaser is fucking awesome.
And I as I told Nicole is our email exchange, I'm not one to use superlatives. It truly is a work of art that just keeps knocking your socks off, song after song. How can album inspired by Peter Gabriel, Ennio Morricone, Morphine and King Crimson not be? Slow Phaser is a delicious stew of musical genres from the past four decades; it's guaranteed to blow your mind.
You can get a sneak peek of the full album over at Paste right now. Listen from the beginning to end; every song is magical, but if I had to pick three or four (which is difficult): "Who Killed the Moonlight,"  "Cool People," "We Wait Too Long" and "Sin Song;" the latter includes the lyrics, sung gospel-style, "My God is a holy shit; my God is a son of a bitch." Yes.
I have the inkling that this album will be showing up on many of best of lists this year.
Here is our interview below. Thank you so much, Nicole!
1.) HOLY. SHIT. Holy shit. Slow Phaser is so good. My first question is not a question, but just a kudos. Great job.
THANK YOU!!!!!! HOORAY!
2.) Every song is like biting into Trident Layers gum; first you get the sweet taste of one flavor, and then you're smacked in the face by the delicious flavor of something else. THE FLAVORS NEVER STOP HITTING YOUR SENSES! The album is a potpourri of sounds and musical genres. Sometimes I felt like a little kid listening to my mom's old 70s LPs, while other times I felt like I was standing outside a gospel church on the bayou. Are there any albums or artists that inspired this album?
There were many that inspired this record for sure, but the ones that come to mind the most are: Peter Gabriel's "Car"- I heard it again right before I went to Sweden to record [Slow Phaser] and it inspired me something fearless and epic-sounding; Ennio Morricone's "Se Telefonando" by Mina- this song is one big, triumphant modulating chorus. Just all chorus. It was very key in the way that I wanted to write "Who Killed the Moonlight"; Morphine's "Cure for Pain"- this album inhabits that dark and dirty dreamworld that makes you feel like you could float heaven forever or maybe die. Thats how I felt at the time; King Crimson's "In the Court of the Crimson King"- I had this record forever, but last year was the year I really got into it, and I tried to bring that into songs like "What Do You Know."
3.) You refer to this album as a "dark, desert disco" album, which I think sums it up perfectly. Can you explain what that means to you?
I wanted this album to make listeners feel as if they were in the movie El Topo at night, without the guns and shit- or that awful, naked screaming woman. And there was a dance party there. And there were definitely some Fraggles at that dance party, kickin' up some sand!
4.) This is your first album on your newly created record label, Oh' Mercy! Records. What are your future plans for Oh' Mercy! Records?
Put out my projects and sign other great artists that I love. I want Oh'Mercy! to be a great musical family and home that people get excited about getting a sampler in a few years.
5.) In one word, describe how you felt the second you heard that Bruce Springsteen told people to help support your album.
Totallyfuckingpsychedandgrateful!
6.) One of the things that really intrigues me about you is that you're from Neptune City, New Jersey, and have written a lot about your home state. To me, you're the female Bruce Springsteen/Billy Joel, but way more attractive than whatever that combo would look like. Does New Jersey continue to inspire you?
Hahaha, thanks! I think most writers are inspired by where their home is, in a good and/or bad way. For me it's always been both. Jersey is where I long for when I'm away, and where I can't wait to get out of when I'm home. But around the shore, there always has been so many magical elements I've noticed in the characters around here and the supernatural properties of our waterways and nighttimes. There's always a good story around here.
7.) Part of the proceeds from Slow Phaser goes towards Hurricane Sandy rebuilding initiative, Water for Waves. I know this is an important cause to you; how is the rebuilding going?
The rebuilding is going very, very slow in a lot of parts I've seen around here. Waves for Water is really amazing though. They've helped over 91 families get back into their homes, soup to nuts. They've funded families to rebuild their homes from the foundations, to the wiring, to the final paint on the walls, and by giving them community support. What I like about working with them is that they don't get caught up using the funding they get towards administration or salaries, but instead give the money directly to the families rebuilding. The money I've raised from my Pledge has gone to a lovely couple named Timmy and Jasmin who lost both of their homes. The first to flooding, and the second to fire from wires corroded by sea water. Super cool, hardworking people that have been through so much, and now they and their children are finally putting the paint on the walls and getting their doors hung. Thank god. New Jersey really needs more help. There's so many families still displaced.
8.) If a music fan was unable to or did not donate to your Slow Phaser PledgeMusic campaign, when will it be possible for them to listen to the album?
They can stream it now on Paste.com and pre-order it on iTunes! They can also order vinyl from their local record shop. Delicious 180 gram white vinyl!!!
9.) I heard you're coming to Austin during SXSW?! Do you have details on time and place yet? Also, are you touring in support of the album?
I'll be announcing all our SXSW shows very soon and yes, we leave for tour in 12 days!!!! All the dates are up on www.nicoleatkins.com. Lets hang out at Southby, dude!
10.) Just for my own personal information, how does David Byrne smell? Does he smell good?
I'm sure he smells fine. I can't remember, BUT he has amaaaaaaaaazing shoes. And is as sweet as a honeybee's belly.
11.) And one last non-question: When you come to SXSW, don't be alarmed if you see a brunette with bangs staring wide-eyed and mouth agape in awe at the bottom of the stage. That is me. You're officially my girl crush.
Yes! That will be much better than looking down at this dude that I'm pretty sure is gonna kill me; he comes to all my shows. (Sorry dude! please don't kill me!)