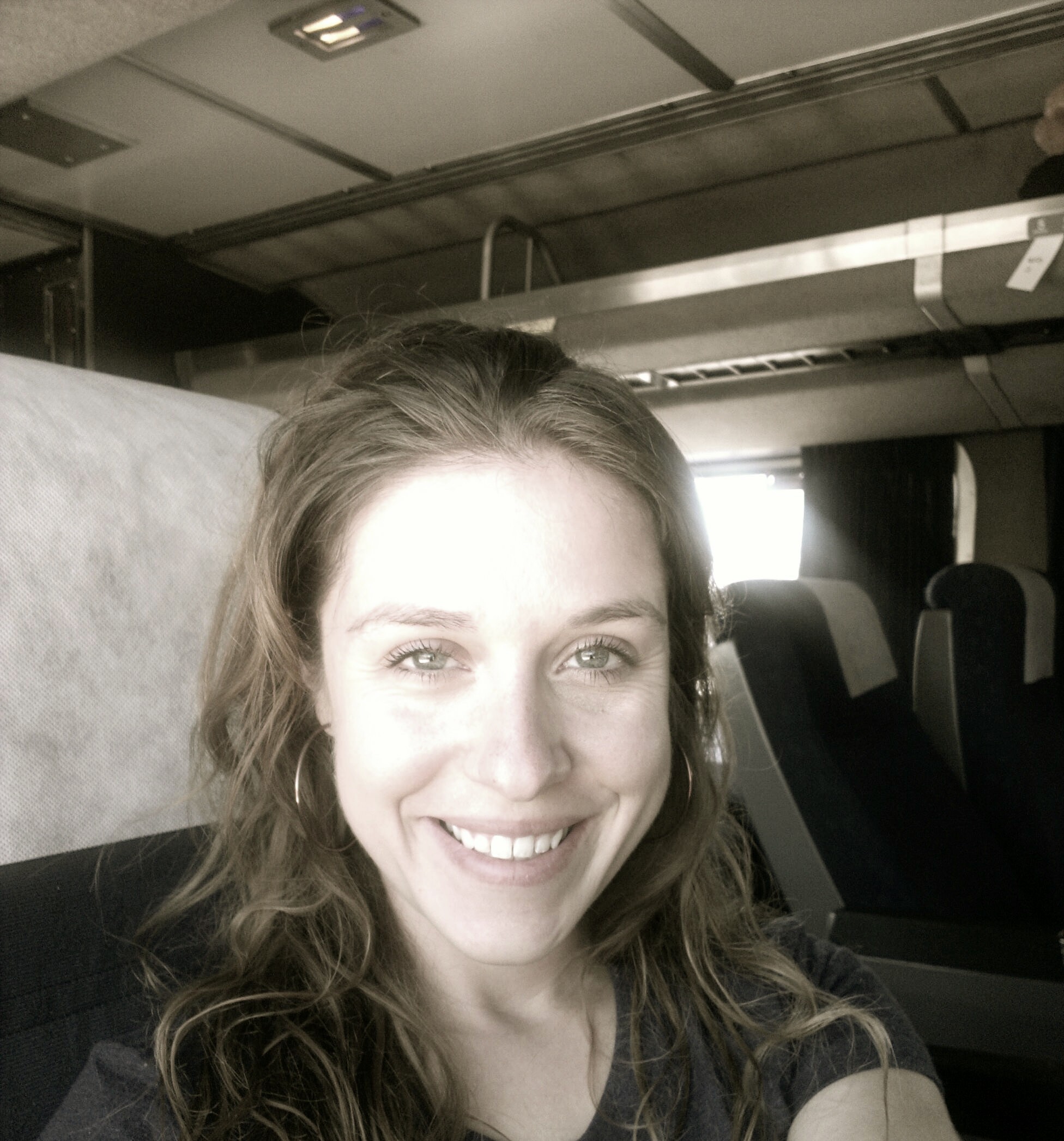 train selfie
Last week was not a stellar week in the commercial aviation world.
I'm sure you read about the Asiana plane crash in San Francisco where two people died and scores of others injured. It's a miracle that more people didn't die, but this scenario and highly grotesque others are what I think about every time I get on a god damn plane.
The last time I flew, I pulled several muscles in my lower back due to anxiety. I talked the ear off of a nice, young Jewish man (we're friends on Facebook now). I also drank $30 worth of booze, which sounds like a lot, but airport booze is the equivalent of spiking a child's juice box.
Lately, even thinking about getting on a plane sends me into a Rainman-esque dance of slapping my forehead while rocking in a ball on the bed, so that is why, when Geoff asked me to travel to Tucson with him recently, I said yes, but only if I could take the mother-f'ing train.
So, that's what I did. I took the absolute slowest form of travel you can take anywhere. It took me 24 hours to get from Tucson to Austin; bus trips range between 19- 24 hours, a car trip takes 13 hours and a flight is just under 2 hours.
Now you're probably thinking, well, last week wasn't a stellar week in the train industry either, Lauren, and you're right. But the tragic train accident in Quebec did not involve a commercial train (she keeps reminding herself).
I know the long travel time can be a deterrent for many of you, but here are reasons why you should most definitely take the train:
1.) I rolled out of my hotel bed and walked across the street to the train depot and straight onto the train. This had to have been the most stress-free form of travel I've ever taken. Granted you might not always be staying right across the street from the train depot, but I highly recommend it. Hotels near train depots are usually old. I felt very old-timey leaving Hotel Congress and walking straight onto the train. You can't put a value on feeling old-timey.
2.) I didn't have to show my ID once, so if you're a criminal on the lam or an illegal immigrant, this is good news.
3.) Each seat has an electrical plug! AN ELECTRICAL PLUG! F you, planes!!!!!!!!!!!!!!!
4.) The coach seats are large, comfy and stretch-out almost completely horizontally.
5.) You meet really interesting people on the train. I sat next to a couple who volunteer and live in different state parks every couple of years and an elderly African-American man who was going back to his home state of Louisiana for the second time since fleeing during the Civil Rights era, where he was both shot at and had a hanging effigy outside his school.
6.) Since you're stuck on this thing for hours on end, there is a sense of family that develops between the folks on your train car. The sense of family is strong enough that when someone's kid is running through the aisle, you feel comfortable enough to slap them.
7.) A coach seat on the train is comparable to the price of a plane ticket.
8.) You see stuff outside your window you won't see elsewhere. The American Southwest is particularly fascinating since it's lightly inhabited already. We saw areas of desert that haven't been touched in decades. We saw snakes, homeless camps, a canyon of dumped vintage cars, cacti, historical markers that you can't walk to, mirages, dust devils, a dust devil that looked like a tornado, forgotten towns and gorgeous, colorful mountains.
8.) Our train ran alongside the border of Mexico and we got to see small Mexican children waving at us.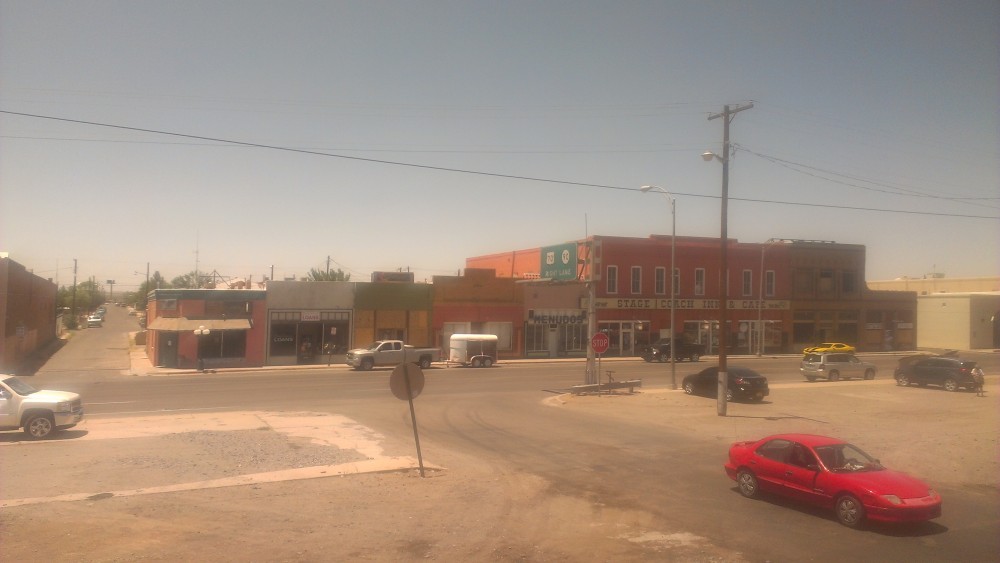 old-timey train town
Now, that's not to say that the train doesn't have its drawbacks:
1.) Since the train is no longer the most popular form of transportation, there is definitely a "I don't give a flying f" attitude from the staff. Not that they're mean, they're just… missing.
2.) I was told that train food is lackluster AND expensive, but I found it only to be expensive. Of course, I could eat a seasoned piece of leather even when I'm not hungry.
3.) On this specific leg, the conductor told us absolutely nothing as to what was going on and even when he did, he talked in a whisper. This led to a very disorienting moment when we all woke up at 4:30AM to notice that we were no longer attached to the train. As we stared down the train car and noticed no train at the other end, fear, then panic set in. What is going on? Why did they leave out in the middle of nowhere? Will our car become a runaway? Will a train hit us? Will we die out in the middle of the desert? WHY DIDN'T THEY TELL US ANYTHING?! We couldn't leave the car and no attendants were visible. An hour went by before another train hooked us up. As we slowly began moving, we learned that we were under the San Antonio Tower of Americas the entire time.
4.) Sleeper cars are stupid expensive and though spending a night sleeping in a coach chair is bearable, it's not awesome either.
5.) Our train ran alongside the border of Mexico and we got to see small Mexican children waving to us. They lived in collapsing shacks that no human being should ever have to live in.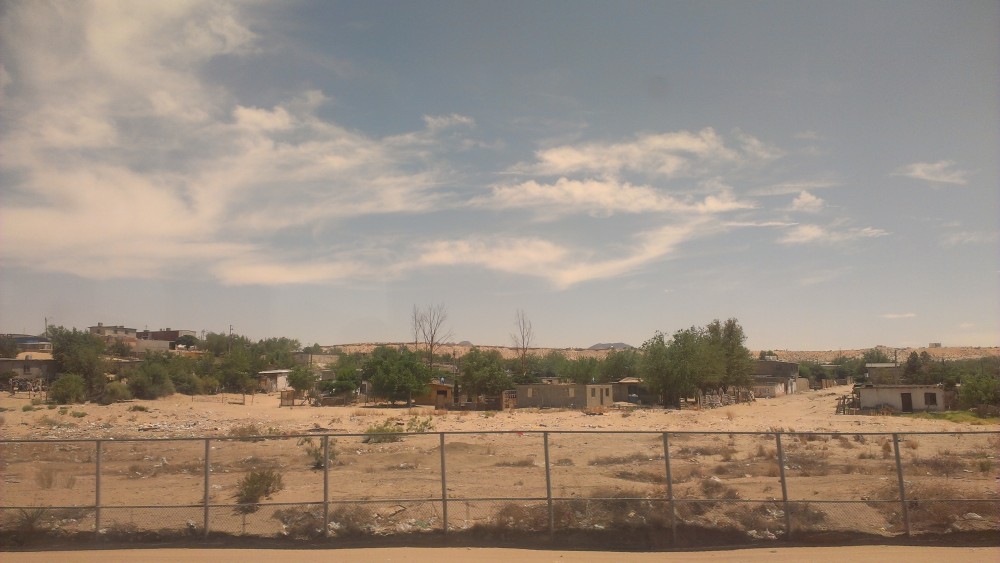 Mexico!