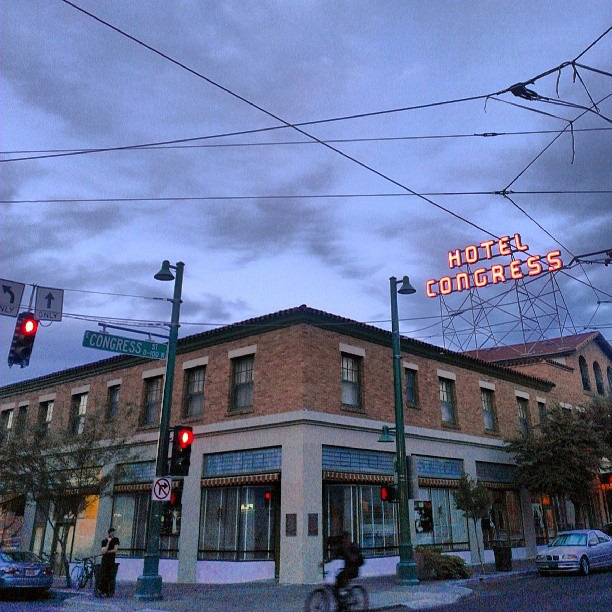 Hipsters and Arizona.
Two words you commonly don't see in the same sentence.
For those of you who have been, Tucson, located roughly two hours southeast of Phoenix, has been a vibrant college town for decades. The city has the feel of Austin 40 years ago, but that vibe is slowly changing. The word is out, and Tucson is becoming a popular place to live and visit.
Before we embarked on our road trip to Tucson, Geoff, who has several musician friends in Tucson, told me that though cool, this southwest town with over 500,000 citizens is kind of sleepy. Imagine our surprise when we pulled up to the our hotel, the iconic Hotel Congress, and could barely make our way to the front desk. Hotel Congress, an old-timey lodge, popular music venue for local and touring acts and home to a gourmet diner (Cup Cafe), 20s themed hair salon (The Hive) and event hall (Copper Hall), has always been the epicenter of activity, but its popularity is only growing. The front patio, lobby, bar and stage were filled to the brim with hipsters, club kids, business folks and enthusiastic travelers (think Ace Hotel in Portland). We only found reprieve from the excitement after we landed in our room, but even then, our window was located over the bubbling patio. Tired from the trip, we opted to join the festivities the next night (there is something going on every night at Hotel Congress), and we blissfully fell asleep listening to the conversation and music down below.
Hotel Congress was built in 1919 and is famous for being John Dillinger's holdout before he was captured. Forty rooms line the two-story brick building, and each room features vintage beds, a dresser, chair and Ed Hopper-esque paintings of the hotel itself. Hotel Congress is not for those looking to veg-out in a gigantic room with cable TV; the rooms are small, but they pack a lot of character. And yes, you have to sit sideways to go #2 because the bathroom is so small, but that is part of the charm.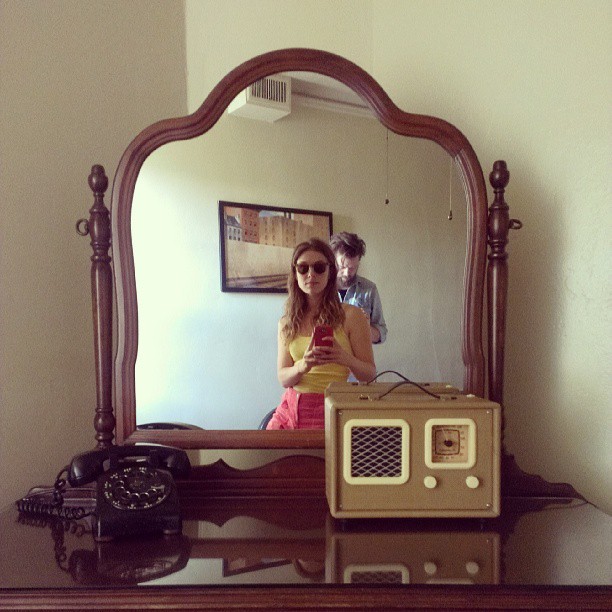 Hotel Congress
Hotel Congress is nestled in the triangle of Toole, Congress and 5th avenues, with a view of the railroad track (I took the train back to Austin and literally stumbled across the street to get on the train; lowest stress travel EVER). Within the train depot is Maynard's, a locally-sourced market and kitchen featuring one of Tucson's best wine selections. Our jam was Sparkroot, a vegetarian coffee shop located across from the hotel on 5th Avenue.  I worked out of this cafe after Geoff left me in Tucson to continue his road trip to LA and destroyed a homemade blueberry lemonade and grilled cheese sandwich made with Spanish cheese, pickled onions and pesto.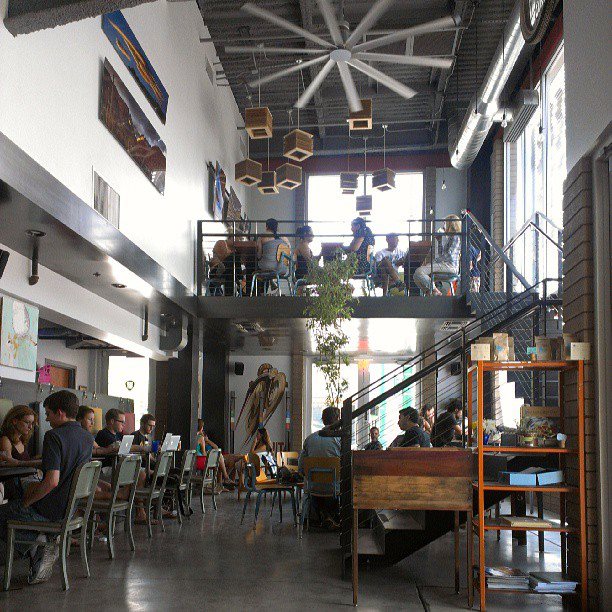 Sparkroot
Within walking distance of the hotel is Tucson's famous 4th Avenue, similar to, but not as large as Austin's 6th Street. It is here I discovered Pop-Cycle, a boutique filled with Tucson made goods. Geoff and I fell in love with a series of patchwork stuffed animal busts, in particular a narwhal, as seen in this Rumpus article called "Vegetarian Taxidermy" (the store had a sign asking we do not take photos).  On 4th, we also ate at a 100% solar-powered pizza shop, Brooklyn Pizza Company, located next door to a 100% solar-powered bar. These aren't the only solar-powered businesses in Tucson and I was surprised to discover that the city has a strong solar power initiative!
Due to its small size, Tucson is a very walkable city. Our second night there, we walked eight miles, strolling between the city's historic Presidio and Barrio neighborhoods. It is here you will spot some of the area's beautiful adobe architecture. As stated from the Barrio Wikipedia page, mission and craftsman styles are represented. These neighborhoods will make your wanderlust levels shoot up to 11 (p.s. real estate is still inexpensive in these downtown 'hoods AND several famous people quietly live here).
Here is a collection of household doors I took in the Barrio: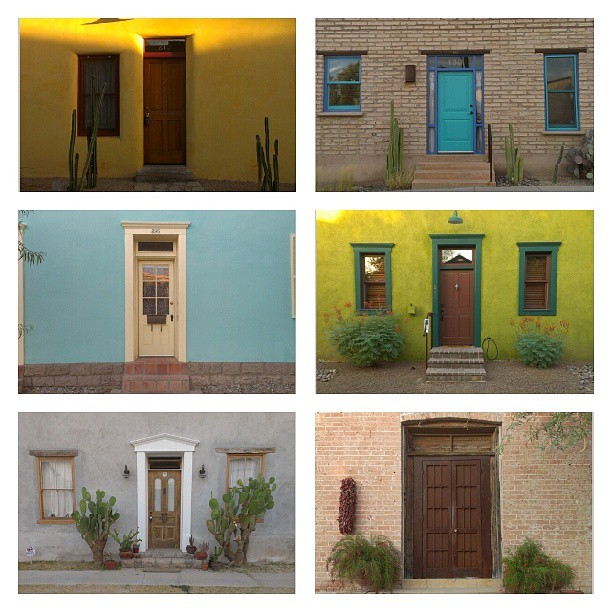 Barrio, Tucson
And, of course, Tucson  is known for it's incredible nature, best appreciated outside the summer months. Though it was 105 degrees during our visit, that didn't stop Geoff from driving us to the Saguaro National Park, one of the largest refuges of saguaros in the nation (these "cartoon" cacti are only found in Arizona, California and Northern Mexico). Located in the foothills of the city, you have the feeling of being transported to the middle of nowhere; the desert can have that effect on you. We saw wild javelinas, roadrunners and the park has had its fair share of snakes, mountain lions, coyotes and bobcats. This fact, and the fact that there was NO ONE else hiking, caused me to have a panic attack five minutes into our hike and we turned back 30 minutes later (full disclosure: I walked for 30 minutes pounding my chest and whispering "f this, f this, f this" and it was still a great hike).
P.S. We'll be back to Tucson in September to show our film Loves Her Gun at the Arizona Underground Film Festival!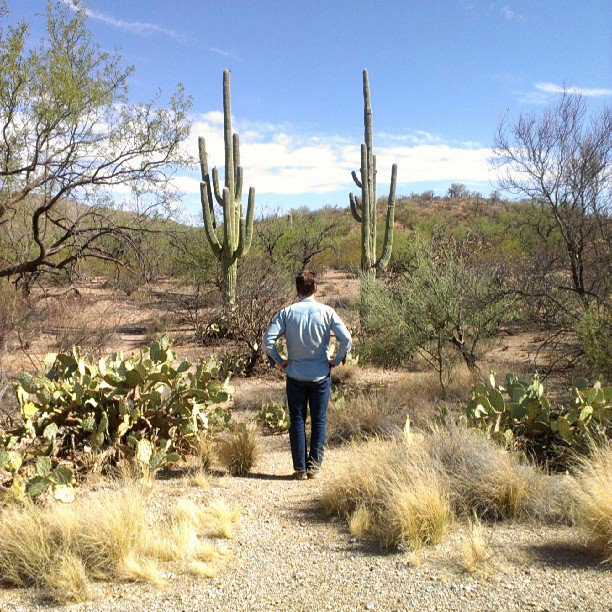 Saguaro National Park
Where to Stay:
Hotel Congress (between $50-$100/night)
Where to Eat:
Sparkroot (coffee/vegetarian)
Cup Cafe (gourmet diner)
El Charro Cafe (Sonoran)
Umi Star (Asian-Mexican fusion)
Where to Visit:
Saguaro National Park ($10 per car)
The Barrio (free)
The Military Plane Graveyard a.k.a. "The Boneyard" ($7)4th Avenue (free)