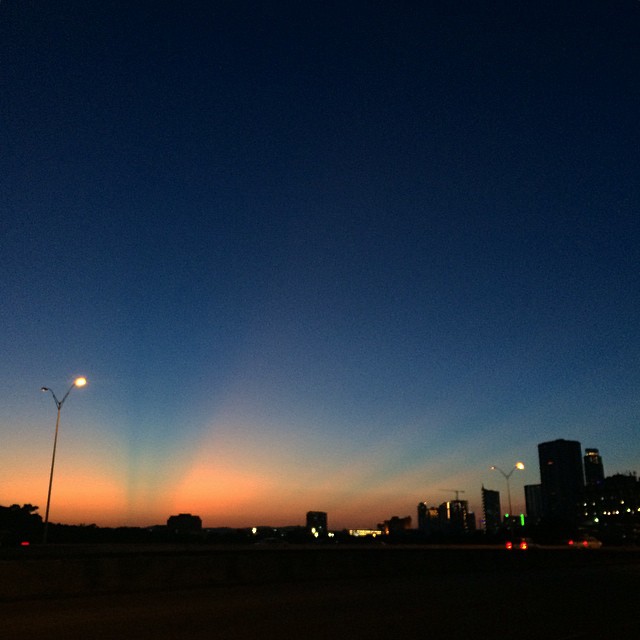 I've lived in Austin for seven years, and within those seven years my feelings toward the city have oscillated. I've fallen head over heels in love, I've been heartbroken over change and I've been inspired by a new kind of affection. I fall into one or all of these categories at any single time.
In 2012, I wrote the pro-growth article "Austin is Ch-Ch-Changing: Give up the Hate and Embrace the Non-Natives Who Make Our City Great," but one year later I questioned Austin's rapid growth with the article "Austin Changing: Why My Love for Austin is Being Challenged." Sometimes I felt like a teenager girl, yo-yoing between her emotions. Do I love Austin? Do I hate Austin? How do I feel about this complex and complicated city? 
I look back on these articles with both empathy and embarrassment. Look how silly that girl was, thinking she understood Austin! And I know I'll one day look back on this article with equal sentiment.
It wasn't until recently, when I was faced with the prospect of leaving Austin, that I realized the answer didn't have to be black and white. One can love their city but be frustrated with the direction it's going in, as I imagine one can hate their city but encounter beautiful moments that remind them why they continue to live here.
You see, even though I'm frustrated that the futures of iconic landmarks such as Hole in the Wall hang in the air, I'm disappointed with the plethora of characterless condos being built and I'm puzzled by the influx of people who would never categorize themselves as "weird," I still kind of like this city. It's still better than a lot of places.
That's not to say I feel ambivalence toward Austin; it's quite the contrary. I no longer feel the need to have one single opinion about the city. As the city grows, so do I. We all do. And our opinions can take a new form.
When Austin is bad, she is still good, because at her core she has the best of intentions. She's progressive, she's open and she's creative, but that doesn't mean I don't fear this can all change. I worry that the economic gap will widen, our environment will be sacrificed and our character will be compromised. I worry for our brothers and sisters of color being pushed out of the city. I worry that our city officials will not manage growth in a way that is smart. I worry that money will rise above all else. I worry that Austin will become the face of what is ugly with America.
But I hope and I act because I know the city was built on a system of listening. Sometimes our voices are heard and sometimes they're not, but we are not powerless. It is each citizen's responsibility to help steer this ship on the right course, and if you find that you've sailed into a brick wall, let's break it down together.
And I ask newcomers, as presumptuous as it is, on the behalf of people who love Austin to please do right by you AND Austin. Yes, she is a land of plenty, but please don't pillage. Please open yourself up and add to what makes Austin special.