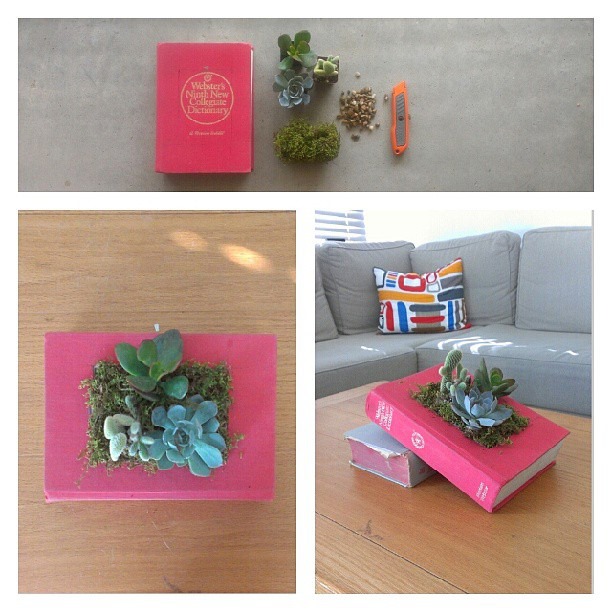 I've never been nor ever will be an adorable lifestyle blog.
No model-esque baby has exited my womb to photograph and share with viewers day after day  (however, I do have a "baby" whose eyes I gouged in with a screwdriver).
Our house is filled with stacks of paperwork, dead plants and the American tradition of Ikea furniture mixed with vintage, solid pieces.
I used to have fashion, but now wear shorts and t-shirts every day due to the Texas heat. When not wearing shorts and a t-shirt, I "embrace" my 90s Gwen Stefani with sweatpants and tank top. I did have a very short-lived "What I Wore Today" series on my blog- it mostly consisted of the previously mentioned attire.
However, I do get crafty sometimes!
Occasionally I make something that is manic pixie lifestyle blog worthy. I don't do this to show off my crafting skillz; I mostly do it because I'm cheap.
For example, I was going to buy a $50 succulent book planter this weekend, but realized I could make one for under $20 ($15- to be exact). In freelancer writer world, that $35 difference means less Ramen for the week.
I used Apartment Therapy's post, "How to Make Your Own Book Planters for Succulents" as reference, but I switched up a few steps. In their guide, they created a planter in the middle of the book; here I created a planter through the front cover. I think the book cover planter looks jazzier.
All in all, it took my four hours to collect the materials and complete the project.
What you need:
Book
Box cutter
3 small succulents
Parchment paper OR rubber sealant
Glue
Moss
Gravel
Dirt
30 Rock
Wine
Steps:
1.) Buy 3 small succulents that would look nice together. For Austinites, check out East Austin Succulents for an incredible selection. I paid $2.50 each.
2.) Find an old book. If you can't locate that perfect vintage book, I found a bright red Dictionary at a super smelly thrift store for $1. Dictionaries work perfectly!
3.) Before you run off to buy the additional supplies, see what you have lying around the house. I already had parchment paper, glue, dirt, gravel and wine.
4.) Box cut the living shit out of the front cover.
5.) Don't cut your finger off.
6.) Once you successfully cut through the cover, you'll feel pride, but quickly realize you have about an inch and a half of pages to cut through too.
7.) The AT post suggests rubbing glue over the outside of the pages to make cutting through the book easier. Since I'm lazy and impatient, I didn't do this. I did glue the cover down once I was finished with the project.
8.) Play 30 Rock consecutively while you decimate your book (or if you're feeling feisty, play The Replacement's Let it Be).
9.) Laugh and cry at the realization your social life is like Liz Lemon's.
10.) Don't cut your finger off through the tears.
11.) Once you've cut through all the pages, glue parchment paper as liner (alternative option: the man at Home Depot tried up-selling me with rubber sealant spray. Since I'm cheap, I didn't want to spend the $10, but the sealant would be great for multiple projects and any cracks you have in your ceiling).
11.) Put a small amount of gravel at the bottom of the liner.
12.) Set succulents into the book in a nice, fashionable manner. If the succulents didn't come with enough soil, find some from your yard (in Texas' summers, it can be difficult to find moist soil, so take a hose to the ground if needed).
13.) Lay moss on top of soil.
14.) Pat yourself on the back for a job well done.
15.) Drink entire bottle of wine.