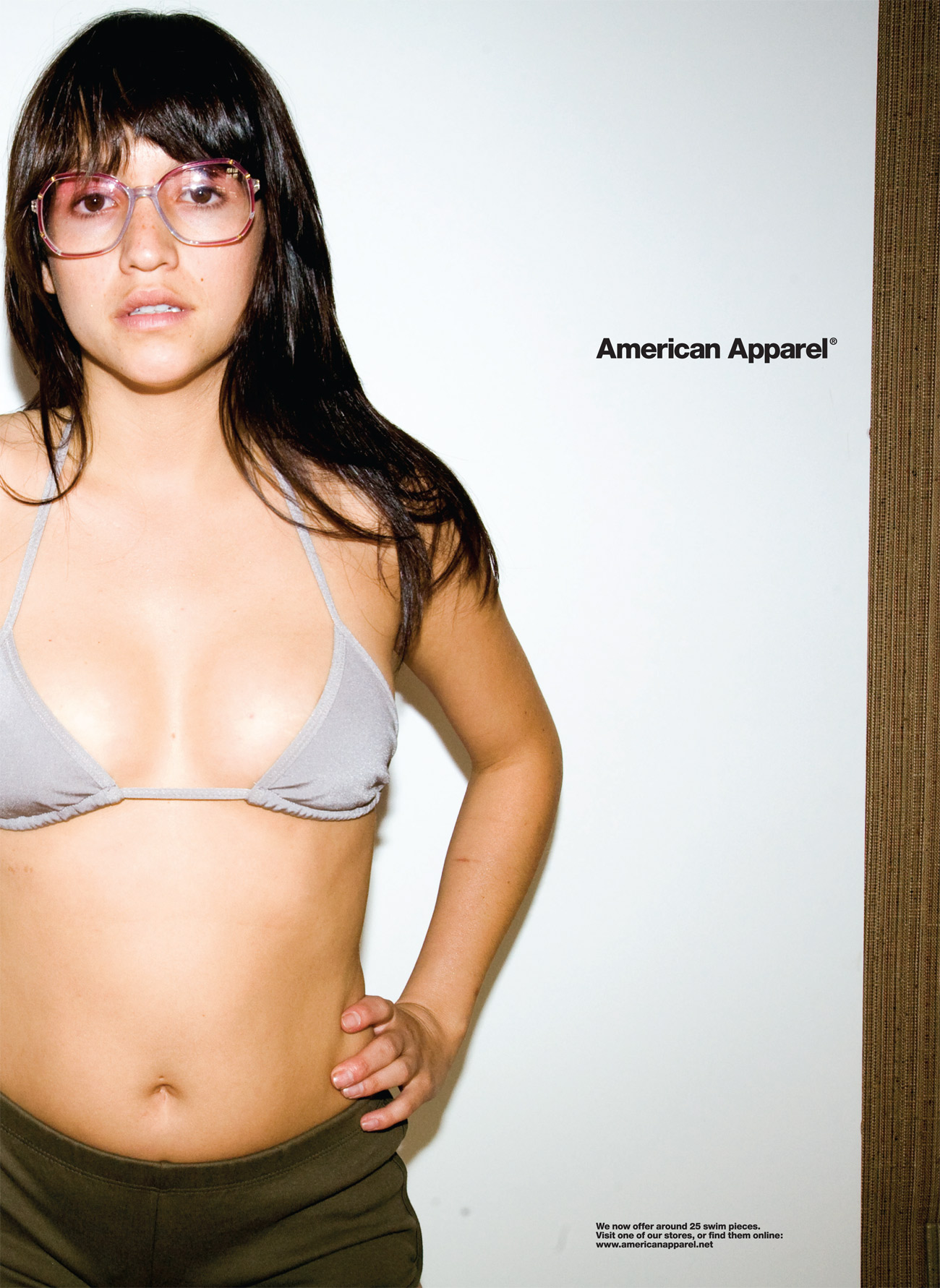 I've had this blog for years and every month I get an itch to make it more streamlined. Thoughts of starting an editorial calendar dance in my head, but who am I kidding? My brain is about as organized as the basement of some sad sack on A&E's Hoarders.
If I was more organized, I would make Friday my designated fashion and design day. In an attempt to accomplish that goal, I'm going to write about the most ridiculously hipster fashion topic I can think of:
Urban Outfitters
and
American Apparel.
Two clothing companies that the hip teen-through-thirty-somethings who think they are still teens love to shop at.
Full disclosure: I used to shop at both AND off and on worked at the latter (judge away!)
I no longer shop at Urban Outfitters for ethical reasons, however, I continue to support American Apparel, not because of some Kool-Aid allegiance I formed while working there (believe me, it's NOT a perfect company), but because side-by-side, American Apparel is a more stand-up company than many give it credit for.
I often find it humorous when a man or woman tells me they will not shop at American Apparel because the "advertisements are creepy", "the owner is creepy" and the company only designs and sells clothing for tiny people (not midgets). However, they will shop at Urban Outfitters completely ignorant to, by choice or not, the CEO's contributions to conservative causes (such as the anti-gay candidate Rick Santorum), their stealing designs of independent designers, their trademark infringement of the Navajo Nation, their sweatshop conditions and a slew of other gestures that have offended women's rights groups, the Irish, Jews, Mexicans and the Transgender community.
Now let's dive into this a little deeper. Yes, American Apparel's owner and advertisements are creepy. He nor the company shy away from the accusations and, yes, there have been some allegations that the owner has abused his 70s child molester looks and charm with some of his very young female employees and, yes, the company makes teeny tiny clothing, which is a complaint that can be said for most American-based youth fashion lines. Outside of that, American Apparel is probably one of the most progressive clothing manufacturers out there. They've supported gay rights for years and created a t-shirt line called "Legalize Gay", they have supported immigrant rights for years and created a t-shirt line called "Legalize LA", they are the only clothing manufacturer of its size that is 100% American, they were selling organic clothing for cheap way before other common brands were and they offer a fair wage, fair hours and other perks to their employees in the factory. American Apparel is doing everything that most mainstream clothing lines should be doing, but are not. However, most seem not to care and only focus on the owner's antics and advertisements. Though the owner's actions should not be minimized, I would like to point out that he is one of the few CEOs out there with complete transparency of his actions.
Now, you might think I'm talking crazy talk, right? Lauren, how can you support a company where the owner creeps on his young female employees and takes pictures of them for advertisements? Truthfully, I would much rather spend my dollars at a company that supports same-sex marriage, rights for immigrants, treats their employees well and continues to stay 100% American (though one could argue this point since many of their factory workers are undocumented). Supporting a company that indiscriminately steals others' designs (no wonder why the clothing is so cute at Urban Outfitters), creates offensive designs (seriously, haven't Natives been shat on enough?), doesn't care about the working conditions of its factory workers and where the CEO supports conservative causes is not my bag (with an ironic hipster design printed on it).
Which company do you shop at more? American Apparel or Urban Outfitters?