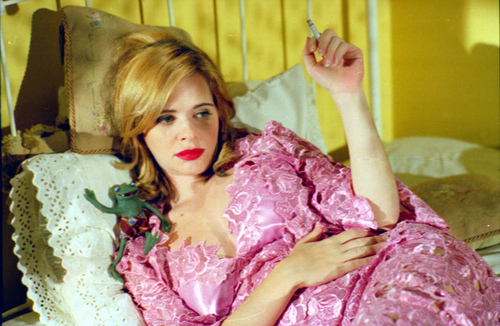 Ever since I was a little girl I was fascinated with the art and fantasy of film. This fascination led me to film school and then to Los Angeles where I held an assistant role at the production company of an Oscar Award-winning actor.
My upbringing and surroundings in Los Angeles barely introduced me to the world of independent cinema. Sure, I saw movies that weren't produced by large studios, but they were still the films that had known actors in them or were bought for millions of dollars at Sundance. I had no concept of the 99% of other independent films on the film festival or local scenes (film school most definitely doesn't tell you about this world either). My childhood art house theater was 30 miles away from my home and when I dragged my high school friends to see American Beauty (not an independent film and produced by Dreamworks), I thought I truly knew what independent film was.
It wasn't until I moved to Austin and began meeting a large number of the country's best independent filmmakers, many with careers to be extremely proud of, that I realized how large the independent world is. Filmmakers of all ages who finance their own movies, who hustle and bustle on shoestring budgets to get the best talent, equipment, sound and editing for their film or who are lucky enough to know someone with money or a famous person to get behind their big dream. Sometimes their movies are selected to premiere at Sundance, SXSW and Tribeca film festivals, sometimes they will pop up on Netflix and sometimes no one will see them except for the fervent independent film fans in their hometown.
It is a world predominantly unknown to the mass public and to those in Hollywood.
A large number of these filmmakers are women. Unlike Hollywood, I would arguably say that the independent film world is less of a "boy's club"- a place where female talent is nurtured and frequently rewarded. There are several scholarships and grants available to female filmmakers, including this one, named in honor of the woman I'm about to write about.
I'll be honest, I didn't know who Adrienne Shelly was until her film Waitress was released. The independent film was purchased by Fox Searchlight at Sundance 2007 and was widely distributed, so it was difficult not to know about the film. The film is also famous for the horrific story that preceded it: the random and senseless murder of writer/director Shelly.
Shelly came onto the scene as independent filmmaker Hal Hartley's "it girl" in the films The Unbelievable Truth (1989) and Trust (1990) when she was 23 and 24 respectively. From there Shelly mostly stayed in the independent world, writing and directing the small gems Sudden Manhattan (1996) and I'll Take You There (1999). She occasionally popped up as a guest star on TV or film, but her roots seemed firmly planted outside of Hollywood. In 2006 she wrote and directed the lively and thoughtful film Waitress, starring Keri Russell as a sharp Southern waitress-slash-pie master, pregnant and stuck in an abusive relationship. The film co-stars the adorable Nathan Fillion as her doctor, Jeremy Sisto as her mentally unstable husband, Andy Griffith as the crusty owner of the restaurant she works at and Shelly as her sweet, nerdy co-worker. It's hard to say anything bad about the film; though simple, it is perfect in every way. Shelly was able to capture outstanding performances by her actors who seemed to truly care about the project. Her filmmaking abilities were of note too; her creative choices were fun, carefree and showed the world that this was a woman to watch for. What struck me most about the film was the story. Some could argue it is a "chick flick", but it is so much more. Nowadays, rarely do you see a movie dealing with topics of the female sex that are relatable or intriguing; we're blasted with Sex in the City, garbage starring Katherine Heigl and film after film about women needing to find the love of a man. Though Waitress deals with the topic of love and sexuality, it dares to go someplace other films rarely go.
Sadly, Shelly was murdered before she found out the film was accepted into the Sundance Film Festival.
This talented woman has been on my mind a lot lately. I watched Waitress for the forth time with my boyfriend (he had never seen it, though he has seen all of Hal Hartley's films) and I was reminded that it is a movie you can watch over again and again. The film is so uplifting, but comes with the bittersweet note of knowing that Shelly's life was cut so short. I think about where she would be today. She helped pave the way for women in independent film and as I haphazardly maneuver my career through this challenging and wonderful creative world, I will hold her up as one of my idols.