It should come as no surprise that Austin has been on a butt-load of reality TV shows. Why is it not a surprise? Because Austin is currently America's shiny ball that they like to poke, play with and stare at.
Many of those aforementioned reality shows are food-based. The culinary scene in Austin has grown by leaps and bounds in the past several years. Having moved here from California (let the name-calling begin), I was initially disappointed in what I felt was a lackluster food scene in Austin. Fast-forward five years later and Austin is on the top of the list of American food destinations. Austin's very own Paul Qui won Top Chef two years back and our beloved Franklin BBQ was named the best BBQ in America by Bon Appetit Magazine. Austin is full of incredible culinary talent and it's a fantastic place to be a foodie in right now.
I use to work at a local restaurant that was featured on a popular Travel Channel show and based off the influx of traffic the restaurant received, you would have thought that Barack Obama and The Pope regularly ate their naked. You may poo-poo reality TV, but being on a reality TV show that is not Kitchen Nightmares will only help business.
*Again, make sure Gordon Ramsay STAYS THE F AWAY from your restaurant.
Since Austin has been popping up on so many food shows, I thought I'd make a food guide compilation for your dining pleasure. Bon appetit!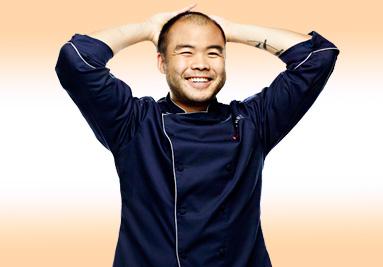 1.) Top Chef: Austin' reigning king of food reality shows is Paul Qui. Not only did he win Top Chef and a James Beard award, but his adorable and Ewok demeanor has made him a media darling for the past two years. Qui is good at what he does. He honed his skills at Austin's respected sushi/Japanese restaurants Uchi and Uchiko, but his new work can be seen at Asian fusion trailers, East Side King, and his new East Austin eatery, Qui.  ESK has cemented itself as a foodie favorite and features delicious favorites such as fried beets with kewpie mayo and Thai Chicken Karaage, sweet and spicy fried chicken with basil, mint, and jalapeno. Qui's reception and menu are a little less straight-forward;  I have not tried Qui yet because I make a writer's salary.
Have you eaten at Qui? What are your thoughts?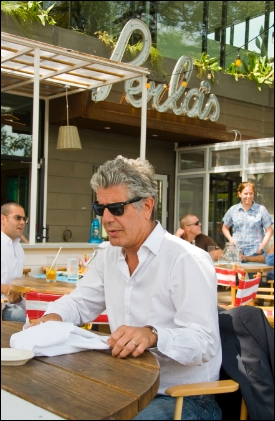 2.) No Reservations: Everyone's favorite food curmudgeon, Anthony Bourdain, delighted Austin with his massive presence at SXSW in 2012. His no holds barred trip took him to such Austin classics as seafood market and eatery Quality Seafood, old-school East Austin Mexican restaurant El Azteca, smokey dive bar Lala's and Tarantino's favorite hangout Texas Chili Parlor. Other eateries Lord Bourdain ate at were Franklin BBQ, JMueller BBQ, gastropub Barley Swine, pub and brewery Draught House, no-frills Mexican eatery El Taco Rico, and La Mexicana Bakery. Phew! You's a fatty, Bourdain. You can watch the Austin episode of No Reservations here.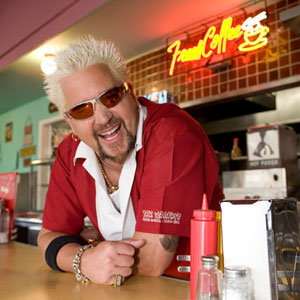 3.) Diners, Drive-Ins and Dives: You may love or hate Guy Fieri, but the bleach blonde mimbo is here to stay. Guy's Austin Triple D episode brought him to diverse eateries such as gastropub Foreign & Domestic, organic diner Counter Cafe, 6th Street hamburger joint and bar Casino El Camino, sandwich shop The Noble Pig (a.k.a Noble Sandwich Co.), BBQ joint Green Mesquite, Maria's Taco Xpress, old-school diner Magnolia Cafe, and "inspired sandwich" food truck Luke's Inside Out.  Say what you will about Guy, but I've heard he's nice and he also taped a touching video for my friend's son who was dying of cancer. Take that, haters! Check out the video of Guy at Green Mesquite here.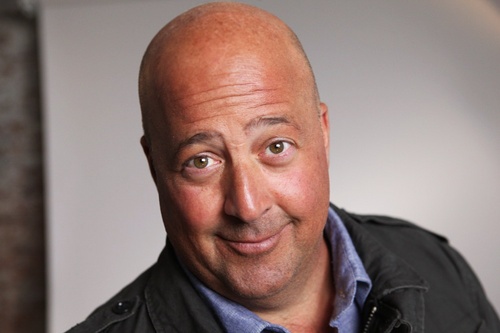 4.) Bizarre Foods: Andrew Zimmern, everyone's favorite Uncle Fester impersonator, is a regular visitor to the Capital City. His Bizarre Foods Austin episode unveiled to us venison heart tartare and pig's brain & huckleberries from Foreign & Domestic, ox tongue sliders and pig's blood Bloody Marys from Contigo, fried chicken donuts at Gourdough's, ad bacon shakes at Pig Vicious (now closed). You can read and watch all about Zimmern's ATX visit here.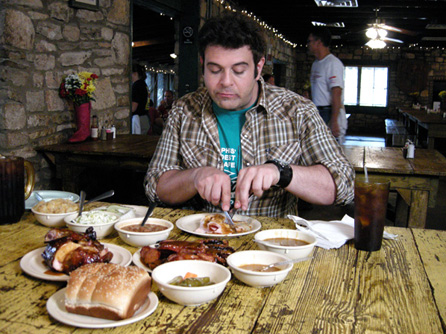 5.) Man vs. Food: Personally, my favorite food reality TV show is Man Vs. Food. That Adam Richman looks like an adorable Ewok just like Qui! On his Austin episode that was sadly one of the most boring episodes I've ever seen of Man vs. Food, the Ewok tried beating (and failed) the record for most Don Juan tacos eaten at East Austin Tex-Mex restaurant Juan in a Million. Watching someone eat tacos with no time limit is like watching paint dry. Other stops included Casino El Camino, Round Rock Donuts and BBQ haven The Salt Lick. The Ewok should come back to Austin and try some more exciting challenges like twenty-five plates of chicken and waffles from Lucky J's within 5 minutes.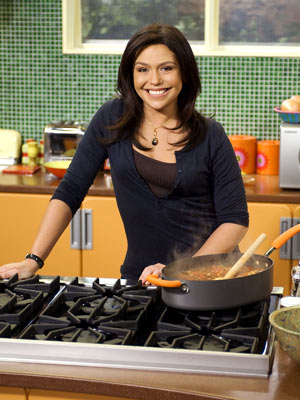 6.) Rachel Ray: The female version of Adam Richman is Rachael Ray. She looks like an adorable female Ewok! How cute would Adam Richman-Rachael Ray babies be? Her Austin episode featured Maria's Taco Xpress, and classic Southern diners Threadgill's and Shady Grove. Ray's recipe for Threadgill's deliciously cheesy San Antonio Squash can be found here.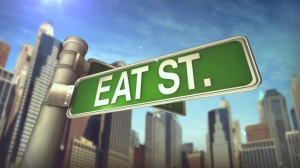 7.) Eat Street: This Cooking Channel show highlights the best street food in America. On their Austin trip, they featured beloved ATX food trucks such as gourmet burger stand Yume Burger (now closed), swanky ice cream truck Ice Cream Social, Indian palace G'raj Mahal, African eatery Cazamance and Gourdough's. You can watch various Eat Street Austin clips here.