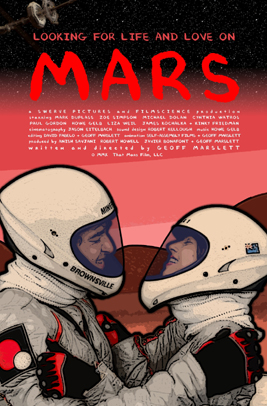 I mentioned awhile back that my boyfriend is a  filmmaker. In the summer of 2011, we wrote a screenplay called Loves Her Gun and shot it in September. We're working on the edits now. It's really weird watching footage of something you created. It's like giving birth…for hours and hours. It's both bowel-emptying exciting and downright terrifying.
This film is the second one my boyfriend has directed. His first film is an animated love story that takes place on Mars. The film is called MARS. My boyfriend's last name is Marslett. Needless to say, the word "Mars" is a common word in our vocabulary. The film stars Mark Duplass ("The League", Cyrus), Kinky Friedman, James Kochalka and Howe Gelb. MARS just premiered on Netflix Instant last week and it's been in the top 20 most downloaded films for the past eight days.
It's interesting making a movie. Well, it's interesting creating anything. There are always going to be lovers and haters. The reviews on Geoff's film are mixed. Either people super dig it or super hate on it. Which is to be expected. Indie films are a tough thing for people to digest at times. Especially animated indie films. I asked Geoff not to read the negative reviews for I didn't want it to take wind out of his sails, but I have read them, and as his girlfriend of course I get very defensive. Most people who hate on the film speak of the amateur ways of it. They say that the animation is cheesy. They figure they could do better. Everyone is entitled to their opinion, but shit, I'd wish they'd think about all the blood, sweat and tears indie filmmakers put into their films, how much of their own money too. Geoff created the animation software he used to Rotoscope his film and spent nearly three years barely eating or sleeping to complete it. But of course, it wasn't just Geoff making the film. He had dozens of talented folks working day and night on the project too.
When I find myself hatin' on an indie movie, I try to always remember that it's someone's baby. Many peoples'  baby. Being an independent filmmaker is no easy task.
-If you have Netflix and are interested in checking out MARS, go here.
-I also got Geoff on Twitter this week. Trying to get him to talk about being an indie filmmaker and film professor on the Interwebz. If you like nerdy cowboys and indie filmmaking, follow him here.