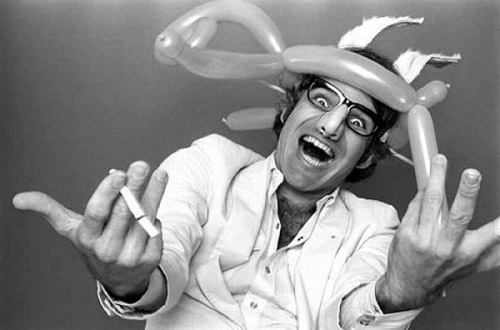 Inspired! Mesmerized! This is how I felt after putting down Steve Martin's autobiography Born Standing Up.
I knew it was going to be a good book because Martin is a fantastic writer. Every creative medium he's ever touched has turned into a golden product. Stand-up, acting, banjo-playing…you name it!
One of my top five favorite books of all time is Martin's Shopgirl, which for me, perfectly summed up my experiences in Los Angeles. Martin's uncanny ability to voice the thoughts, feelings and actions of a twenty-something living in LA astounded me. He's good. Very good.
Born Standing Up is about Martin's first 30 years on this planet as an adolescent, then as a struggling comedian. He details the painstaking energy and determination it took to break into the scene. He acted at Knott's Berry Farm, performed stand up at small folks clubs in Southern California and elsewhere, wrote for the Smothers Brothers Comedy Hour and even appeared on The Tonight Show with Johnny Carson several times before hitting it big. As Martin details in the book, none of these prior achievements amounted to much career-wise and he was ready to give up on comedy if he didn't hit it big by the age of 30.
It was shortly after 30 that Martin really broke onto the scene with his comedy album Let's Get Small. It was then that the roller coaster began.
Martin's book is an inspiring read for any creative who is ready to give up on their craft. As Martin explains in the book, and though I disagree, he wasn't particularly exceptional at any one thing, but enough drive and ambition finally paid off. It might not come at 20, 30 or even 40, but it often pays off for those who hang in there.
Below are some of my favorite late-in-life success stories:
A struggling actor and writer for many years, Billy Bob Thornton didn't  catch the attention of critics until the release of One False Move at the age of 37. Thornton's big break didn't occur until the age of 41 with the Oscar-winning indie film Sling Blade, which Thornton wrote and starred in. 
Having acted for stage and film for over a decade, Kevin Spacey had some notable credits with lead parts in Glengarry Glen Ross and The Ref, but his breakout year was in 1995 with roles in Seven and The Usual Suspects. The actor was 36 in 1995.
Bryan Cranston has been a working actor since the early 80s, but his first full-time television gig, Malcolm in the Middle, didn't happen until the age of 44. Though the actor was nominated for several awards during his stint on Malcolm in the Middle, Cranston didn't reach complete television domination until starring in Breaking Bad at the age of 52. Since Breaking Bad, Cranston has won several Emmys and starred in several Hollywood films.

As many David Sedaris fans know, for years the author was a bumbling, hapless drug addict and loser who couldn't keep a job and moved frequently. It wasn't until radio personality Ira Glass heard him speak in a Chicago club that Sedaris got his big break. The writer was 36 years old when he premiered on NPR and was 38 when his first book was published.
Amy Sedaris also didn't see fame until her late 30s. Though Sedaris was part of a short-lived Comedy Central show in 1995 at the age of 34, her show, Strangers with Candy, is what really catapulted her onto the scene. She was 38 when the show premiered.
Marc Maron has been a working comedian since the early 80s. Though he achieved moderate success on the road and on stage, Maron's big break didn't happen until the success of his podcast WTF with Marc Maron. At that point, the comedian was 43 (recommended by @rruiva).
The author Jennifer Egan didn't become a household name until the release of her Pulitzer Prize-winning novel A Visit From the Good Squad. The writer was 48.
J.K Rowling finished her first manuscript of Harry Potter in 1995 at the age of 30. The book was published in 1997, but didn't achieve global success until 1998 when Rowling was 33.
Designer Vivienne Westwood had her first catwalk show at the age of 40 (recommended by @runningonheavy).
Nick Offerman had several small parts on various TV shows and film leading up to his big break on Parks and Recreation at the age of 39 (recommended by @trevoray).
Actor Steve Carrell got his start on The Dana Carvey Show in 1996 at the age of 34. In 1999, at the age of 37, he was cast as a correspondent on The Daily Show. It wasn't until the year 2005 that Carrell got his big break with the film 40 Year-Old-Virgin, and in 2006, the television series The Office. Carrell was 44 in 2006.
Tell me your favorite late-in-life success story!