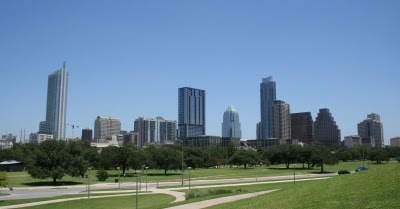 I've been on Pinterest for a few months now. I rarely used it and it had about as much appeal to me as covering my entire body in Nair.
With it's broadening popularity and user presence, I began noticing that people are doing some pretty creative stuff on it.
Austin ad agency GSD&M's "SXSW Survival Guide" is a great example of how Pinterest can be so much more than just a bunch of photos of shoes or houses you'll never be able to afford.
Inspired by this project and trying to find the best avenue for a relocation guide to Austin, I created a series of boards with popular neighborhoods in our city, neighborhoods people would want to move to. I included business, homes, the cost of living, museums etc. Often I get emails or comments from folks telling me that they're thinking about moving here and I thought having a visual on Pinterest would be a perfect answer!
If you're on Pinterest, you can follow me here. Please leave your username in the comments below so I can follow you too!
If you have any suggestions to add to the boards below, please let me know! I'm still updating the boards. This took me several days to make and it will evolve over time.
Thinking of Moving to Austin? A Pinterest Relocation Guide
The boards:
Clarksville– this downtown neighborhood is within walking distance to many popular shops, but real estate and rent is quite high (includes Enfield area) $$$-$$$$
South Austin– this hip and family-friendly neighborhood is home to many favorite local businesses. Real Estate is affordable for considering how close it is to Downtown and renters can find good deals. $$
University Area– the University area is covered in students, but the neighborhood features some favorite hangout spots and affordable places to rent. $$
North Loop – this Northern Central neighborhood is popular with families but more young entrpreneurs are opening businesses here. Real Estate is growing here, but you can find good deals, as can renters. $$
Crestview– this Northern Central neighborhood is popular with families but more young entrepreneurs are opening businesses here as well. Real Estate is a little high for what you get, but you can find good deals, as can renters (includes Allendale neighborhood). $$
Hyde Park – Hyde Park is a family-friendly neighborhood that caters to both old and new alike. There is a homey feeling in this historical neighborhood. Real estate is high, but you can find some good deals, as can renters. $$-$$$
South Congress– this close to Downtown neighborhood features old and new boutiques and restaurants and is popular with locals and tourists. Real estate is expensive, but renters can find some good deals (includes Travis Heights and Bouldin Creek neighborhoods). $$$
Downtown Austin– this neighborhood is mostly condos and lofts, but is a popular place for young people to hang out. Real estate and rent is expensive. $$$-$$$$
East Austin– this neighborhood is where old meets new and is popular with artists an young entrepreneurs. Real estate is still affordable here and you can find great deals on rent. P.S. This is my hood! (includes Cherrywood and Holly neighborhoods) $-$$