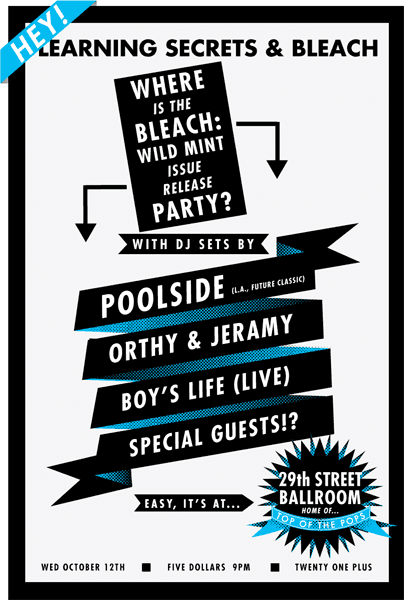 One of the features I wanted to add to the new Hipstercrite is writing about Austin events I'm excited about. Now, I'm not going to turn into a nightlife or scenester blog. I'm way too lame for that.  However, there are some pretty cool people doing some pretty cool things around here and I want to help share their special-ness. So every now and then you'll see a post promoting something that I feel is Hipstercritey.
This Wednesday two of my favorite local creative endeavors Learning Secrets and Bleach Online are throwing a shindig for the release of Bleach's "Wild Mint" issue. The festivities will take place at 29th Street Ballroom 9PM and feature Los Angeles DJ/music producer duo Poolside , Austin's very own 1950's shoegazey Boy's Life, DJ sets by Learning Secrets and a very very very special guest. They're so special, they deserve three "verys".
Tix are $5
18+
RSVP here.
Hope to see you there!