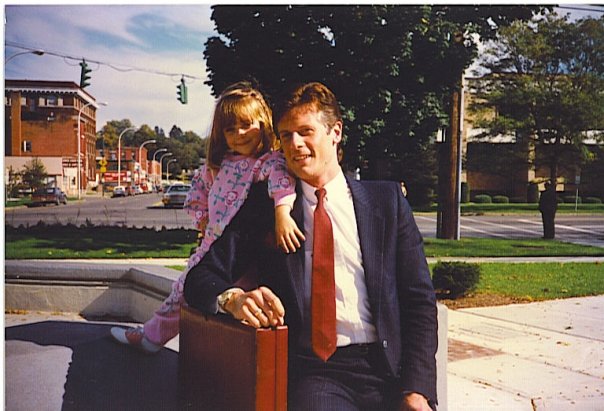 11:34PM 10/10/11 I think?
I spoke with my father earlier this evening. Dad is a part-time actor and part-time chauffeur in Los Angeles (aren't they all?). He works for a well-known car service and because of his super flyness and charm, he often drives some of their largest clients. Most of his clients are kind or completely aloof, but never mean. Dad told me about one of the few cranky clients he had the other night, an older actor who had his heyday 40 years ago but is still milking it for all it's worth. To make a long story short, the actor handed my dad a tip, but then decided he didn't want to give the tip and pulled the money out of my dad's hand and left. Dad thought it was hysterical.
But this wasn't the story that struck me during our conversation. No, it was the part about getting hit head-on by a drunk driver on Friday night. "Now, I don't want you to worry," he said, "I'm fine." My Dad knows I worry a lot. However, I think he thinks I worry more than I do. I'm not sure if I worry as much as he thinks I do. Maybe I do? I don't know. How does one know if they worry the normal amount?
It took me a minute to digest the news and once I detected in his voice that he actually was indeed fine, my heart rate lowered a bit.
What happened was that my father was sitting at a red light at 2AM in Hollywood after getting done with work. He was driving an older BMW. I'm only pointing this out because this is partially what prevented him from getting hurt- they're a freakin' sturdy car. Another BMW comes flying through the green light and is unable to make the turn and smashes into the front driver's side of my Dad's car. The window shatters and glass flies onto my father. The other driver speeds off.
Someone calls 911 and the police arrive. They have to carefully pull my Dad out of the car because he was crunched within. He assured the police that he didn't need to go to the hospital, that he just had some glass in his hair. As they're writing down the report, as if from out of the shadows, a man walks up to them with his arms outstretched and says, "I'm the guy that hit him. I'm drunk. Please arrest me."
Everyone got silent.
Doing exactly that, the cops put handcuffs on the man and place him in the squad car. They ask my father if he wants to press charges. My father walks up to the man and says, "I don't want to ruin your life, I just want you to pay for the repairs to my car." The police let the man go and he tearfully thanks my father (I guess you don't get arrested for drunk driving unless the cops pull you over?). Since the accident, my father and the other man have exchanged texts and phone messages. The man tells my father that he saved his life and he doesn't understand why someone wouldn't press charges. They're not best buds now, but they have forever connected due to this life-altering situation.
My Dad told me that he keeps thinking about that night, what he could have done differently to prevent the accident. "There was nothing I could have done, Lauren," he says to me. "I was doing everything right, just sitting at a red light and this guy comes out of nowhere. Makes you realize how out of our control some things are."
He's right and that doesn't help me to worry any less.