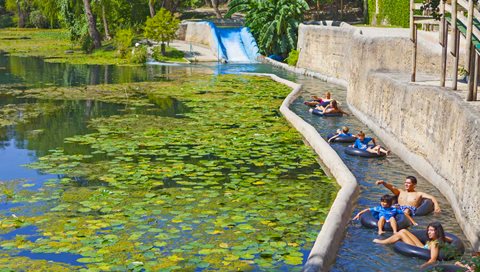 photo via Schlitterbahn
Schlitterbahn Waterpark is as Texan as corn dogs, boobie implants and Walker, Texas Ranger.
Built in New Braunfels, TX, in 1979, this water park is often referred to as the "HOLY SHIT OMG BEST WATER PARK FOREVER <3"
If you're from Texas, Schlitterbahn is rite of passage.
If you're not from Texas, natives will grab you, shake you and say, "YOU MUST GO TO THERE IMMEDIATELY" upon finding out you've never been.
And you do have to go immediately.
Schlitterbahn is life-changing.
There are five locations now, including the infamous Kansas City park with the tallest pants-crapping water slide in the world.
However, the original location is the best, and here are the reasons why:
1.) The park feels like it's stuck in the 1970s, both in aesthetics and public health and safety. Even the common demographic at Schlitterbahn sports mullets and mustaches (including women). This makes you happy because you realize that society has become too sanitized, and it's ok to get a bacteria rash or foot fungus once in awhile. It makes you stronger.
2.) There is a split second on each ride when you think, "Wow, this is how I'm going to die." However, you don't die, and when you finally come back up for air after a child fell on your head from a small waterfall, you decide you want to relive the experience.
3.) You leave the park with bloody elbows and bent pinky toes, and you're so happy that you forgot to be an adult for a day. Then you proudly show off your scabs to your co-workers the next day.
4.) It's teaches you a lot about humanity. Eight words: lower back tattoos that say "Debbie" or "Shawn."
5.) You become physically intimate with various strangers after your ride is backed up by a child pile and/or a gang of drunk moms unable to lift themselves out of their tubes. Once in a while you get a heel in your crotch, or you accidentally grab the hand of a bitter father.
6.) The older part of the park is powered with river water. And when the cold, ruthless teenage employees thrust you down a water chute backwards as you take in a noseful of water, you think, "I'm going to get a brain-eating amoeba," but you're ok with that because you sacrificed your life for something good.
7.) Everyone waits in line for the three newest rides, which means no one is in line for the park's 50+ other rides.. Which all means less pee-pee and poop-poop water.
8.) You're forced to leave your phone at home or in the car and live in the moment for a God-forsaken, friggin' moment. Therefore you will never have a single photo taken of you at Schlitterbahn.
9.) You can sit in a heated bar pool and silently judge others while you get drunk on wine margaritas. This will make you experience the exact opposite feeling from thumbing through fashion magazines. Then you will feel angry at yourself for silently judging. That is until the person you silently judged starts screaming and swearing at their child and you notice their back tattoo that says "Shawn."
10.) It's an excellent form of birth control.
P.S. I may sound like I'm ragging on Schlitterbahn, but all of the reasons listed above really do make it awesome. It's a very nostalgic and familiar experience.