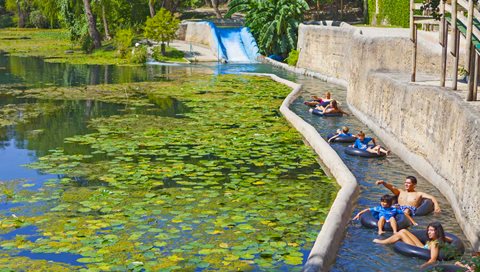 photo via Schlitterbahn
Schlitterbahn Waterpark is as Texan as corn dogs, boobie implants and Walker, Texas Ranger.
Built in New Braunfels, TX, in 1979, this water park is often referred to as the "HOLY SHIT OMG BEST WATER PARK FOREVER <3"
If you're from Texas, Schlitterbahn is rite of passage.
If you're not from Texas, natives will grab you, shake you and say, "YOU MUST GO TO THERE IMMEDIATELY" upon finding out you've never been.
And you do have to go immediately.
Schlitterbahn is life-changing.
There are five locations now, including the infamous Kansas City park with the tallest pants-crapping water slide in the world.
However, the original location is the best, and here are the reasons why:
1.) The park feels like it's stuck in the 1970s, both in aesthetics and public health and safety. Even the common demographic at Schlitterbahn sports mullets and mustaches (including women). This makes you happy because you realize that society has (more…)