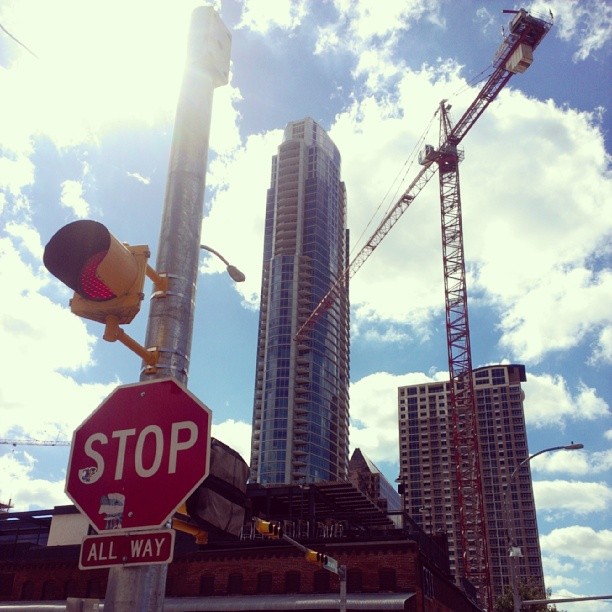 Following the news of the tragic death of Kelly (a.k.a. ATX Hipsters) this weekend, Zack Teibloom made me aware of ATX Safer Streets, a coalition of concerned citizens advocating for safer streets in Austin for pedestrians and cyclists.
You've probably heard a lot about ATX Safer Streets recently, and maybe you even liked their Facebook page or started following them on Twitter.
I reached out to ATX Safer Streets' founders Sara LeVine, Joseph Boyle and Butch Dowdy to learn more about who they are and how we can help make Austin a safer place for pedestrians and cyclists.
Now is the time for us to act.
What is ATX Safer Streets?
Sara: We are three volunteers that are committed to improving the safety and livability of Austin through improved late night public transportation options, including buses, taxis and peer-to-peer driving programs and better options for overnight parking. We started with a petition on Change.org in March of 2014 and since then have gained a huge following, including over 3500 signatures, and a rapidly growing Twitter and Facebook base. We put the petition signatures and comments together with a proposal to address ways in which city officials could improve late night options, and we presented them to the Urban Transportation Commission and City Council. Our proposal also got some into the hands of officials at Cap Metro. We have more meetings coming up with city officials and commissions, as well as a free launch party on May 11th at The Brixton at 4pm!
Joseph: Our basic message is this: what the city of Austin is doing right now- arresting people after they get behind the wheel and the damage is usually already done- isn't working. We have the numbers to prove it. DUI numbers are going up in this city every year. We're proposing a different, more proactive approach: provide people with more options to get home. We feel that when given enough options, most people will make the right choice.
Butch: I want to add that Austin has one of the highest numbers of drunk driving offenders in the country (9th according to one source). The heavy-handed punishments delivered by the state are not working and are also costly. I'm definitely not saying there should not be legal consequence to driving while intoxicated, but like Joseph said, we need a proactive approach.
What are you goals with ATX Safer Streets?
Sara:
-To increase overnight parking in downtown Austin so that people can and will leave their cars behind when they've had too much.
-To add more all hour, temporary event and peak demand taxi permits and legalize peer-to-peer driving programs such as Uber, Lyft, SideCar, et al.
-To increase Cap Metro's Night Owl services with more buses to more parts of the city. We'd love to see some 24-hour lines make their way to our streets!
Our goal is to ultimately make our city so user friendly that cars don't have to even leave their driveways for people to enjoy the nightlife! You can view the full text of our proposal here. 

Joseph: We think that what we're proposing will save people's lives. Not to knock anyone in City Hall, but we feel like they have a definite disconnect between what's happening during office hours and what's happening on 6th Street at 3AM. This is an election year and people are frustrated. Worse than that, this problem is starting to gain a reputation for Austin. Out-of-towners who come here for big events like SXSW, ACL, etc. are getting a little more vocal about how hard it is to get around in this city- a city that likes to think of itself as progressive and innovative. I love this city, but that's embarrassing.
Butch: I wanna add that we understand the costs of expanding bus service times, and a 24-hour bus service will probably not be feasible right off the bat. However, we have some ideas on how to subsidize them. Just running 5-10 more lines until 4 a.m. on weekends would make a big difference.
Do you think Austin is a pedestrian or bike-friendly city?
Sara: I think we have pockets of both, but we are a 321-square mile city with a very low population density (about 2,828 people per square mile). We've got great neighborhoods that encourage both people and bikes, and I am enthused by the mixed use areas that are being promoted and built. I love the bike and running trails that are popping up all over, and I am absolutely thrilled by the improved bike lanes in many areas. There are many high traffic areas that were never built with any thoughts of mixed traffic use and are in desperate need of an overhaul.
Joseph: Compared to other places I've lived, Austin is extremely bike-friendly. It's not very walkable yet, but I've seen a concerted effort to change that. I've lived in a few major cities, but I've never lived in a place that had so many dedicated bike lanes. Personally, I'd like to see more multi-use communities in Austin; you can have places to shop, work, do what you need to do, all within walking distance in your neighborhood.
Butch: More so than other places I have lived. I bicycle a lot, I don't think its that bad here.
What do you think the city can do differently to make our city safer for pedestrians and cyclists?
Sara: I'd like to see sidewalks built in the neighborhoods that are lacking them, improved street lighting and better bike lanes, especially more protected ones.
Joseph: Butch and I both ride quite a bit. One of the ideas that we've heard thrown around, and I thought this was interesting, was to change the speed limit within the downtown core to 20-mph, like a school zone, on nights and weekends. Logistically, I don't know how feasible that is right now, but I'd like to see more of an emphasis on people slowing down and not being distracted while driving, especially at night. Outside of the downtown core, street lighting could be a lot better, especially in some of the lower income neighborhoods.
Butch: I am for all of the above, within budget. I see a lot of proposed projects around town that I think should be given the boot and the money transferred to more public transportation and pedestrian-friendly ways.
What can citizens do to make the city safer for pedestrians and cyclists?
Sara:  More awareness from everyone. I see too many distracted drivers, cyclists and pedestrians.
Joseph: I see crazy stuff when I'm on my bike. The main thing is distracted driving- people looking at their phones instead of the road. I lived on the East Coast for a while and there's a different attitude there- people drive a lot more defensively. I think Austin, because we've become such a melting pot of people from different geographical areas, also has become sort of a melting pot of different driving styles. I think Austin definitely needs to have more of a focus on defensive driving and being more aware of your surroundings.
Butch: I concur, especially with more awareness. A lot of people have their heads in the clouds while driving and cycling, or somewhere much worse. I would also like to see less texting while driving; it's very risky, and those that do it should be ridiculed.
How can people get involved with ATX Safer Streets or help your organization?
Sara: We need people to help get the word out, first and foremost, to citizens but especially to city officials. You can do that by sharing our Get Involved page on social media. On that page, we've included multiple ways to easily reach out to city officials. Also, please share our proposal to city officials for changes to parking enforcement, taxis/ride shares and Cap Metro.

We need people to get the word out about our launch party, it is May 11th at The Brixton at 4pm.

Last but not least- we need people to assist with flyering downtown and other hotspots.  If you can help with that it would be tremendously awesome. I'll be happy to meet with anyone interested in flyering for us.
Also, any amount you can donate or encourage others to donate would help us cover our print and media costs, and would be greatly appreciated. You can donate easily via Paypal on our page.
Joseph: Every Friday and Saturday night, we encourage Twitter users to tweet @austintexasgov when they can't find a cab, are denied service by a cab or have been ticketed/towed/penalized for leaving their car downtown to get a sober ride home. We also ask that people tweet @CapMetroAtx any time the Night Owls are full, late or they experience service issues. We would like to see this become a regular thing, where every weekend, people who can't get home are tweeting about it, and the city government has to acknowledge that this is a problem. We don't just want to make City Hall aware of the problem, we want it to be something they can't ignore.
Butch: The guys hit the nail on the head! Twitter away folks!