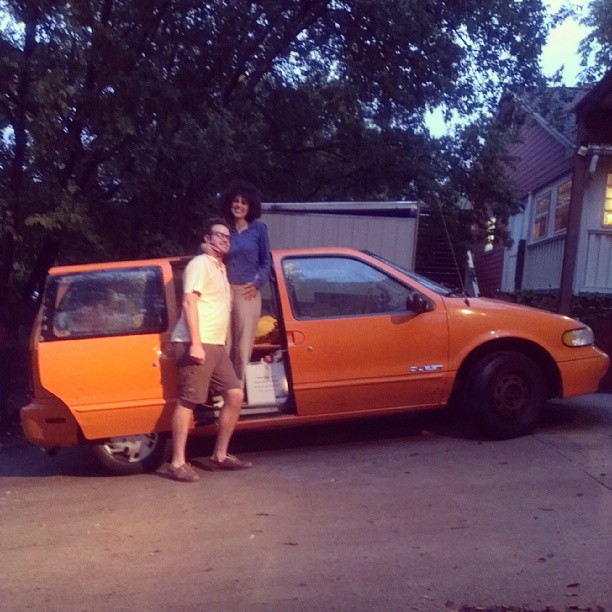 Hannah, Colin and The Orange Van
Having a blog can be equal parts inspiring and debilitating.
Debilitating may sound a little over-dramatic, but for anyone who spends several hours on the computer a day, you may relate to the physical and mental strain the Internet cacophony and the computer screen glow can cause. Bad posture, low self-esteem, pancake ass, eye fatigue, anger, frustrati0n, denial, sexual feelings towards cats- these are all emotions and ailments you may experience being a blog owner or Internet slave.
I often daydream of throwing a pillowcase over my computer, dragging it out behind the house and beating it a la Office Space style: slow-mo and with Texas rap stuttering from its dying speakers. I think about pulling its little plastic bits off one by one and putting them in a pile to burn.  While the neighbor kid watches on, I'll take off my pants, soak them in gasoline, light them on fire and throw them onto the computer rubble. And I'll dance around the blaze while alternating tears of laughter and rage.
But I won't do it. I can't. Like the millionaire cat woman who can't stop getting plastic surgery all over her friggin' face, I'm tied to this machine. I chose a career that makes me lie in bed with the Internet and now I'm a BIG, FAT, FILTHY WHORE who is being suffocated by the blanket of information and technology.
So here I am, staring at a blinking cursor as I try to find the words to articulate my relationship to technology, my eyes having succumbed to the disorder known as Eye Fatigue (I have trouble focusing on long distances now) and my mind replacing the word "later" with "laughter" and "money" with "more". Both of these developments are not advantageous to a person with hypochondria; both afflictions make her think she is having a stroke. EVER SINGLE MOTHER F'ING DAY.
You can make fun of me all you want for this post. I probably sound like a giant blowhard, but any of you who have a job that requires copious amounts of time on the computer knows what I mean. I try to take time away computer, but as of now, the Eye Fatigue and sore back seem to be semi-permanent deformities. I'M A MONSTER!!!!11111111!!!!!!
But my point of this article is not to bitch- it's to tell you why having a blog and spending a lot of time on the Internet can be REALLY AWESOME AND REWARDING TOO!
This weekend I met my non-local second blogger friend. Her name is Hannah.
She used to have a blog called My Soul is a Butterfly. Now she writes for stuff like The New York Times, The Atlantic Wire and The Times-Picayune. You know, no big deal.
We first met over four years ago on a platform called 20-Something Bloggers. At least I think we did? It seems so long ago now (fun fact: a new blogger named Allie Brosh started on there the same time as us). We followed each other's adventures through our blogs and even did a blog swap for a day. Hannah wrote about her  life in NYC, her brother with autism and she also used her blog as a creative place to exercise her poetry and short story-writing skills. She's an extremely talented writer (you can read her work here).
We kept in contact the only way that online friends could: via Facebook, Twitter and the occasional email.
Until last weekend. She and her boyfriend, Colin, decided to tell The Big Apple to get lost and jumped in their orange van to start a new chapter of  their life together (check out their adventures here).
On their journey west, Hannah contacted me, and she and Colin stayed at my place for the weekend. The rest is history!
You may not really know someone online, but maybe you do. Maybe you  are  surprised to discover that they're even cooler than you imagined.
I felt like I had known Hannah for a very long time, which surprised me. I thought the veil of the Internet really kept us from getting to know one another (in some instances, yes- especially when the person on the other end is a serial killer). Even though my time with Hannah was fleeting, I look forward to our lives crossing paths again in the future.
Hannah was the second non-Austin blogger friend I've met. The first is Laurenne, the creator of the blog Humans Are Funny, the storytelling platform Taboo Tales and the indie travel company The World Less Traveled. I met her when she was working at an advertising company and she contacted me to be in an eHarmony commercial directed by Errol Morris. I had zero interest in embarrassing myself in an eHarmony commercial, but had lots of interest in meeting Errol Morris. How often can a person say, "So Errol Morris just directed me in a dating commercial!?" I did an "audition" over Skype (it was more of an interview, which is a good thing because I can't act my way out of a paper bag), but I didn't get the part. Luckily, Laurenne and I became friends because of it. We chatted online for over a year and realized that we had a lot in common (we're both an only child of divorced parents). Laurenne is also the writer of one of my favorite blog posts of all time. If her story about her deceased gay day doesn't make you laugh and cry, then you're probably not human.
When I came out to LA a year or so later, I met Laurenne in Venice. I think? See! THE DAMN INTERNET IS MAKING ME LOSE MY MEMORY! All I know is that I met her AGAIN in Venice. We hung out twice and it was nice. That rhymed!
Anyhoo, the point of this blog post is that sometimes you can meet really cool people online and sometimes you meet them in person and they're even cooler. This is the beauty of having a blog and being a slave to the Internet. If having a blog is good for anything, it's getting to meet- online and offline- so many interesting, unique and awesome individuals. I feel very fortunate for that.