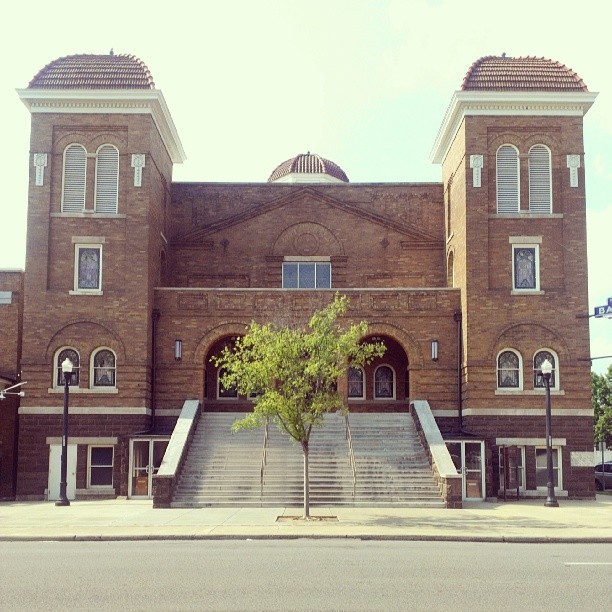 16th Street Baptist Church, where four little girls were murdered in a racially-fueled bombing
We just got back from a road trip to Birmingham. Though the drive was full of interesting discoveries that only the Deep South can offer- 10-foot road kill alligators and strange women accusing you of practicing witchcraft- it's a very exhausting drive to do in four days with a handicapped boyfriend (damn you, rotator cuff surgery).
The reason we drove to Birmingham is for the lovely Sidewalk Film Festival, where our film, Loves Her Gun, screened. I was very excited to visit this complex city and to learn more about its history regarding the Civil Rights Movement.
Birmingham has very strong ties with the Civil Rights Movement- for good and for bad. It was the home of the brave and fearless Civil Rights leader Reverend Fred Shuttlesworth and the cowardly Eugene "Bull" Connor (I wrote about Fred Shuttlesworth, who died on the same day as Steve Jobs, about why he ultimately is more important than Steve Jobs). It is the place where Shuttlesworth, James Bevel, Martin Luther King Jr., the Southern Christian Leadership Conference and thousand of demonstrators marched and sat-in to help end segregation. It is the place where four little girls were murdered in a racially-fueled bombing at the 16th Street Baptist Church.
We walked through Kelly Ingram Park, Birmingham's Civil Rights hub. The immaculate park- where many of the demonstrations took place- features an array of breathtaking art installations symbolizing the first week of May 1963 when demonstrators- many of them children- were arrested, bombarded with water canons and attacked by vicious police dogs. You can't help but feel emotionally overwhelmed at this sacred place.  So much bravery, tears, lives lost, lives scarred, and lives enriched.
Below are photos taken at Kelly Ingram Park, the 16th Street Baptist Church and the Civil Rights Institute. If you ever find yourself in Alabama, I highly recommend visiting Birmingham. Actually, you should run to Birmingham. You should run to Jackson, Mississippi and visit the home where Medgar Evers was murdered. You should run to Little Rock, Arkansas and visit Little Rock High School where nine African-Americans students were verbally and physically abused for attending high school.
Whatever the color of your skin is, it is to humanity's advantage to learn about the heroism of those before us.
Instead of following the stories and lives of Justin Bieber and Miley Cyrus, we should be teaching our children and ourselves about Daisey Bates who called for integration in Little Rock, or Medgar Evers who gave his life for the Movement. We should known the names of Clara Luper who helped organize the Oklahoma City Sit-In Movement and Edgar Nixon who helped organize the Montgomery Bus Boycott. To me, Fred Shuttlesworth, who was beaten with chains, stabbed, survived several bombing attempts at his house and church and just kept moving forward, is ten times more fascinating than any pop star or tech giant will ever be. These men and women should be our role models and our heroes that we look up to. We should be excited to learn who they are and what they've contributed.
We should not only learn their names, but never forget them.
Do yourself a favor today: read Parting the Waters: American in the King Years 1954-1963. If that is too much for you, read this page. We will not learn from our mistakes and grow as a society unless we examine our past. We will have more Martin-Zimmerman situations unless we learn from our great leaders- the untainted, fearless and genuine leaders who fought for our generation's freedom.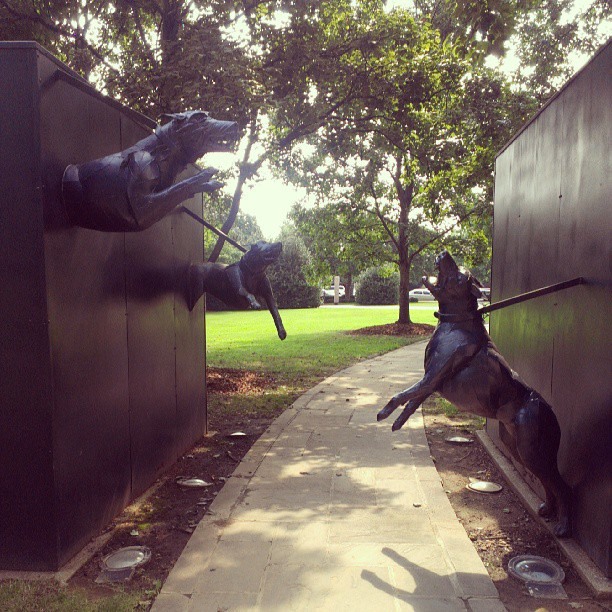 Statue in Kelly Ingram Park symbolizing the attack dogs used on Civil Rights demonstrators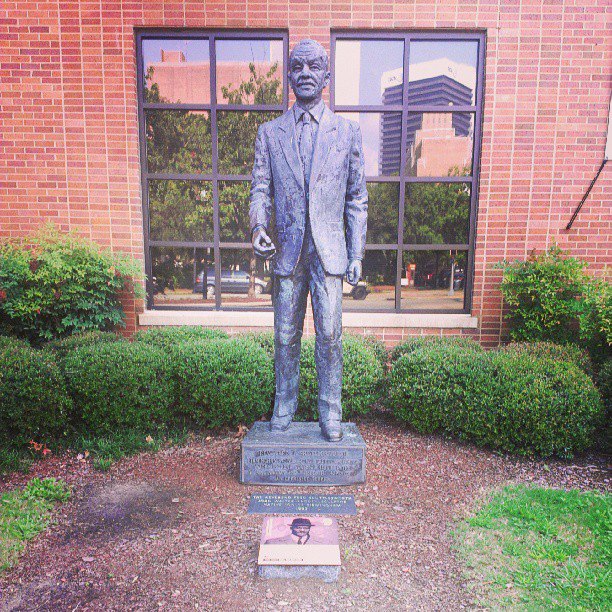 Statue of Fred Shuttlesworth at the Civil Rights Institute