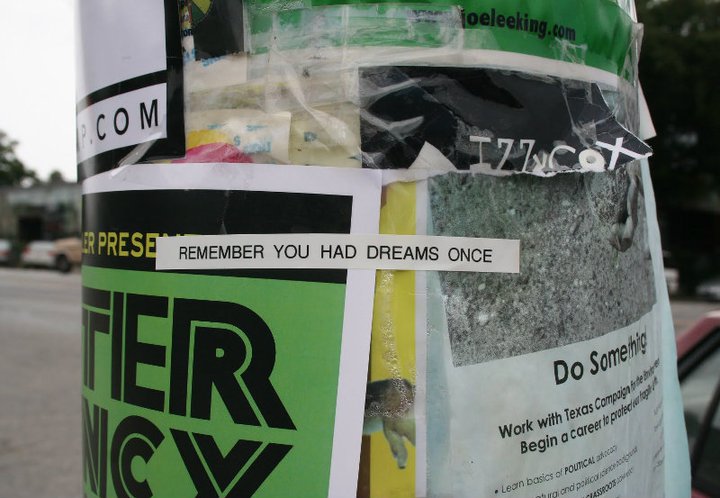 As of late, I present a lighter fare to nosh on.
I've drifted further and further away from any complex or adverse feelings due to wanting to keep the site a happy playground full of Jeff Goldblum photos, poop jokes and jointly Jeff Goldblum photos containing poop jokes.
This need to check rain clouds at the gate coincides with my own personal progression of keeping my emotions to myself. This isn't due to any particular person or experience in my life scaring me into not sharing my thoughts (though I have a grandmother who stifles her emotions to the point where they manifest into random outbursts of directionless anger and a former, life-changing boss who often told me I acted too much "like a girl" and that I should stop it), but by the fact that I became sick of hearing myself whine, lament, sob and complain as an early twenty-something and have become increasingly annoyed by others who do the same thing (mostly the whining part). This act of personal defiance is not necessarily a positive development since now I'm prone to staring silently out of the window for long stretches of time and discovered that in doing so, like my grandmother, the compression of emotions will ultimately feel the need to be released at some point: mine makes its debut upon the increasingly rare one or two glasses of alcohol and explodes into an awesome array of tears, gurgles and whimpering.
So, I don't always share with you who I am because I don't want to burden you. On the days where I feel down or confused, I simply do not blog. This was not always true, but as of lately, it often is. When I was younger, single and highly emotional, I shared the journey quite often. Now my life is simply balanced, maybe even flat-lined at times. When a negative emotion rears its ugly head, I'm confused why it's there. What do I have to be unhappy about?  We're complex creatures and some days we don't know why we feel the way we do.
Today is one of those days.
1.) Today I thought about the fact that I cannot leave the house without running back to make sure the door is locked and half of the time, that the stove is turned off. I did not take notice of this behavior until my boyfriend pointed it out. Though it seemingly does not annoy him, he jokes about his patience as he waits for me to do my little ritual. Before I met him, the ritual faded into blurriness of routine and I forgot it existed.
This trait is part of a larger anxiety that often wakes me up at 4:30AM and keeps me up. It's an anxiety that causes me to have nightmare night after night (though I am starting to believe the direct correlation between eating late and bad dreams), forces me to only watch happy good-time movies and television at night (I had to give up on Breaking Bad) and continues the childhood rituals of saying the prayer just perfectly when pertaining to my parents,  otherwise if I don't, it will cause great harm. This has bled over into my texts to them; if my text is grammatically incorrect, something bad will happen. I also cannot throw away anything they've ever given me for the same reason.
2.) People are asking me what my next step in my career is and the answer is I simply do not know. It took most of my middle twenties to reassess what I wanted to do (write) and I've been doing it professionally for a little over a year now. I appreciate the excitement of those asking, but it adds to my already existent angst concerning my 30th birthday next year and the fact that I'm still having difficulty supporting myself financially. If you must know, the answer is:
I want to write a book. About what? I'm not sure.
I want to write a screenplay fictionalizing my time in Los Angeles, but the sheer cheesiness of writing a personal screenplay about Los Angeles prevents me from doing so.
I want to teach a blogging class. This goal is not that difficult.
I want to go back to school because my confidence in my writing abilities is only 67%.
I want to make a documentary about Warren Zevon, but I'm not sure how to do it. Maybe school will help? Maybe it won't…
I want to advance my freelance writing career, but I'm still not sure if I'm pitching correctly.
I want to keep this blog evolving, but I'm not sure I'm doing it the right way.
3.) I often think I should not worry about the questions in #2 and focus on a selfless life. Who really gives a shit about a blog called Hipstercrite or a screenplay about Los Angeles? We only have one shot at this, why not really help someone…
4.) Going back to #1, I live in a very constant fear of death. Not necessarily for myself (though I'm convinced I'm always dying of something), but of the people I love. It consistently keeps me on the edge of my seat when I can't reach one of them (my mother, my father, my grandmother and Geoff) by phone and leads to overactive thoughts of their untimely death. This fear is so great, that I will possibly never own a pet or have a child. The thought of losing a pet, and more greatly a child, seems too difficult to comprehend.
5.) My boyfriend has been riding the emotional roller coaster concerning his own art and career and I have no idea how to handle it. This frustrates me.
6.) I miss my family and the people who have left us. I see the hair on top of my mother's head thinning, the energy in my grandmother's stride fading and the lines on my father's face deepening. In the mirror, I see a woman and wonder where all the time has gone.