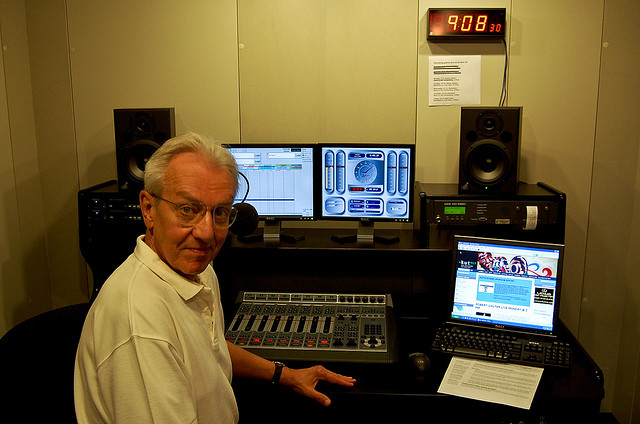 via KUT Flickr page
Dear John Aielli,
A few weeks back, I saw you for the first time out in this strange and beautiful world. I was walking into the alley below UT's School of Communication as you were shuffling out.
A smile was playing on your lips– not a smug, pretentious smile, but a smile of someone who appreciates life, the birds in the trees, the geckos on the sidewalk and the clouds above our heads.
Seeing you smile to yourself made me smile to myself– you were exactly how I pictured you (this is bordering on slightly creepy, but something makes me think you'd appreciate "borderline creepy").
When I first arrived in Austin 4 years ago, you were the jovial "is he drunk or isn't he?" uncle figure that welcomed me to the city with your weekday morning program "Eklektikos" on KUT.
I'll never forget the first time I felt the uncomfortableness of your dead air and the sounds of you mispronouncing a band's name or accidentally playing the same song over again, even though you just played it, and leaving it on air.
This caused me to drive slack-jawed with bewilderment that something this unconventional could exist on the radio.
I've been a fan ever since.
Though it makes me snicker when I see the occasional "If You Don't Tell Your Children About John Aielli, Who Will?" bumper sticker around town, I'll never understand the curmudgeon who dislikes your disc jokey services; I think you're a breath of fresh air. So what that you end up having an entire conversation with yourself on air without any regard to the listener? So what you play several hours of Celtic music one morning, then the X-files theme song several times the next? And so what that your use of non sequiturs is spellbinding and disorienting? You always keep us guessing, John Aielli, and for a medium that often becomes stagnant with canned radio talent, I applaud your bravery or "who gives a flying f attitude"…. I'm not sure which one it is, but both are admirable.
I don't always listen to you, like right now, but I can imagine exactly what you are saying. You're probably waxing poetic about the moon, dinosaurs or the gym. Or maybe you're talking about what it would look like if a dinosaur was working out at the gym with you on a full moon? Or if a moon was working out at the gym while a dinosaur watched on?
It's hard to imagine a day when John Aielli is no longer on KUT. In other words: you're not allowed to retire. Or leave this planet. We will devise a way for you to live forever.  You epitomize the slogan "Keep Austin Weird" and without you to start our days, we Austinites wouldn't know what to do with ourselves. You are what is holding us back from falling into the seven-lane highway and highrise inferno. Every time an iconic Austinite retires, a developer gets his wings. Don't let that happen, John Aielli! We need you to continue leading the ragtag army of weirdos, free spirits, lovers, pacifists, artists and dreamers that make this town special.
If I ever write a screenplay, there will be a character modeled after you. I will call him Hans Bailey. He will be the benevolent neighbor who brings the protagonist baskets full of garden vegetables and shares the meaning of life with her. Something makes me think you know the secrets of the universe, John Aielli. I can tell from your smile the other day.
Forever your fan,
Lauren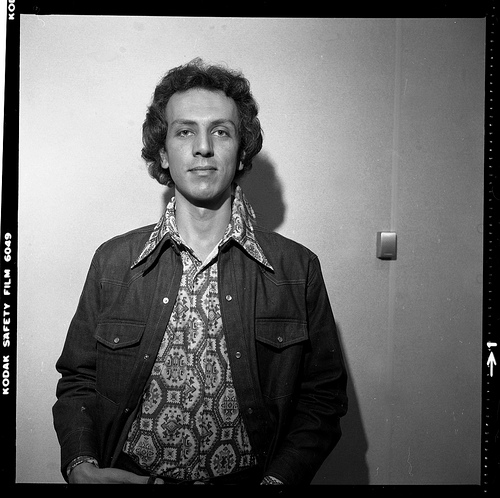 via KUT Flickr page