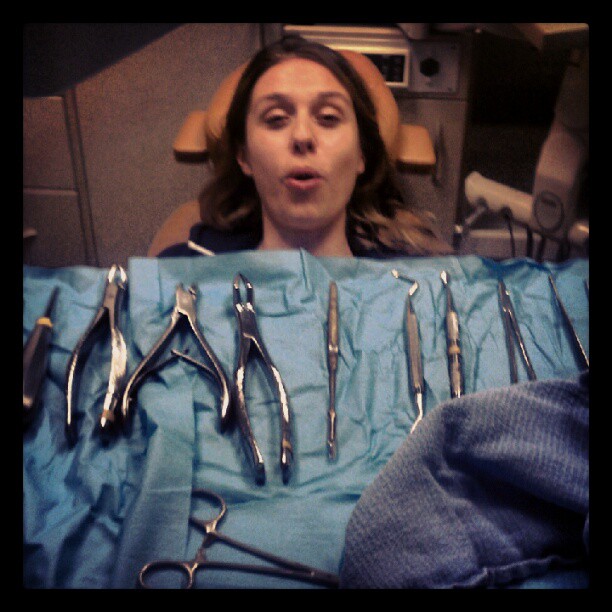 Dudes, I got my wisdom teeth out last Friday.
Let me tell you something, the sound of your teeth cracking like  splintering wood is something you never forget.
NEVERRRR.
After a long gestation, I decided not to go with sedation against the recommendations of many friends.
Luckily, I was only having two teeth removed (one tooth never came into existence and the other is in hiding) and they were relatively easy extractions, otherwise I would have maybe, maybe, gone under.
But not only was it $400 cheaper not to be sedated, but, I'll be honest, voluntarily putting myself into a  coma is a terrifying thought. It's even more scary when you hold the knowledge that THREE SEPARATE PEOPLE you know of have died while in the dentist chair. THREEEE!
The alternative to being knocked out is Novocaine, which worked out perfectly.
Since sharing my wisdom teeth perils with friends online and in real life, I've discovered that a lot of twenty-somethings are in similar situations that I was in- the little bitches need to be taken out, but *dental insurance is a thing that only corporate people with polo shirts have.
I spent months researching the most painless and inexpensive way to get your wisdom teeth extracted and here are a few pointers:
1.) Look Into Clinical Trials– Austin has a legendary clinical trial clinic called PPD where they're perpetually doing wisdom teeth extractions in exchange for your first born taking experimental drugs. I'm sure many large cities have such programs. The wisdom teeth program in Austin varies from time to time, but when I looked into it, they paid $400 and extracted two teeth. The drug they were testing was a name brand sleeping pill/pain killer hybrid. I was selected to do the program, but chickened out last minute because I didn't feel comfortable staying overnight at the facility. I've talked to several acquaintances who have completed this program and it's completely safe and legit, but being sensitive about the surgery, I much preferred not being performed on in a windowless building in East Austin where I was referred to only as a number.
2.) Research the Living Shit Out of Oral Surgeons/Dentists in Your City, But Not So Much That You Neglect Your Oral Health– Because I was no longer doing the clinical trial and making coin off of my wisdom teeth, I spent many months researching dentists and oral surgeons that were affordable for people without dental insurance. My research was so in-depth and time-consuming, that my teeth finally got to a point where I could no longer wait, and I ended up selecting the first oral surgeon who could get me in the next day. I lucked out in that not only is he one of Austin's most affordable, but also extremely professional and comforting.
3.) Don't Go to a Sketchy Clinic– I highly recommend the oral surgeon I went to. His name is Dr. Todd Eggleston and his office is in a convenient central location near 5th and Lamar. His Yelp reviews are aces! Not only was he able to see me the next day (many other dentists/oral surgeons couldn't see me for 3 weeks!), he was very thorough and attentive. Never did I once feel uncomfortable during the procedure and the whole experience was pain-free! In fact, I was so ecstatic that the procedure was easy, that I had a shit-eating grin on my face through the entire operation. The surgeon probably thought I had taken the painkillers before the extractions. At the office, we also met a lovely caseworker who takes her clients to Dr. Eggleston due to his fair prices and kind attitude. I had a friend who was in a similar situation- needed emergency wisdom teeth extraction, but didn't have dental insurance- and went with one of the cheapest dentists she could find. She ended up going with Castle Dental and spent more money than I did for the same procedure. Her experience was also significantly painful. When she told the dentist that she could feel the tooth being pulled from her mouth, they suggested that she didn't know what she was talking about.
4.) Sedation vs. Novocaine– As I mentioned earlier, folks have mixed feelings on this subject. Many friends told me that I was crazy not to be sedated. Others said it was not worth the money or the time you would eventually lose from being weird for a number of days. Because my surgery was fairly minimal, I opted for the Novocaine route which ended up being  a painless and quick experience. The only freaky-deaky part about being awake for the extractions, is the sensation of someone yanking and breaking your teeth in your mouth. I was nervous that the sensation would be quite grand, but due to Dr. Eggleston's skillz, I barely noticed a thing. I didn't even see him take the teeth out of my mouth. He's magic. If you're having all four teeth extracted at once and they're deeply impacted, I would recommend being sedated. If most of your teeth have broken through your gum and you're only getting a few done at a time, I would recommend saving the $400 and pride yourself in having toe-curling details to share with everyone after the procedure.
5.) Don't Use a Bong Through Your Nose While Recovering from Wisdom Teeth Surgery– This is not advice from myself, since I don't smoke weed, but advice from a friend who told me this quite seriously. When she took a hit through her nose, it caused dry socket X a million and she subsequently had to go to the surgeon several times a week for six weeks where they manually applied ointment into her wounds.
6.)  Get Creative With Soft Foods, Otherwise You'll Die From Starvation- Truthfully, the worst part of having your wisdom teeth pulled is not being able to eat the foods you love for several days. Even though my teeth are healing up nicely, I'm still gun-shy to eat salads and crunchy veggies. These past few days I've been mainly eating soup, applesauce and mashed potatoes, which are all delicious items, but annoying when you're forced to watch your boyfriend eat Mother's famous Garden Patch Salad with Cashew Tamari dressing on it. IT'S STUPID TORTURE.
If you want to see what extracted wisdom teeth look like, I posted a very bloody photo of my little monsters last week. The photo offended a few, so instead of sharing it on my blog, here is a link for the morbidly curious (it's really not that bad- some people are sensitive!)
*Dental insurance is not that expensive, but unfortunately pays for very little each year. I opted not to get dental insurance because I figured I would be getting $800 in savings a year (I need thousands of dollars in work done) and could potentially save more money by paying out of pocket (some dentists like cash over payment from health insurers). Either way, if you don't have dental insurance, it's worth looking into. The plan my health insurance broker showed me was only $20/month.