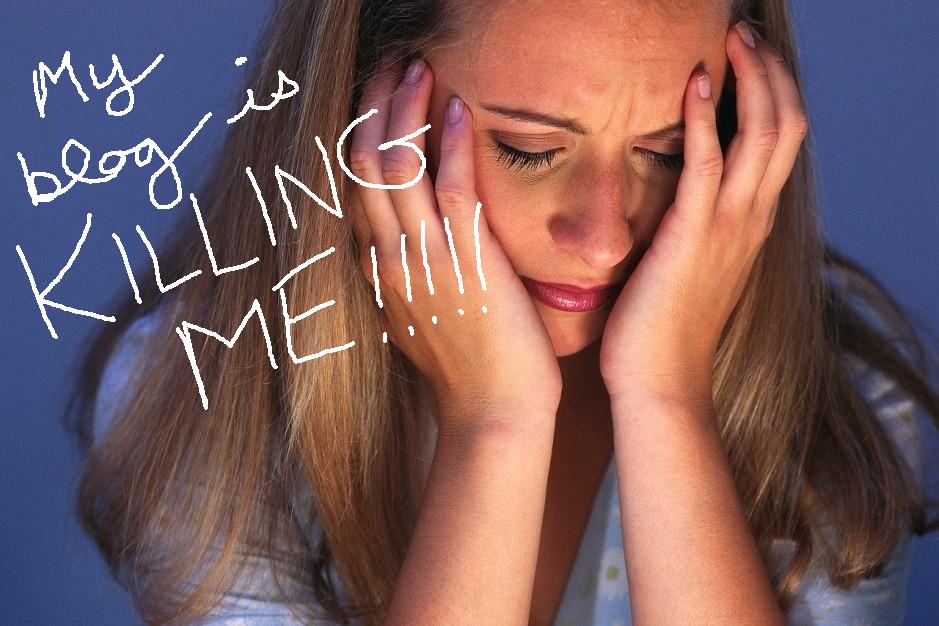 I like following popular blogs. Not so much in that I find the material interesting (by the time I've found the blogs, the authors have already begun posting less than engaging material because they've reached a success that doesn't demand time or quality), but because I'm intrigued with their lives as popular bloggers.
Recently, a blogger friend clued me in to some blogger drama going on with the blog Single Dad Laughing. In short, a lot of readers and bloggers have increasingly become annoyed at author Dan Pearce's  seemingly narcissistic blog rants. A recent SDL post spawned this angry response from Daddy blogger, Beta Dad. Though I don't believe in blogger bashing, I found Beta Dad's blog post kind of hysterical.
Blogger dramaz!
I don't always follow Single Dad Laughing, but when I do, I've spotted keywords such as "depression", "hiatus" (Dan had to take temporary mental health hiatus from blogging) and other words that insinuate emotional unrest.
This got me thinking about two other popular blogs I follow, The Bloggess and Hyperbole and a Half. The Bloggess' author, Jenny Lawson, writes about crippling depression in the present tense, while Hyperbole and a Half author, Allie Brosh, has dropped off line all together due to her depression (though she promises she is still working on her book).
Three popular bloggers who suffer(ed) from severe depression.
This, in conjunction with a recent article in the Daily Beast asking if  the Internet is making us crazy, made me wonder what came first? The chicken (depression creates good bloggers) or the egg (blogging causes depression). I think two of the three examples I listed above are the chicken, but I'm sure becoming a constantly read and critiqued online celeb makes for many, many eggs.
The Daily Beast article, "Is The Internet Making Us Crazy: What the New Research Says", claims that the Internet is making us "depressed and anxious, prone to obsessive-compulsive and attention-deficit disorders, even outright psychotic."
Whoa! Intense, huh?
Well, I don't know about you, but I definitely feel that my mental (and physical) health have suffered from being on the Internet for long hours. Though I wouldn't say that I clinically display any of those disorders above, I can confidently (and unhappily) say that I've experienced sadness, anxiety, obsessive-compulsive and attention-deficit traits at various times throughout my online career.
Bloggers, do you check your daily stats much? Like every five minutes? How about your Facebook page for likes and comments every five minutes? Do you get depressed if people don't share or comment on your posts enough? Do you compare yourself to other bloggers? Is your Twitter window open at all times and you instinctively jump everytime a "(1) Twitter/Interactions" pops up on your tab? Did even looking at "(1) Twitter/Interactions" just now make you tingly in your loins?
Yeah, we're messed up.
The Daily Best article goes on to compare our Internet use to that of a cocaine addiction that "fosters obsession, dependence and stress reactions". China, Tawain and Korea have "accepted" Internet Addiction Disorder as a real problem and have begun "treating problematic Web use as a grave national health crisis."
So how do we know if we're all addicts?
According to the article, if you spend more than 38 hours online a week, you're an addict.
Work a 40+ hour a week job on the computer? Guess what that means!
None of this is new information and I'm sure we're all somewhat consciously aware that we have a problem. Reading the article at least reaffirmed that I'm not alone in my wide array of emotions when dealing with the Internet.
If there is any point to this article, just remember, if you find yourself feeling like you're going insane and you're not sure why, step away from the computer and meet a friend or stare at the clouds. You might be surprised how much better you feel.