In my mother's Easter care package, filled with chocolate, an infinity scarf and a postcard of Assistant Walter D. Skinner from the X-files, was a paper catalog from the 1980s of a now defunct department store in Upstate New York called Chappell's. The catalog, which is weathered, features my dad, and a handful of other male models and one female child model, in a themed spread called "Dad's World."
I knew my father did regional modeling during my youth, but I had never seen this catalog before. What struck me about the catalog was not how boyish my father looked, but how UNBELIEVABLY PERVY the spread was.
Here is just a taste of the spread. (Please excuse the low quality of these photos; this catalog was obviously folded up and hid from society for many years.)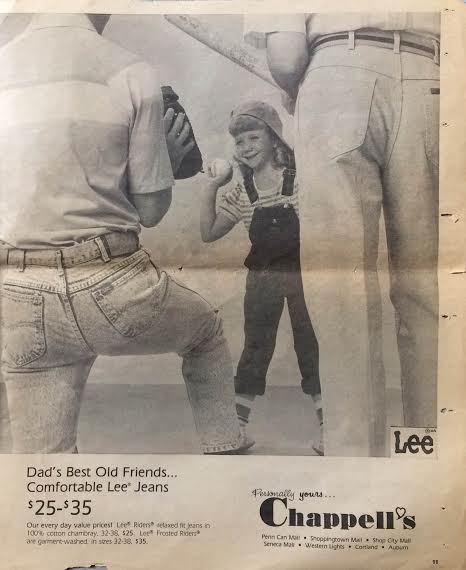 I was so flabbergasted by this insane photoshoot, that I called my dad to see if he could shed any light on the homoerotic-slash-hint-of-child-molestation theme you're about to see in the photos.
Did you do a lot of modeling in the 80s? 
My first modeling was in New York City. God, it was so long ago. That is when I did a Brut deodorant commercial. I played a trumpeter and the point [of the commercial] was to have the trumpet up in my armpit to shot it was dry. It was my first commercial.
Do you remember this shoot for Chappell's at all?
Yeah. I kind of remember. It was a long time ago. Maybe mid-80s? I was probably about 32 or 33. I was part of what they called Today's Man. It was a theme that Chappell's did. I was the yuppy, up-and-coming man-thing.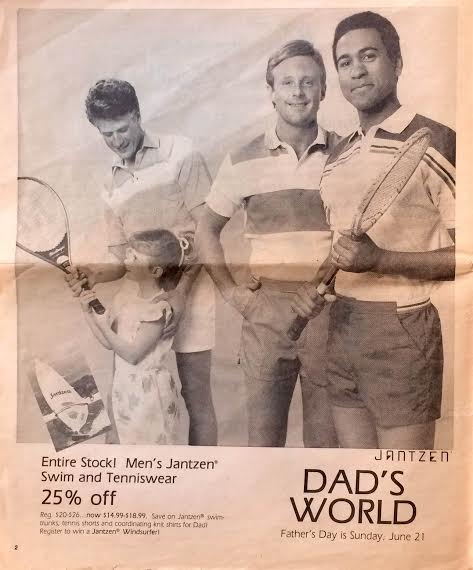 First, let's talk about the dad short-shorts in these photos.
I have not seen those short shorts in that capacity at all anymore and I hope I never will. I remember one guy putting lotion his legs because of the short short shots, to make them look better or something. (My dad is the dude on the left; you know, the guy showing his daughter how to play tennis while two other grown dudes lurch nearby.)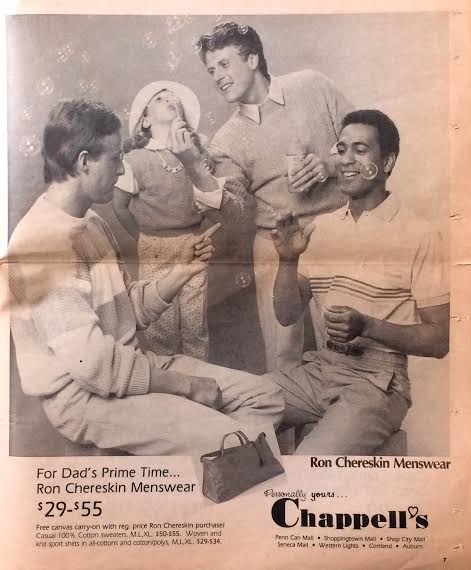 Second, I'd like to talk about the photo of the three men blowing bubbles with the little girl. What do you think of it?
That one guy is entertaining himself over there…and that other guy is pointing at what? What do I think of it? Weird. Really weird. If you take the two guys out, yeah maybe. I don't know of dads being that friendly. Why would there be three guys blowing bubbles with a little girl?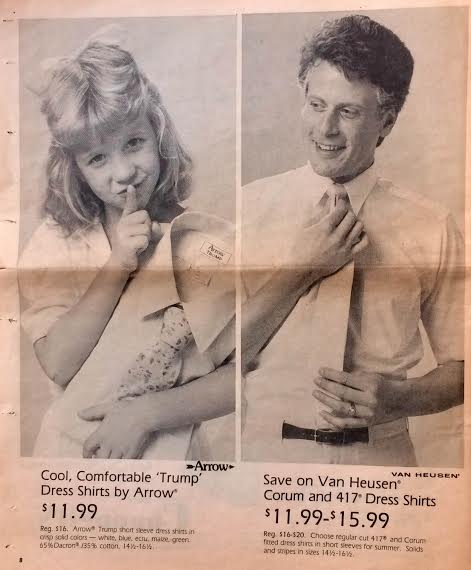 Ok, what about this photo of you staring at the little girl and her going "shhhhhh."
Wow. [It's like] this is our dark little secret. That's not good at all. I'm looking right at her. That's downright perverse.
Dad then points out this picture to me.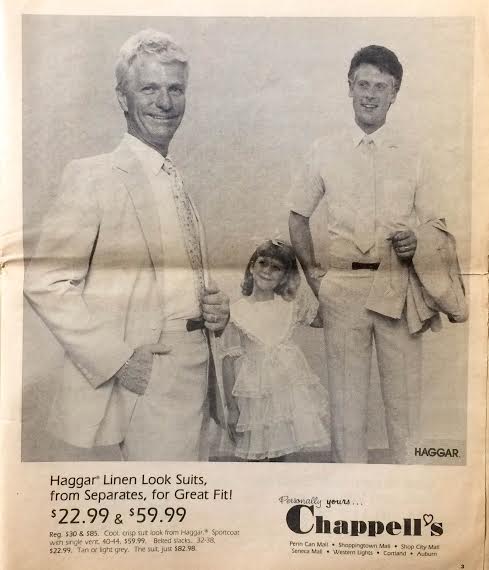 My Dad: "Wait. Look at this one. Look at me looking at him. And I have my daughter right there next to me. That's me looking at him. Wow. Weird. She's looking at his crotch. This shit is weird."
Here's another photo of my dad awkwardly pointing at a soccer ball.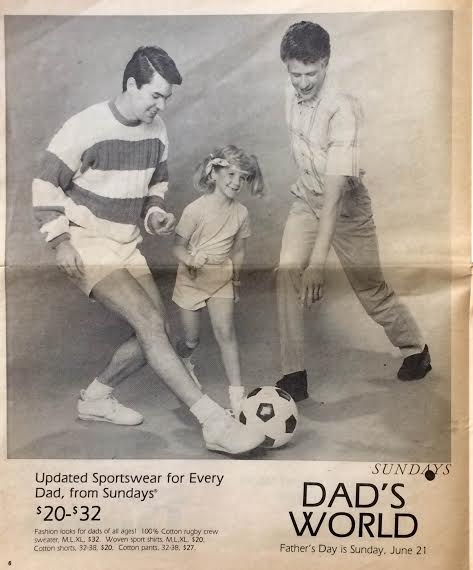 At the end of conversation, Dad asked me to post a recent photo of him so y'all knew he didn't look all 80s, though I think he looks pretty awesome then and now.