I used to write a lot about personal stuff on my blog, but I kind of shied away from it over the years. Hipstercrite started as a sort of journal for me, a place for me to chronicle my adventures moving from Los Angeles to Austin and post passive-aggressive notes to former boyfriends, but it's slowly become a depository for my commentary on society and pop culture. I still write the occasional personal piece, but my reality has become much more boring. My life is normal and happy- all the things I hoped for when I was the angsty twenty-something who started this blog. Reality also comes with sadness; life deals you some tough blows as you age, and I guess I decided that Hipstercrite was going to become a strictly fun place. With that being said, I thought I'd write a post about my year, which entailed some ups and downs- as most years do.
-Some of you may remember Lionel, my grandma's partner of many years. Last I wrote about him, he had Alzheimer's and was living in a care facility. Lionel died three weeks ago, the day before my grandmother's 89th birthday. It was both a shock and a blessing; Lionel's state was not an enviable one. Regardless, it was difficult news to hear. Lionel was the closest thing I had to a grandfather.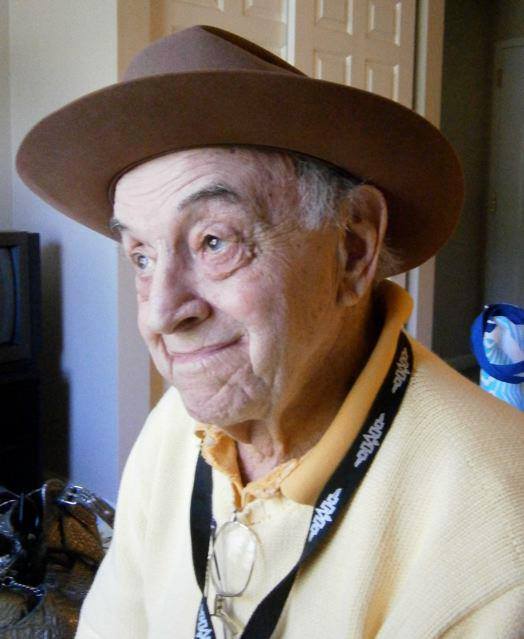 If you want to see Grandma and Lionel in their "happier" times, check out this video I took in 2010. Needless to say, Lionel was a character.

-A year ago this week, Grandma was told she had cancer. We had no idea what 2015 had in store for us.
Last week, she was told she is cancer-free. Though Grandma has been experiencing some memory issues, she's pretty damn healthy for a 89-year-old. I took this picture last week when I treated her to a pedicure.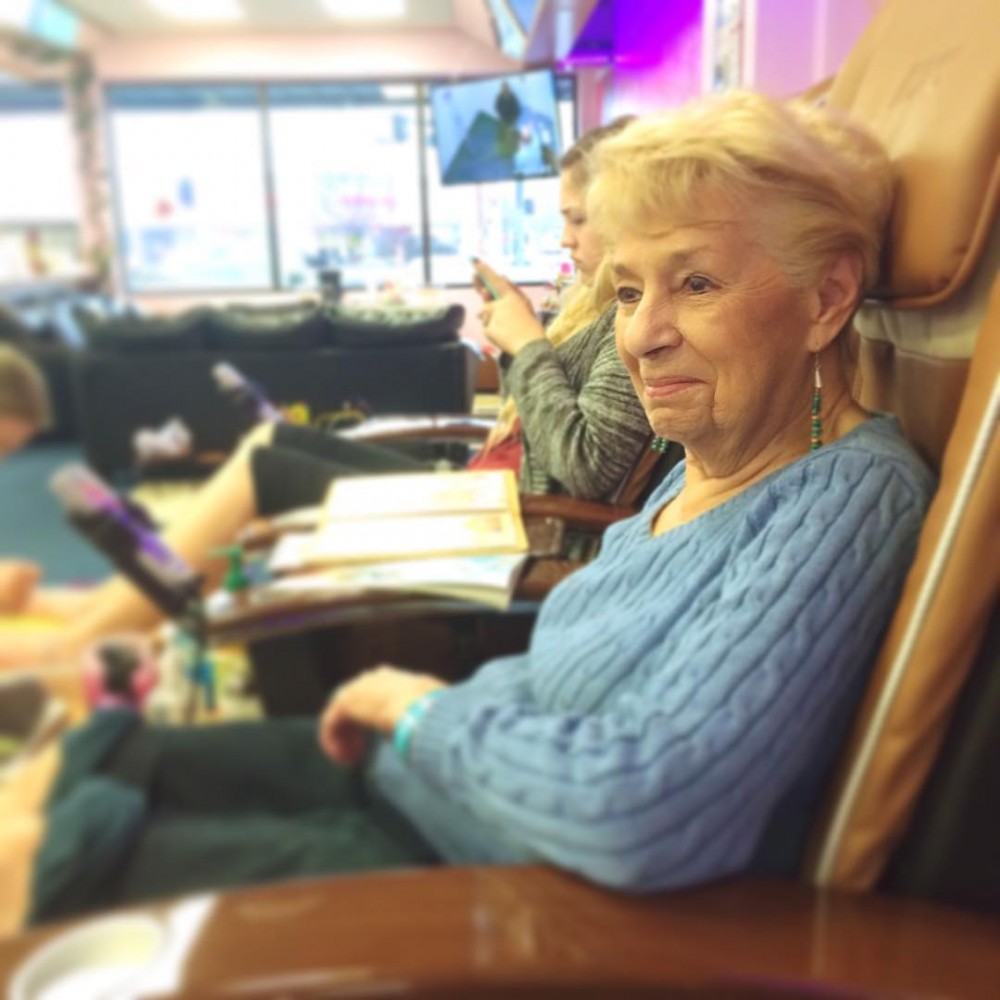 -I no longer work full-time at the LIVESTRONG Foundation, though they're still a client. The organization went through a restructure, and though I think the new management and staff will lead the organization in a positive direction, I miss my old team. LIVESTRONG was the first job where I felt respected, valued and encouraged. I grew both as an individual and as a writer, thanks to the incredible staff who worked there.
-With that being said, I jumped back into the freelance world. This year I had a handful of clients, thanks in part to the tiny houses post, and one of those clients turned into my main employer (though I still do freelance work on the side). That employer is a new health insurance startup in Austin called KindHealth, and they're doing really cool and progressive things in the health coverage world. If you need insurance, lemme know.
-My partner in love and weirdness, Geoff, relocated to Denver for work, and I now split my time between Austin and Denver. This development has been both exciting and stressful. I miss my best friend.
-The tiny houses post brought me many new opportunities, which I am so thankful for. However, I fear that I will never again write a piece that people enjoy so much. I already had one client I submitted content to say "Oh, we were hoping you'd write a tiny house-type post for us." I'm not a funny person. I have moments, but I can't turn it on all the time. I wish I could. 
-I still don't fly, so I trained it everywhere. I highly recommend it. I even dragged Geoff along with me in June (he flew back- that asshole).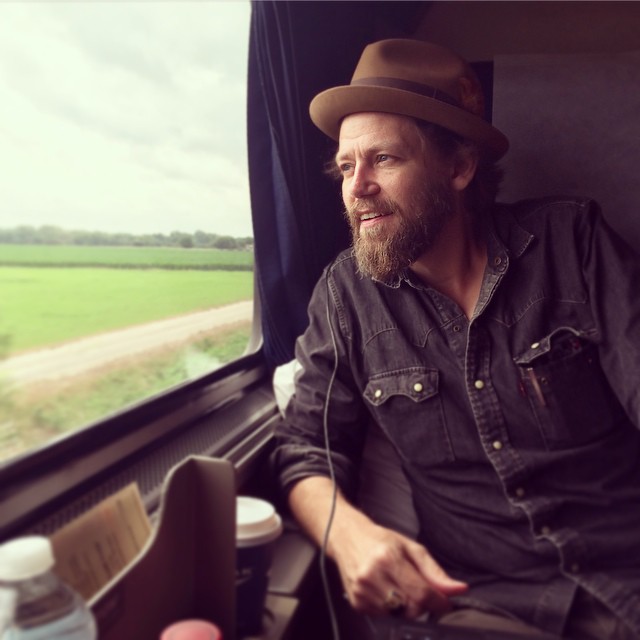 -I took some awesome trips with my fam: a road trip through West Texas and New Mexico with my father, and a road trip to Colorado with my mother. I value these trips immensely. Below is a pic of my dad in Bandelier National Monument, New Mexico.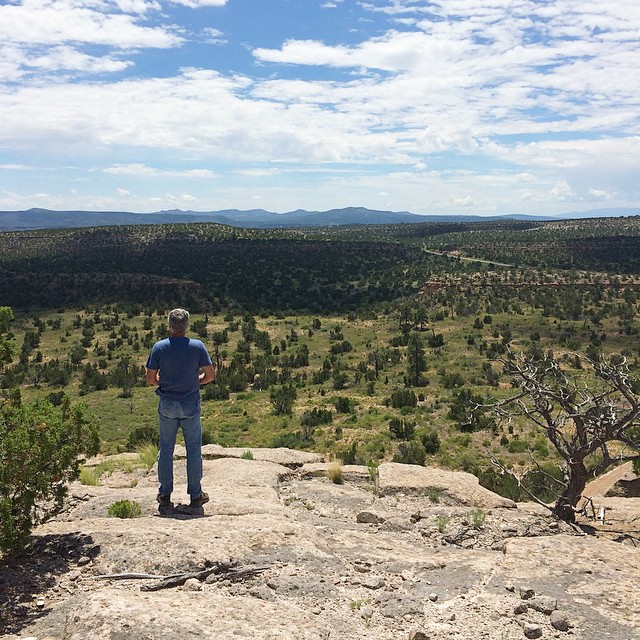 -Hipstercrite was named Best Local Blog in the Austin Chronicle's Best Of, which was an awesome surprise. Like, a REALLY awesome surprise.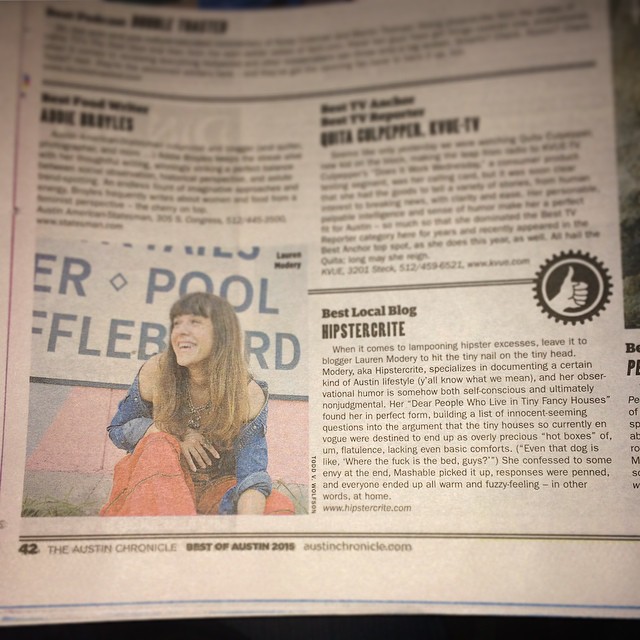 -I shot a gun for the first time and I nearly pissed myself.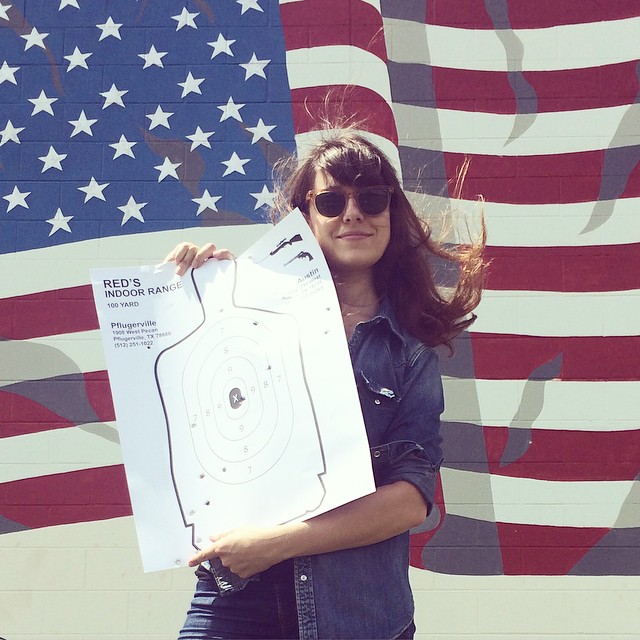 Things I hope for in 2016:
-That everyone stays happy and healthy.
-That I actually start writing my damn book.
-That the X-files reboot is good (same with Independence Day 2).
-That I get over my fear of flying.
-That Austin stays awesome.
I hope all of you had a good 2015, and I hope 2016 is even better for you. Thanks for those of you who have hung in here with me. Your support means the world to me. <3