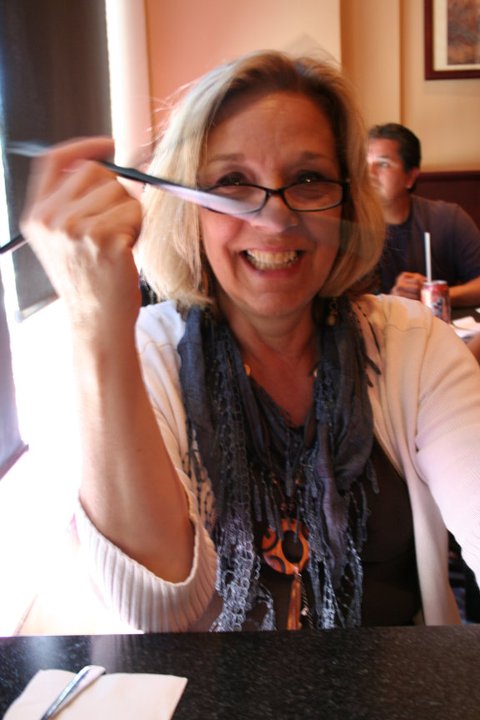 Unsuccessfully teaching my mom how to use chopsticks
My mother hasn't dated in over twenty years.
In twenty years, she hasn't felt the touch of another when she becomes scared, frustrated, or confused. In twenty years, she hasn't heard the words "It's going to be OK" when she needs to hear it most. It twenty years she hasn't had a partner to help her with tasks around the house, to sit an enjoy watching The Big Bang Theory with (so, my Mom likes The Big Bang Theory- do you have a problem with that?), or to take her out to dinner and a movie.
In twenty years my mother has been alone.
When my father left in intervals during my one-digit years, my mother had tremendous difficulty with it. I would scold her for crying because I needed her to be strong; it wasn't until I was an adult and had my heart broken that I could grasp the severity of what she was going through (and realize how selfish I was being). Her dream was broken and there was nothing she could do to repair it. How could she have ever guessed that the man she loved, the man she decided to have a child with, would tell her one day that he was through? This marriage and family was not for him. How do you get over that? How do you do everything right only to have it fall apart?
It's been 23 years since my Dad left, so it's fair to say that she "got over him", but I don't believe she ever got over the heartbreak or trustbreak. She will tell you that she doesn't date because the pool of single, interesting men in her hometown of 18,000 is very small, which is true, and she will also say that she hasn't dated in long enough that she wouldn't know where to start. All of these facts are true, but something is preventing her from putting herself out there.
When I was young and thought the entire world revolved around me, I didn't want my mom to date. She and I created a perfect world: us vs. them. Now as an adult there is nothing I want more than for her to experience love again. She deserves it. Oh, does she deserve it.
My mother is one of the most beautiful and vivacious women I know. These words are not the one-sided musings of her daughter either (I will add that she can be a stubborn pain-in-the-butt sometimes just so you don't think I have rose-colored glasses). She raised me to always look for the wonder in the world. She would get teary-eyed telling me the stories of Native Americans and Gandhi. We always enjoyed going to museums and zoos and nature walks as our two-person family. We still do. Mom and I take yearly expeditions and even though we bicker about what food we're going to eat and at what time (I like exotic food, she doesn't), I wouldn't trade these journeys for anything.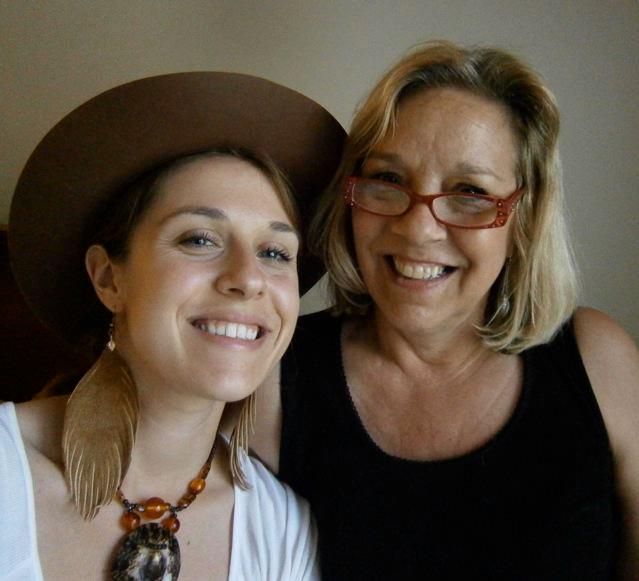 Her smile has always been magnetic, even though she may not believe it. Constant criticism from my grandmother, a woman we both adore and who was my mother's work boss for 35 years, leads to questioning of her importance. Even to this day, my mother, who takes care of my aging grandmother, has to listen to the matriarch criticize and scold her for minor instances. My mother, who is an extremely beautiful, talented, thoughtful, and adventurous woman, had to constantly have all those traits checked by my grandmother. My grandmother is a good woman, but comes from a generation and culture where everything has to be just so. My mother, who so desperately wanted to go to art school, was not encouraged by my grandmother or our family. Through the years, my mother has continued her artistic endeavors and is constantly reminded of what an important outlet it is for her. She loves traveling and taking photos, often taking 800 photos on our trips. She will make them into creative scrapbooks and photobooks. These books my grandmother doesn't understand, but I do. I see an artist trying to break from her shell.
My mother is excited about living. We talk every day. Sometimes for a minute and sometimes for 30+. Her silver-haired ADD has gotten worse, but I'm learning to enjoy her "Ooooh, a squirrel!" moments. In fact, today she had one of those moments, but replace "squirrel" with "nectarine". Though this ADD can make conversation difficult, it means that she is excited about everything around her. Because she is a mostly positive and upbeat woman, when she is down, she gets very down. Usually that period passes quickly, but hearing my mother cry is one of the most knee-twisting sounds I can hear. No child can bear to hear their mother cry. Just last week she broke down when she told him how refreshing it felt to have her classmates at her class reunion look through her photobooks and tell her what a talented photographer she is. "It's so nice to have someone tell me that," she said between tears. I nearly lost it.
My mother taught me to follow my dreams, something she regrets not doing. Though we are extremely close, she never wanted to hold me back and encouraged my travels around the country. When I told her I was offered a job in LA while still in college in NY, she trusted my decision to leave. Through all these years of confusion and questions and late-night phone calls crying or drunk or crying while drunk, she listened to me and helped guide me. She is my number one cheerleader and I can't imagine a life without her.
This woman deserves love. She has the love of her daughter, mother, family and friends, but she deserves even more. She deserves moments of passion and excitement. She deserves to be taken away once in awhile from the stresses of life. She has given so much to those around and now it's her turn to be wild and free.
It's never too late to love, I just hope she can see that.
_____
P.S. Before making this post live, I texted mom saying that I wrote a glowing post about her, but didn't want her to read it. She asked why and I explained.
"Are you trying to set up a dating site for me on your blog?" she asked.
"Haha…no," I replied.
"There is someone out there for me, but I'm am in no rush!"
I love you, Mom.