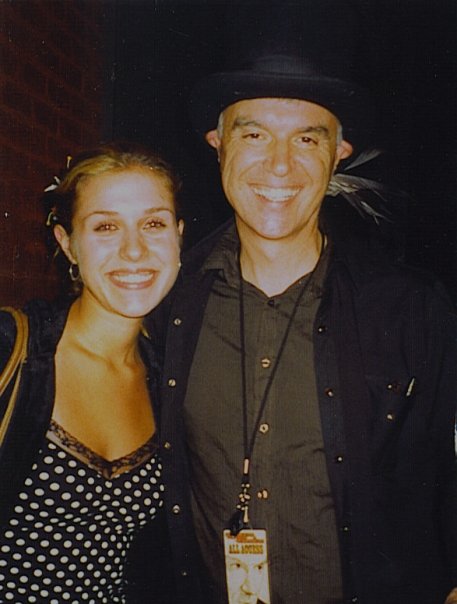 I'd like to wish a very happy birthday to my creative idol.
Since I was sixteen years old, David Byrne has been my guiding light for creativity.
I first fell in awe when I watched the 15th anniversary DVD release of Stop Making Sense. Seeing him choreographically stumble at the end of "Psycho Killer" absolutely blew my teenage mind. I had never seen anything like it and I vowed that I would always approach art with such fearlessness (I haven't always succeeded, but I continue to use this day as inspiration). Whether it's music, film, art or literature, Byrne can't stop creating, and the beauty of his work is that it's not always great. Regardless of the hits or misses, Byrne will never give up. A rule that every artist should live by.
Like many wistful children from small towns, I often dreamt about a life in 70s and 80s East Village, New York City. I became enamored with the musicians and artists that came out of the scene: Talking Heads, Andy Warhol, Patti Smith, Basquiat, Nan Goldin and Glenn O'Brien, to name a few. I didn't always like their art or their lifestyles, but the fact that they unabashedly created all of the time piqued my artistic interests. Some of them broke through to stardom, some of them died and some of them continued wading in a pool of grime. Their stories helped to create a scene that continues to inspire individuals everywhere.
I feel sorry for kids growing up now. The past 20 years haven't produced strong creative idols. Once the 90s hit, many children drank the Britney Spears Kool-Aid. I am a child of the 90s, but was lucky to be raised in an environment where music and art of substance mattered. Even now, I have no knowledge of Top 40 drivel. Maybe this makes me a snob, but so be it. I'd rather be lost in a world of old records, than knowing the words to Beyonce's latest tune (eh, that whole sentence makes me sound like a huge jerky snob, but you you know what I'm sayin', right?)
Lately I've been thinking about the serendipitous origins of a band that became popular a few years after the East Village scene and in a much colder climate. The Replacements began after a janitor, Paul Westerberg, overheard a group of wayward teens creating music in their garage. He enjoyed listening to them, and was later asked to jam. The rest is history.
How often do you hear that story anymore? Don't get me wrong, I know they still exist, but they're definitely not the norm. Now our "idols" are picked by an "American" vote.
Manufactured musicians and artists are not my idols- a janitor from Minneapolis is my idol.
A dorky kid who grew up in Baltimore, went to Rhode Island School of Design, started jamming with some artist friends, moved to New York City and began playing at an East Village underground hotspot known as CBGB is my idol.
The less-than-special youth with only big dreams to rely on are my idols.
What is your David Byrne-stumbling-at-the-end-of-Psycho-Killer moment? The moment where an act of art struck you so strongly, that you haven't been the same since?