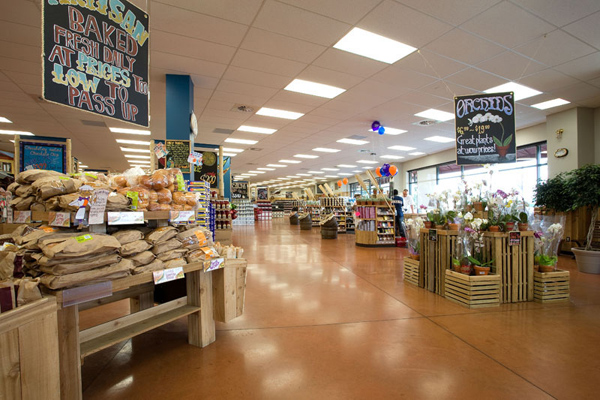 source
Dear Mr. Joe,
DUDE! WHEN THE HELL ARE YOU OPENING UP IN AUSTIN, HUH?!?!
Excuse me. I'm sorry. I didn't mean to shout. Let me regain my composure.
I'm just really really anxious about your impending arrival in our fair city.
Last year, you teased us with the news of your future opening in Austin like a laser pointer being aimed straight above a cat's face.
YOU, SIR, ARE THE STUPID LASER POINTER AND WE ARE THE CATS!
YOU LEFT US AIMLESSLY PAWING AT THE FRIGGIN' WALLS, oops, sorry, I mean, you left us aimlessly pawing at the walls, hoping, praying that we will somehow feel your physical presence.
Your establishment is a big deal to us Austinites since at one point or another we've experienced you in another city.
We got to try your fine $2.99 libations and magical cookie butter and the luscious tastes have never left our trembling lips.
You left an impression on us, sir. We dream about you often, in tropical Technicolor of reds, yellows and blues.
We rock ourselves to sleep in our Hawaiian shirts, dreaming of the day when your doors open and we can finally get our hands on the most delicious frozen orange chicken created my Mankind (or tiny elves?).
Why do you tease us so?
WHAT'S YOUR DEAL, YO?!?
Sorry what I meant to say is, I have so many questions for you besides when you're opening your store, sir.
Will there be parking? Will I risk watching my life flash before my eyes as I'm trampled by hundreds of transplant New Yorkers/Angelenos, hipsters and ex-hippy mothers on the first day of opening? Will I be able to balance a menage a trois between you and my favorite grocery store Wheatsville? Is your pumpkin cream cheese made from discarded Halloween pumpkins? What is this pain on my right side? Will I ever write a book? Did Lee Harvey Oswald act alone?
WHEN THE F CAN I STEP FOOT INTO YOU, HUH?!
My apologies, I'm getting flustered.
There is so much I want to talk to you about, Mr. Joe.
Like, who does your sweet clothing design? The hibiscus flowers are a nice touch.
Who makes your food? I'd like to think that you enslave several of Santa's ex-elves on an island and force them to use their magic to create your entire inventory line. I'd also like to think when I'm eating your stone ground salt and pepper dark chocolate, I'm also tasting the sweat from the fingers of tiny elves.
Or are you, Mr. Joe, actually a trader? Do you sail your S.S. Speculoos to remote lands where you give salt, oats and corn to the local in exchange for their native macaroni and cheese TV dinners?
But I guess these questions will have to wait.
Please hurry up and get here soon.
I CAN'T TAKE THIS SUFFERING ANYMORE!
Your truly,
Lauren