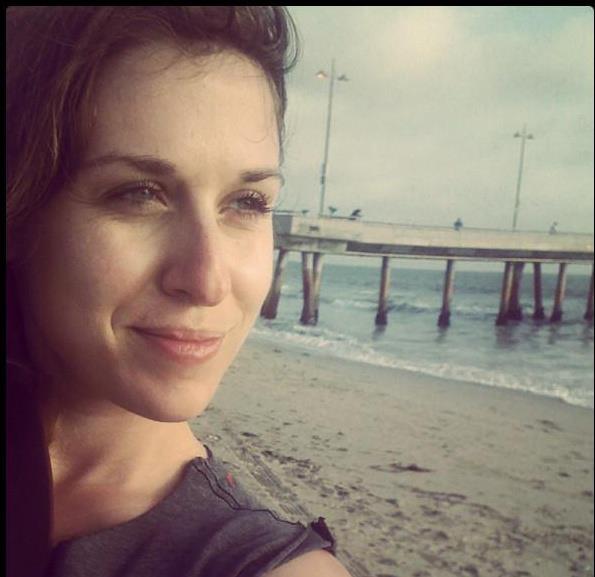 A recent photo of the author ecstatic to be at the beach
Last September I went the freelance route.
Though it's been paved with stomach-churning scares ("what do you mean my check is arriving NEXT week?!") and painful boredom ("maybe I should drive down to Whole Foods and stare at people"), career-wise, I've never been happier.
Though I'm not rollin' in it, the most joyous attribute of going freelance is the amount of time off I have to travel.
My last 9-5 job gave me 5 vacation days a year. Those five days included sick and personal time. Since the company decided to place their business almost an hour outside of Austin, that meant one had to add two extra hours of drive time for a doctor's or DMV appointment. Personal errands that you could only attend to during the business work week took almost all day to achieve which meant one less vacation day a year. Needless to say, I never felt encouraged to go to the doctor when I needed to.
We also had no bookend days off on important holidays which meant I wasn't able to go home for the first Christmas in 2010. This was devastating for my whole family.
My lack of freedom often led me to tears. Having been a personal assistant for many years prior to then, I was familiar with devoting my life to work I was ultimately not passionate about, but the more I ascended into my 20s, the more I thought working long and thankful hours was a crock of shit.
To play Devil's advocate, I would say to myself, "Well, Lauren, you have to pay your dues. People of your parent's and grandparent's generation spent 15, 20, 30 years devoted to a job before they were truly rewarded!"
Yeah, that's a load of horseshit too.
Those poor people had no lives, and for what? Hopefully for enough security to support their families and retirement at the end of the haul, but nowadays, that promise is becoming more and more obsolete.
When the opportunity came for me to take the freelance jump, I didn't hesitate. I made sure I had enough work lined up to pay the bills and I've been managing ever since.
My former 9-5 employer thought I was crazy for leaving, but deep down it was them that I thought were crazy. How could they give their hardworking employees such little time off?
Since I went freelance ten months ago, I've had over 30 travel days. I was able to visit my mom and grandmother in New York and my father and friends in Los Angeles, I was able to travel to Burlington, Vermont with my boyfriend for his film and we've taken small trips to Santa Fe, New Mexico and the Gulf of Mexico in between. I've also been able to attend more events during the day and most importantly, take assignments anytime I like which has helped my career in many ways. When I was working 9-5, it was difficult finding the time to accept freelance work (also, my employer encouraged against it).
The extreme joy and freedom I felt after every trip I took over the last 10 months was not lost upon me. I felt so lucky to have these opportunities and the thought of ever going back to a work environment like my previous 9-5 sends chills down my spine.
It is no secret that America is one of the worst offenders for offering vacation time.
America does not require companies to offer paid vacation time compared to most European countries that offer at least 20 up to 35 paid days off a year. Sadly, 57% of workers also have unused vacation time at the end of the year averaging at 11 days. If most people are in similar work environments like I've been in the past, taking time off was frowned upon. In fact, I felt scared and guilty requesting time off, so I didn't. In most cases, I also couldn't afford to take a vacation.
This is messed up. All of it. Every single part of this story and stats is redonk.
We wonder why America is having so many problems, well here is one of the many reasons why.
It has always boggled my mind how employers think that working their employees to the bone is what gets the best performance out of them.
And we wonder why so many people drink!
It's no wonder that Google is one of the most successful companies in the world- their employees are happy! With 15 vacation days (your 1st year), unlimited sick time, 12 paid holidays and encouragement to work on personal or philanthropic projects 20% of work hours, how could they not be? Or how about Netflix's unlimited vacation policy, where value is placed on how much work you get done, not how often you're at work?
I understand that we're often tied to work situations we don't like. Believe me, I never thought I would be able to make the leap to freelance. It seemed like an impossibility. It seemed like I was doomed to a lifetime of slaving away at a desk and pretending to give a shit about people who didn't give a shit about me. Whatever your work situation is, remember, you have a life and your life is important. Don't forget that. Don't forget that you deserve time to yourself and time to have fun. Like water, time off is essential to our souls, our minds and our creativity. We need the work-life balance to ensure a healthy life for us and those around us.