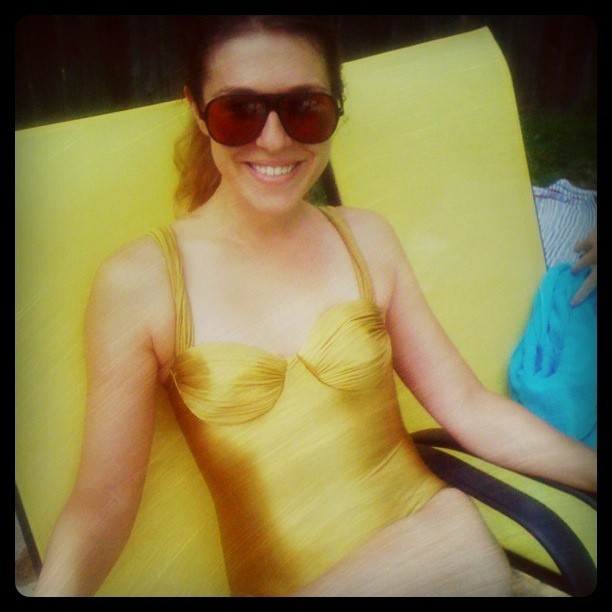 I hope y'all had a wonderful 4th of July. Besides working for a few hours, I got a little swimming and fireworks in. I also got some unintentional flashing in.
My mother gave me this delightful gold bathing suit from the 70s that makes one feel like a 50s pinup model (if they can squeeze their ass into it; it takes me about 5 minutes to get the darn thing over my badonk).
As you an see from the picture, the bathing suit is one piece with little boobie cups and a nice golden sheen.
What you can't see from the picture, because I'm crossing my legs, is my crotch. Because you would see it.
The bathing suit, when dry, looks like a solid piece of craftsmanship.
Upon getting wet, the suit turns into a quintessential 70s pube show that I imagine they used to dig in that decade.
I'm a confident person, but I'm not quite at a place in my life where I enjoy publicly showing off my lady parts. I guess this suit will only be used for sunbathing.
Or Boogie Nights reenactments.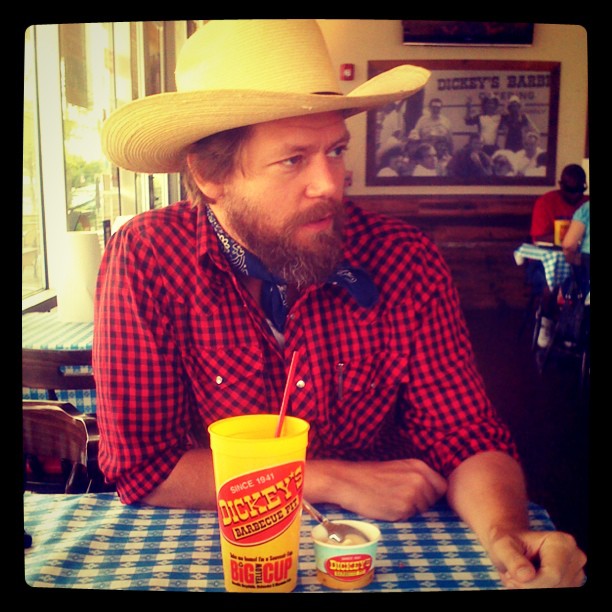 For the holiday, Geoff wore his best 50s Texan cowboy outfit. It doesn't take much for him to look like this, since the majority of his clothing are pearl snap shirts, cowboy hats and cowboy boots.
Before our friends pool party, we decided to get BBQ at Dickey's BBQ Pit, a Texas institution. At this blue checkered table clothing joint, we ate two meats (brisket and sausage), two sides (mac & cheese and fried okra), two more sides (potato casserole and Casar salad), two iced teas, free ice cream AND free pickles for $14.
$14!!!!
We still can't shut up about it. Friends are looking at us like we gained three hundred pounds overnight.
Sometimes Geoff and I eat meals that would suggest that we're trying to be "ironic", but I'm sure is just an indicator that we'll eventually turn into the "People of WalMart".
We get suuuuper excited about cheap meals. For two people who supposedly like to eat healthy, we sure do love our date nights at Taco Bueno, cherry limeade from Sonic or the occasional frozen dinner nights at the house. We even have a date projected for the future where we wear formal clothing to Luby's.
As an adult, you spend so much time trying to be good, that edible nostalgic such as fast food or frozen dinners is often a sweet gift to the realities of adulthood.
(Says the future shut-in who will physically need to be removed from her home by a forklift).