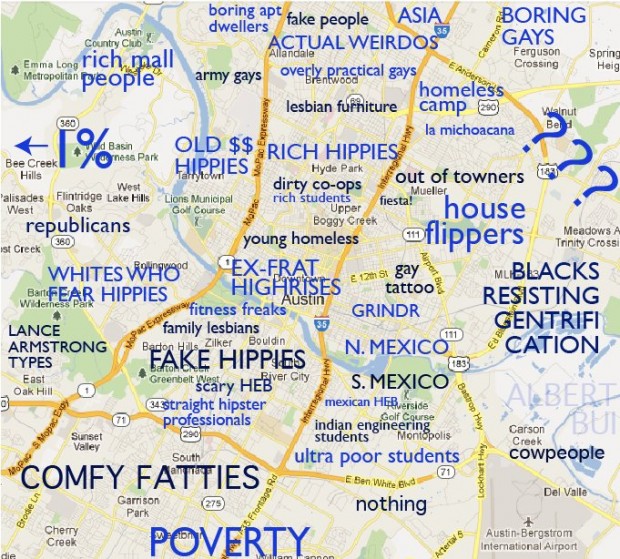 I don't know how I feel about the Judgmental Austin map.
I can typically take a joke, but something about this just rubbed me the wrong way.
The author's classification of and negativity towards people in Austin is disconcerting by itself, but what startles me the most is the surprising adulation the map has received. The map has garnered thousands of shares and mostly positive response.
Being able to laugh at oneself is often a good idea and I can't help but feel the applause for this map was born out of Austinites' frustration with the city's ever expanding population, but is it helping to perpetuate a growing disconnect within the city? An Us vs. Them, Me vs. You mentality? Austinites hate on California, but with the popularity of media such as this, we're well on our way to becoming Los Angeles- the city of extreme societal segregation. I'm really surprised that racial and sexual classification such as "Black Resisting Gentrification", "N. Mexico", "S. Mexico" and "Boring Gays" hasn't received more outcry.
Enough negativity exists in this world that it pains me to see our city labeled in such away that suggests that we're all displeasing stereotypes.
Is the joke lost on me? I guess I've never been a fan of stereotyping…
Do you think the Judgmental Austin map is an innocent or disrespectful joke?