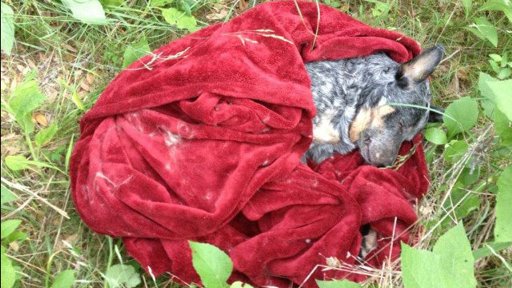 Last night I noticed a Facebook page spreading like wildfire amongst my Austin friends. The page's name is Justice for Cisco and it tells the story of a man's dog who was was senselessly shot and killed by an Austin police officer on April 14th. According to the dog's owner, Michael Paxton, the police officer was responding to a domestic violence call and came to Paxton's address by mistake. The officer drew his gun on Paxton, who was standing in his driveway. Paxton's Blue Heeler, Cisco, came from the backyard and started barking at the police officer. Unable to move due to having a gun pointed at him, Paxton could not restrain his dog. Paxton told the police officer that Cisco would not bite, but the officer shot Cisco in the chest and killed him right in front of his owner.
According to a message by Paxton's friend, Candace Michele, on the "Justice for Cisco" page, "Nothing will likely happen to Officer Griffin for any of this, as his supervisor arrived after everything took place, and she defended his actions. Mike was given the officers' information, as well as a phone number to call, if desired. No apologies, no sympathy. Nothing. The officer even told Mike that Cisco should have been on a leash!"
I don't know Cisco's owner, but being a dog lover, this story had me in tears. Just from looking at the Facebook page and reading the stories you can tell that Mr. Paxton loved his dog dearly.  I can't imagine going through something this horrific and traumatizing. It boggles my mind that so many still have complete disregard for dogs. I read this story on the heels of another about a puppy set on fire for fun in the Dallas area. Both stories make me sick to my stomach.
Not only did Cisco not appear to be a threat, but the cop was at the wrong house with his gun already drawn!
I have tremendous respect for (good) police officers. It's a challenging job that many, including myself, don't have the balls to do. Sadly, this story is one of many where Austin police officers have gotten a little trigger happy. There have been a number of reports where the APD's use of force has come into question. Those cases typically involved human casualties.
I hope there is some sort of accountability for this senseless shooting and that Mr. Paxton has received some solace from the outpour of support.
If you're interested in helping Mr. Paxton spread awareness, more details can be found at the Justice for Cisco page.
There is also a Change.org petition calling for the reprimand of Officer Griffin.