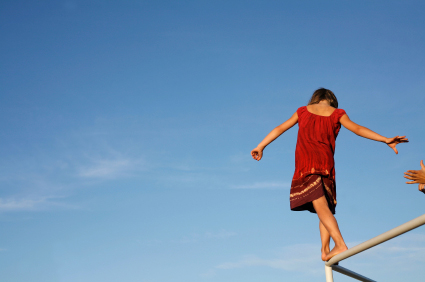 Lately my anxieties have prevented me from living the life I want to live.
It took a lot of self-analyzing and begrudged admittance to say this out loud. I have my theories as to why my anxieties have become as bloated as a Pufferfish in the BP oil spill, but I haven't yet discovered the answer. One step at a time.
This realization/admittance came after I found myself having an exaggerated and unnecessarily negative reaction to minor obstacles affecting my getting to Portugal to see Geoff (he is currently teaching there for three months).
In other words, I went ape shit girl drama cray-cray: crying, throwing garbage cans, drinking Malibu Rum on the couch and taking 3 hour naps to prevent myself from yelling at people on the sidewalk.
You see, sinking ship American Airlines will not release a voucher to us that would help pay for my plane ticket. This has caused me to scramble to find the resources to get to Europe. A few options have become available (another smaller voucher courtesy of Geoff's Dad and miles courtesy of my friend Ryan), but both have stipulations that are making the booking challenging. Though monetary concerns when traveling is a legitimate stress, this obstacle has caused me to wave the white flag all too easily. Most people are telling me, "It's Europe! You must go! When will you be able to do this again?". Like most twenty-somethings I should do everything in my might to get to Europe even with little in my pocket, right?
I don't have that feeling though.
I essentially want to take off my pants and flash my ass to Europe. "F YOU, EUROPE!", I would paint in bold colors across my Wonder Bread skin.
Going or not going to Europe, an insignificant problem to be had compared to the greater issues many have. This I'm aware of. However, as I discovered, there is a more deeply-rooted issue as to why I don't want to go to Europe. This is the part that is hard for me to admit to myself: my negative emotional reaction to planning this trip has only a little do with finances and everything to do with my fear of flying across the Atlantic. This is compounded by my absolute frustration and disgust with myself for having such an illogical fear.
I've also realized that over the past year, I've been terrified of many uncontrollable factors in my life. 2011 and 2012 have been dotted with mini-panic attacks that someone is going to break into my house.
Many years ago all of these would be non-issues for me.
Many years ago, I took risks.
I guess I still do, as my childhood friend, Dan, reminded me yesterday.
I went the freelance route less than a year ago, but that is different. It's a risk that can't potentially cause me to fall from the sky and disintegrate into a million pieces once I hit the ground.
Dan has always been wise beyond his years. He's 29, but he speaks with the assurance of someone twice his age. He has a beautiful wife and two year-old daughter, he manages a winery in Upstate NY, he recently bought a 100 year-old home, he gardens, he raises chickens and sees his parents and siblings on a regular basis. He essentially lives the picture perfect life. Though he and I are at different points in our lives, when the day comes that I do want a family and home, I hope I can be as well-balanced as he is. He is my role model for what a good friend, dad, husband, son and human being should be (p.s. I love you Dan, thanks for always being there for me).
Dan is also a person of faith. I'm sure this has been a big factor in the decision-making and assurance he's had in his life. When telling him about my fears, he so matter-of-factly told me, "You have no control over it. Period. Life is about taking risks, otherwise you are not living your life. If the plane crashes, the plane crashes."
I'm not a person of faith, or rather, I'm a person taking the very first step of my journey to finding any sort of faith, so this way of thinking is foreign to me. I come from a lineage of Jews who worry about everything. I feel like the childhood version of Alvy Singer most times. What's the point of doing homework when the world is expanding and one day will break apart into a million pieces?
I don't have the comfort in knowing that if I die or a loved one dies, everything will be ok, that there is a place for us to go.
I'm 28 and I'm discovering my and my loved ones' mortality. It is making me paralyzed.
That is my theory of the Pufferfish.