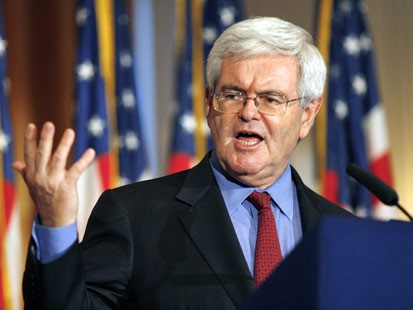 Over the past two weeks I've noticed a lot of social media anger and teasing directed towards Rick Perry's recent "Strong" commercial wherein he gripes about gays being able to serve openly in the military but children not being allowed to pray publicly in school.  Around the same time another Republican made an equally prejudice and cruel comment regarding "really poor children, in really poor neighborhoods [who] have no habits of working and have nobody around them who works", the "stupidity" of child labor laws, and the idea that poor children should become janitors in their schools. I'm surprised that Newt Gingrich's speech hasn't created as strong of an outrage considering how completely insensitive and ridiculous the speech was. When I first heard quotes from his speech on NPR, I couldn't believe what I was hearing. Was it a joke? How could somebody be so thoughtless and downright mean?
I took particular offense to Gingrich's speech because I came from what one could call a poor family. I lived with a single mother who made poverty level income. We qualified for aid and food stamps, but we were able to scrape by without having to tap into the system thanks to the love and support of our family. I did not come from the "poor neighborhoods" that Newt speaks of. It's fair to say that Newt was very blatantly insinuating children of non-white decent. I came from a working middle class neighborhood. My mother worked for her mother. Besides having no money, I did have advantages that some children from low income families did not have. All in all, I had a very wonderful childhood within our economic confines, but it could have been a very different story if we weren't so lucky.
My mother didn't plan on making $18,000 a year. Like many people in the late 1960's, she worked for the family business, which doesn't always pay well. What she got in return of little pay was the ability to take off whatever time she needed to pick me up from school and go to my sports games and concerts; to take off whatever time she needed in lieu of my father who had left us. My Mom didn't plan on going to community college, but rather wanted to go to FIT which was promptly shot down by her guidance counselor and family in 1967. My mother didn't plan on my father leaving her. Her grand vision of family quickly crumbled after I was born and my Dad wanted out. My mother didn't plan on the family business going under and her looking for a job at 50 in a economically-troubled town of 20,000 people.
Maybe you can argue with, "Well, she could have planned better!" But one doesn't expect for the husband to go away the business to go away and the possibilities drying up the older you get. My Mom budgeted and made the right choices, but even making the right choices doesn't guarantee you anything.
So my family was poor, but you know what? My Mom made me start working the second it was legally possible. Of course I grew up working in the family business as well, but when I hit 16, it was time to make money for myself. I didn't want to, but after a short period of time, I loved working. Even then I was thankful that my mother made me work. It made me feel independent and it challenged me. I've never stopped working since. Throughout high school and college, I worked.  After college, I went straight into a career. I've never not been working and even though at various points I've hated my job, I could never imagine just giving up.
I may not be a millionaire but because of the work ethic my mother instilled in me I've gotten to see more places and meet more people than most. If she didn't teach me the idea that I could be whatever I wanted to be, I wouldn't be where I am today and I kind of like the person I am.
Aside from thinking of my mother and all her hard work through the years when listening to Gingrich's words, I thought about my friends growing up who had similar, if not more challenging predicaments. My friend Alex whose Mom worked three jobs to support her children. They lived in a small apartment near grade school until the mother made enough money to buy a house for her family. I thought about the 5 person family who lived in the studio apartment across the hall from me in LA. The father always heading off to work to ensure that his family ate and had a roof over their heads. I thought of the people I've met and the stories I've heard where people came from humble beginnings and came out ahead because their parents taught them to be responsible and to work hard.
I thought of all these things and the words that came out of Newt's lips made me more and more angry.
I called my mother to see how she felt about Gingrich's speech and as a fairly avid news watcher, she hadn't heard about it.
Me: Did you hear about Newt Gingrich and his statements about child labor laws and children from low income homes?
Mom: No, what now?
Me: He said that poor children have no habit of working because nobody around them works and he feels that to help this problem children should become janitors in their schools.
Mom: Oh my God.
Me: I wanted to talk about this with you considering that when I was growing up, we were considered poverty level.
Mom: Where does he get his info from? That's ridiculous. You can't categorize people like that. Attitude towards working has nothing to do with which class you're in. What about the rich kids that don't want to work? They get used to their parents bailing them out. Why don't they work as janitors?
Me: What do you think would happen if you forced the low income students to become janitors?
Mom: Kids are self-conscious at that age as is. Unfortunately kids think that being a janitor as not a glamorous job. That mentality would ostracize them, make them stand out, and it could lead to them dropping out. Janitorial work is an honorable and important job, but you know how kids are. When I was a kid, we volunteered. Make all the damn kids volunteer, for crying out loud.
Me: How does this speech make you feel?
Mom: It's ridiculous. We poor people work our asses off. Every poor person I know busts their butt in order to survive. I thought Republicans were all about the government being less intrusive? This is very intrusive.
Me: Anything else you want to add?
Mom: This is all hogwash.
Me: And…
Mom: I don't want to talk about it anymore, it's making me mad.
Me: Ha. Ok, Mom.
Mom: Oh, and don't make me sound stupid on your blog, ok?
I wish I could have gotten a little more from my mother but the speech mostly made her super angry and worked up. Which is exactly how I feel. Between Perry and Gingrich and the other racist and prejudice jargon that have come from many of the Republican candidates' lips, it infuriates me that that mentality still exists in America.