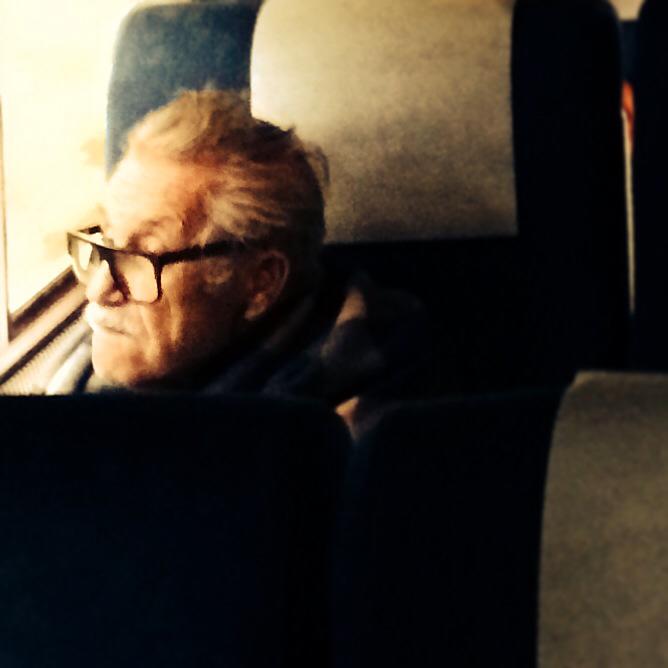 Last week, I took a 48-hour train trip from Austin to New York. Some of you have been following my adventures on social media (thanks for coming along for the ride!), but I wanted to share some more stories on my blog from the tracks. Amtrak didn't pick me for their Amtrak Residency, so I decided to make my own.
When I boarded the train in Austin, my eye immediately noticed an elderly man that looked like the lovable character in Up. He was so tiny, with his pants up above his waist, and he wore oversized horn-rimmed glasses. He sat in silence by himself and stared out the window, lost in thought. One could only imagine what was going through his mind as he watched the Midwest glide before him. I wanted to talk to him, and I smiled each time he passed me, but I was too afraid to make conversation. I took a photo of him with the caption, "I want to know his story," and I truly did want to know. What was he thinking?  What did each line on his face represent? Friends online invented their stories and encouraged me to talk to him.
When we descended upon the last hour of our trip, I realized it was now or never. I approached him like a 16-year-old boy nervously asking a girl to dance at the prom.
I sat down next to him and mentioned that he had been on the train longer than I. He told me that he was traveling from San Antonio, though he lives in Chicago. You see, last week he got word that his sister in San Antonio was very sick. He jumped on the train in Chicago to come see her, but she died the day before he got there. He told me that "his heart was sick" from the loss. Her name was Orilla.
Two sisters are now dead, and so is his wife. Seven years now.
He apologized for his broken English, but I thought he spoke beautifully. He was born in Monterrey, Mexico, but he lives in a house with his daughter and son in one of the coldest regions of the States. He stills has his house in Mexico because his wife liked to visit there. He might sell it though.
His beautiful, thick glasses were by Marc Jacobs, but his high waist pants and dress shirt have probably been in his closet for 40 years.
Sometimes he giggled and stared out the window.
I couldn't stop looking at his beautiful skin and all the years that weathered it.
When we pulled into Union Station, he told me his daughter was picking him up. I lost him in the crowd, and I will never see him again. But I will never forget his face.