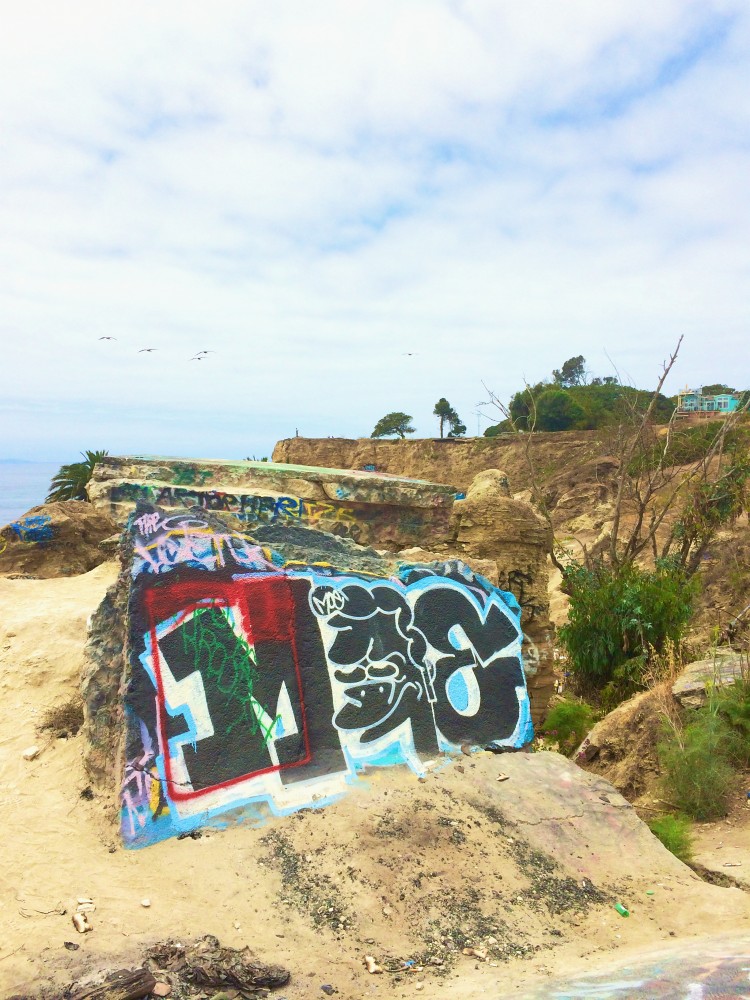 Last weekend, I jumped in my car and drove to LA, like a goddamn fool.
I've been a huge pussy about flying and after crying like a little bitch about whether or not I should buy a last minute flight or make the 42-hour roundtrip car ride to LA, I decided to toughen up, throw some clothing, snacks and water in the car and head West.
I forgot how invigorating, then mind-numbing and then ass-hurting the drive to Los Angeles is. There is nothing quite like driving through the American Southwest. It is full of wondrous nature, breathtaking landscapes, terrifying truck drivers and even more terrifying rest stops with fluorescent lighting that makes you feel like the bimbo blonde wandering aimlessly in an 80s horror film. If you can survive the sleep-deprived truckers, the rest areas of night terrors and the monotony of the drive, then you feel like an American bad-ass after completing the trip.
The reason why I drove to LA is because my Dad lives out there (and I used to live there). We are very close and talk almost every day, but for most of my life, we only see each other once or twice a year. Back in November, he had a health scare, and even though he is doing fine, I wanted to see him. And the first thing I wanted to do with him was go one one of our father-daughter adventures.
I had recently read an article in the New York Times travel section about off-the-beaten path, abandoned and/or depressing locales in California. The article featured the haunting Salton Sea, a toxic body of water in Southern California that spawned multiple ghost towns around it, and the "Sunken City" in San Pedro. I had visited the Salton Sea six years ago with my mother, who scolded me for taking her to "a place that smells like ass."
She didn't actually say "ass," but I know that is what she meant.
She did think I took her on a dangerous excursion that would mostly likely get us killed by mutant hill dwellers.
If you're not familiar with the Salton Sea, beaches along the Salton Sea are made of CRUCIFIED FISH AND THE FLIES WHO FEED OFF OF THEM.
The entry about the Sunken City in San Pedro surprised me though. San Pedro is located in Los Angeles County and as an avid urban explorer in Los Angeles because I had no life or romantic pursuers, I spent a lot of time venturing through the less traveled, more historic parts of the city. There was little written about Sunken City in the article other than it was a neighborhood in San Pedro that fell into the ocean and people now sneak into the area and snap photos of the graffiti affixed to the broken shambles.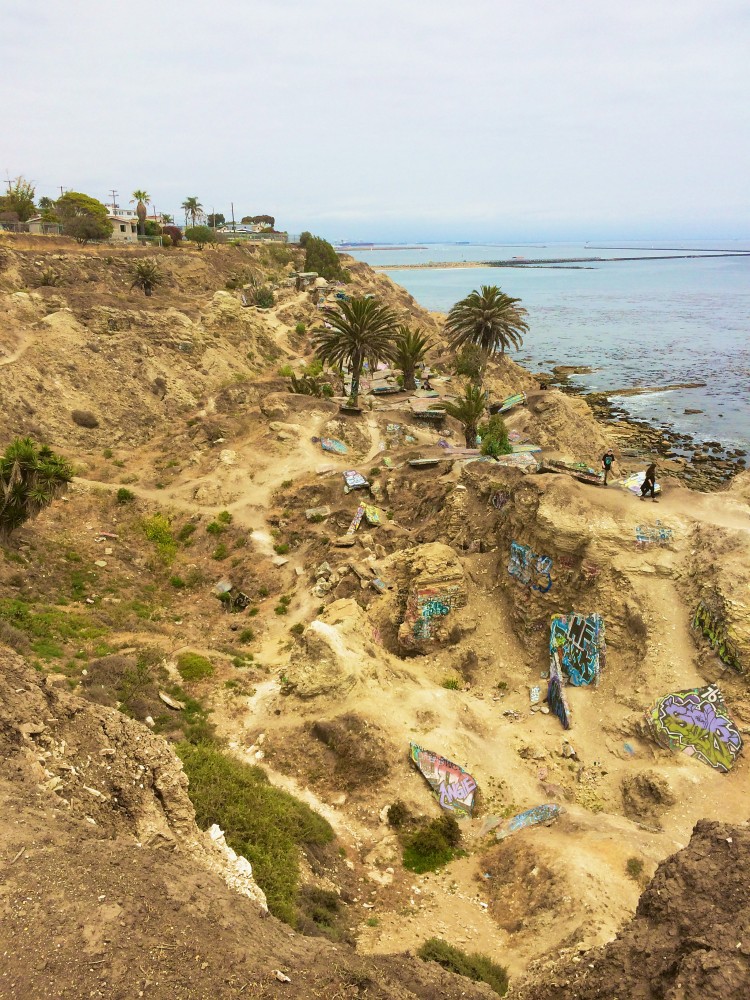 Ruin porn is one of the interests that is still posted on my Myspace profile, so this travel destination piqued my interest. Upon arriving to Los Angeles, I told Dad that I was taking him to this magical city of sunken-ness. He was stoked.
I inherited this kind of stuff from him.
The next day we arrived at Point Fermin Park, a beautiful costal park in San Pedro that is home to a lighthouse, an army bunker and that Korean bell hut featured in The Usual Suspects. This helpful link will give you the best instructions on how to reach the Sunken City part, but in short, once you arrive to the park, go to the south end near the cafe. There you will notice an area gated off. This is the Sunken City. At the gate, someone was kind enough to dig a large hole at the bottom that a grown man can easily shimmy through. Prepared to get a little dirty. Once in the park, you will notice a road, a concrete foundation and some "No Trespassing" signs.
Ignore them; remember, you're a bad-ass.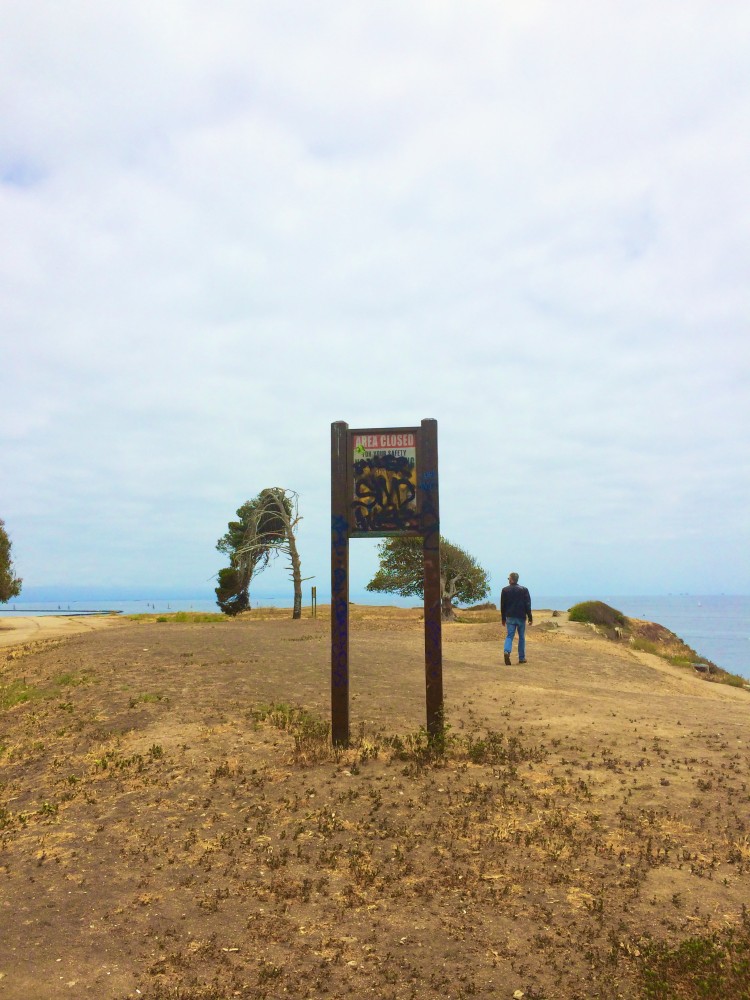 Walk along the road in the park, but don't take it to the end. You see, the road just falls off; it cascades towards the ocean. Standing at the edge of the cliff, looking down below at concave streets, sidewalks and trolley lines can make your knees go weak; however, it's easy to climb down to the jagged landscape and walk along the ruins of this former neighborhood. We discovered the area is indeed NOT a sunken city. After some research, we learned that the posh neighborhood began shrugging towards the sea in 1929 at a rate of 11 inches per day. This allowed for enough time to move all but two houses. The remaining houses, streets, driveways, sidewalks, curbs and tracks all fell down the cliffside. It's a fascinating area nonetheless, partially due to the street artist haven it has created.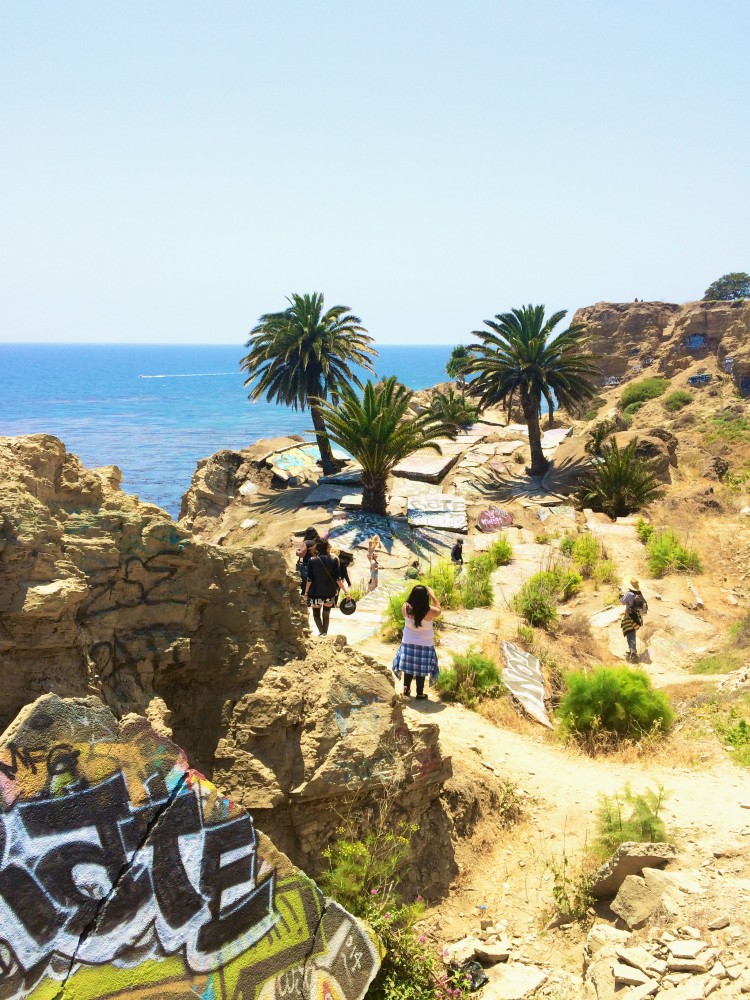 Sunken City is beautiful. If you can manage your way down to the shore, you will find a rocky and people-free beach with clear water, ocean creatures and bountiful sea glass (if you've spent time at LA beaches, you know this is rare to find).
The area is for hikers of all abilities, though there are some steep parts. I've read that a few people have died there, but they were most likely drunk or high and being a jack ass. The rocky paths down to the shore are a little more treacherous, and I DO NOT recommend trying to scale the cliffside and sneak under the other hole in the gate. I got stuck here because my loafers were sliding down the sandy paths and I thought there was a slight chance I could die. Geoff, who went to Sunken City with me the next day, had to hold on to the gate and lift me up. PSA: Don't go hiking in loafers.