My beloved grandmother passed away recently, and my mother and I have been going through old photos. We rediscovered photos my grandfather took while stationed in Africa during WWII. Here are some of my favorites.
*As far as I can tell, these were all taken by my grandfather. I've tried to verify the accuracy of the photos as best I can. These photos were snapped with my iPhone, hence the added fuzziness.
This is my grandfather Carl. He was an airplane mechanic in the Army Air Forces during the North African Campaign of WWII. During the war, he had a pet monkey named Jocko, he was stabbed and he contracted malaria. Those were the only things he shared with my mother. He died in 1974, before I was born.
This is him with one of his favorite planes, 1943. (Possibly a B-25?) *I* wonder why it was his favorite…?
Here he is in the beginning of the war with some of his Army mates.
Here's another. Grandpa is in the lower left corner. 1945.
Army mate working on an A-20. (I think it's an A-20.)
A puppy named Peanuts at camp in Africa. I love the shadow in the corner.

This is Grandpa's Army mate Weidzec. Grandpa updated the back of the photo when Weidzec was killed in action.
This is a cemetery in Fedala, Morocco, for American soldiers who fell during the invasion of Africa. Photo was taken a few months after Operation Torch (November 8th-16th, 1942).
This is a Nazi cemetery in Tunisia, 1943.
Here are downed Nazi planes in Tunisia, 1943.
Here are members of the Nazi's Afrika Korps, 1943.
Downed Royal Italian Army airplanes in Africa, 1943.
Spaniards cleaning machine guns in Africa, 1942 or 1943.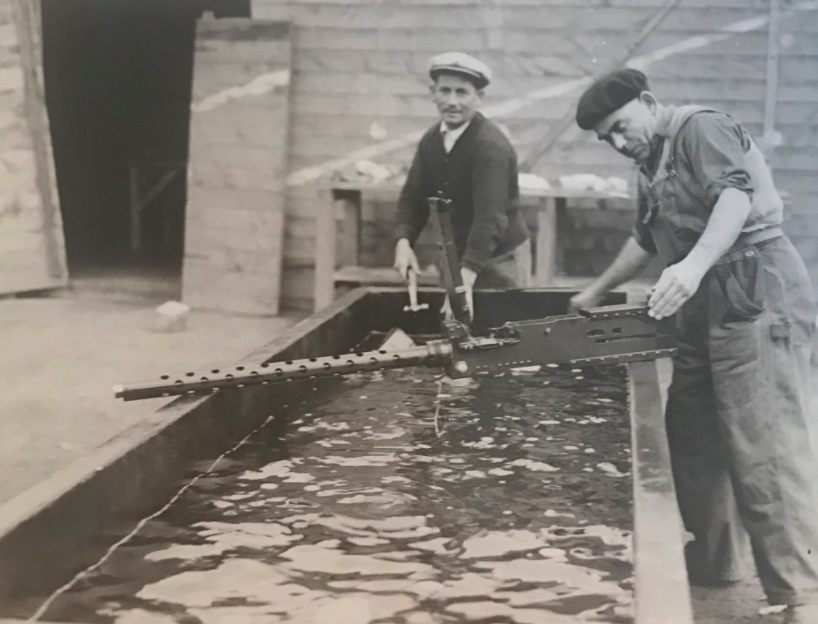 Women's Army Corp with the United States Army, 1943.
U.S. Navy airship, 1945.
British Hawker Hurricane that belly landed. Pilot survived.
Bombed out buildings in Tunisia, 1943.
Bombed out church in Tunisia, 1943.
Bullet-riddled church in Tunisia, 1943.
Snapshots of locals in Morocco and Tunisia.
This is a family in France that invited my grandfather to Easter dinner, 1945.
Children in Italy asking for gum and candy, 1945.
My grandfather, grandmother and mother ten years after the war.