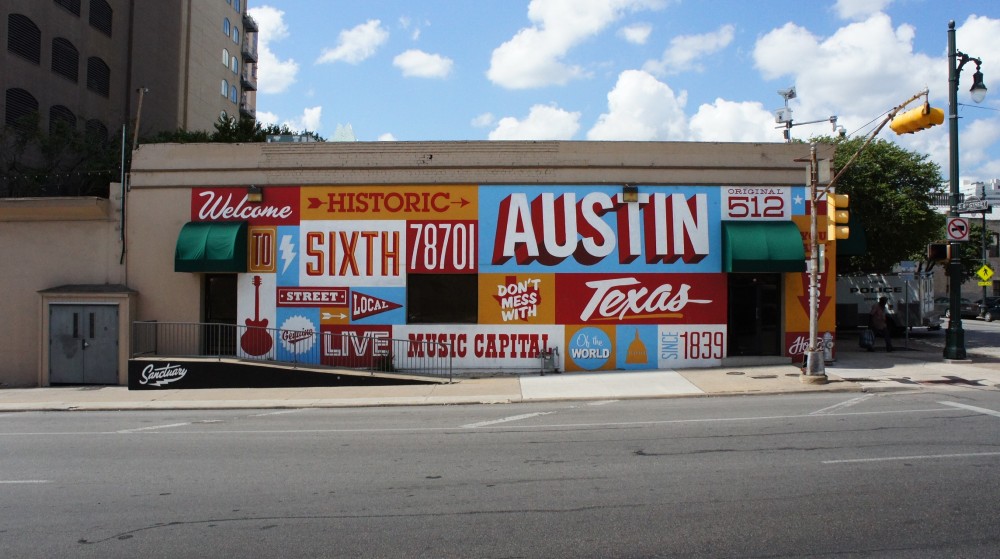 Last week you maybe saw the New York Times' 36 Hours in Austin, Texas.
And maybe you thought to yourself, "Eh. At least they pointed out Ramen Tatsu-Ya and Valentina's."
Or maybe you spat at the screen or crumpled up your newspaper and shouted into the air, "DAMN YOU, NEW YORK TIMES. DAMN YOU AND YOUR LIST."
We have to remind ourselves that these New York Times' 36 Hours In essays are written for visitors with disposable incomes, but it's still hard to see Rainey Street bars and over-crowded BBQ joints listed as must-see places in our city.
As a counterpoint to the New York Times article, I've written my own guide for people who A.) want to experience the "real" Austin and b.) who are broke as shit.
FRIDAY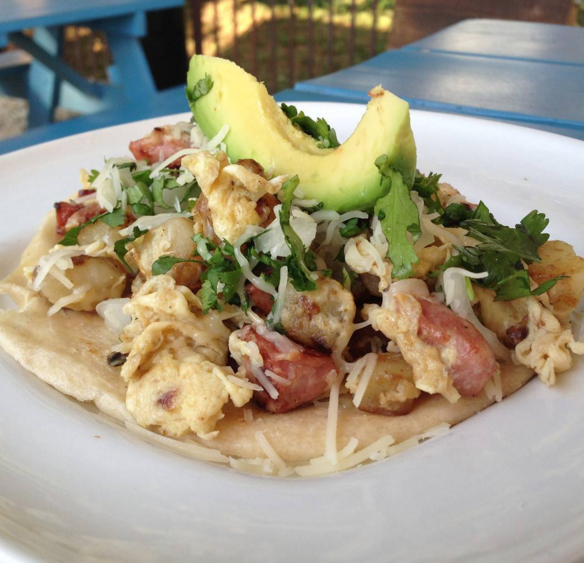 Photo from Veracruz All Natural 
1.) Straight to Veracruz All Natural, 2:30 p.m.
On your plane ride from New York City, the only thing you can think of are Austin's delicious tacos, and you've been texting taco emojis all day to your Austin friend, Lucy, who is picking you up at the airport. Lucy picks you up and says, "Shit. We gotta beeline it to Veracruz All Natural before they're done for the day." You arrive at Veracruz five minutes before it closes and you panic and order three migas tacos for yourself, but it's ok because you're hungry as shit. You eat all three tacos.
2.) Naptime, 3:15 p.m.
Flying is exhausting, and so is eating three migas tacos in five minutes. Lucy drives you to her studio apartment on Manor Road in East Austin and you instantly fall asleep on her couch, your bed for the next 35 hours, while she does contract graphic design work from her desk four feet from your head. When you wake up, you both decide it's time to eat again.
3.) Dinner at Mi Madre's or Hoover's, 5:30 p.m.
It's a beautiful eve in Austin, about 70 degrees, and you and Lucy are having a hard time picking between eating more tacos, this time at old-school spot, Mi Madre's, or the delicious home-cooking joint, Hoover's. They both have good happy hours, so it's a tough call. Lucy explains that Hoover's has delicious peach cobbler and margaritas made out of beets, so you both decide Hoover's it is. You get the Hoover's four-veggie plate- collard greens, rice and beans, creamed spinach and candied yams- and Lucy gets their smokey burger. While tipsy on beet margaritas, a thought flashes through your mind: Maybe I can quit my job and move to Austin.
4.) Cajun dancing at The White Horse, 7:00 p.m.
You and Lucy both feel like blimps, so Lucy suggests you dance lunch and dinner off at The White Horse. Luckily there are Cajun dance lessons at 7 p.m. Upon entering the White Horse, you decide it's the best dive bar in town because you see people of all ages dancing and having a great time. You dance with a 70-year-old man named Joe. Joe wears a turquoise bolo tie and has a full head of hair. You love Joe.
5.) Drinks at Whisler's, 9:30 p.m
From The White Horse you decide to walk over and grab a drink from Whisler's. You're having such a good time that you forget you're watching your modest budget and end up spending $54 on drinks. It's still cheaper than drinks in NYC, but you can't even afford to live in NYC anyways, and you never go out because you're so broke. "I must move to Austin then," you keep saying over and over as you stare wistfully into your whiskey sour. "I can finally be happy again."
SATURDAY
6.) Breakfast at Counter Cafe, 11:00 a.m
There was no possible way you and Lucy were going to wake up before 10 a.m., even though Lucy warned you the night before, "If we don't head to Counter Cafe early tomorrow, we'll have to wait in line for an hour." At that's what you're doing right now, waiting in line for an hour while the unrelenting sun reminds you that you have a margarita-and-whiskey-sour-fueled headache lounging between your eyes. Lucy promises you the wait is worth it though.  "BEST. BLUEBERRY. PANCAKES. EVER." And she's right; you've never tasted blueberry pancakes so fluffy, so dreamy.
7.) Walk on Town Lake, 2:00 p.m.
To walk off brunch, Lucy suggests you both walk the Town Lake Hike and Bike Trail in Downtown Austin. You say to Lucy, "Wait, isn't this called Lady Bird Lake?" and she says, "Yeah, but nobody calls it that," and then you ask, "Wait, is this even a lake? It looks like a river," and she says, "Yeah, tell me about it." As you walk on the trail, you see so many smiley, happy people. They say "hello" and "excuse me" and "nice sunglasses!" You start rethinking your entire life- your entire existence.
8.) Walk down on South Congress 
8.) Drinks and dinner at Easy Tiger, 6:00 p.m.
You and Lucy Google "hottest bars in Austin" and you decide to go to Midnight Cowboy, but SURPRISE!, you didn't make a reservation and you can't get in. So you head a few blocks down to beer garden and bakery Easy Tiger. It's packed as shit, but you're able to find a spot on the back patio. You and Lucy order a couple of stouts and two giganto pretzels with beer cheese. Two dudes with polo shirts and flip flops, in town for a convention, start hitting on you and Lucy. When one of the dudes, Chad, asks you what you do for a living, you lie and say, "I quit my job and travel the country volunteering for Bernie Sanders." Chad and his nameless buddy that you and Lucy will later call "Broseph" smile politely and excuse themselves from the table.
9.) Dancing at Barbarella, 10:00 p.m. 
You and Lucy have no idea where to go next and you're afraid if you head back to her place for a bit, you'll fall asleep. Lucy says, "Remember how much fun we used to have at Barbarella when you'd come down to visit?" and you think, "Shit. That was like six years ago; I'm old. " But you both head to Barbarella anyways and no one is there yet except for some dude in a leather duster and receding hairline. You overhear him tell the bartender that Robert Smith of The Cure has a restraining order out against him. And that's when you say to yourself, "That's it. I'm moving to Austin."
SUNDAY
10.) Lucy's couch, 11:00 a.m.
As you're lying on Lucy's couch, so many thoughts are running through your head, "Can I give up my life in NYC and make a living in Austin? Will I ever see Joe again? Did I gain five pounds this weekend? Do I still have time to get tacos before we head to the airport?" You don't have time to shower, pack and get tacos, but Lucy promises that there are some sweet local restaurants at the airport.
11.) Austin-Bergstrom Airport, 1:00 p.m.
As you wait at the airport, a Maudie's Tex-Mex taco in hand, you notice a local musician setting up to play an acoustic set and a single tear rolls down your face.