Recently I "met," in the wonderful way that the Internet allows us to virtually meet, some of the folks behind the San Francisco-based startup Yerdle. Yerdle is a free market-style app where users can easily upload photos of stuff they no longer want, "sell it" for Yerdle dollars, and then use those Yerdle dollars to purchase other items for sale. In other words, it's Craigslist without using real money (the only money spent by the buyer is a $4, $5 or $6 flat rate for shipping).
I got really excited when I learned about Yerdle. Not only is it a avenue for purging items you no longer need, it also makes you reimagine the concept of money. Yerdle empowers the community to establish their own economy, and it's already grown a large and fervent following.
It can be a little discouraging upon first thumbing through the goods people post, but don't let that fool you. Once you get the hang of the app, you'll discover some real gems. A handful of my favorite finds have been a 60s Playboy with Peter Sellers on the cover (that one sold fast), vintage Christmas ornaments, turquoise jewelry, vintage scarves, vintage purses and mason jars. I got this shirt…because why not.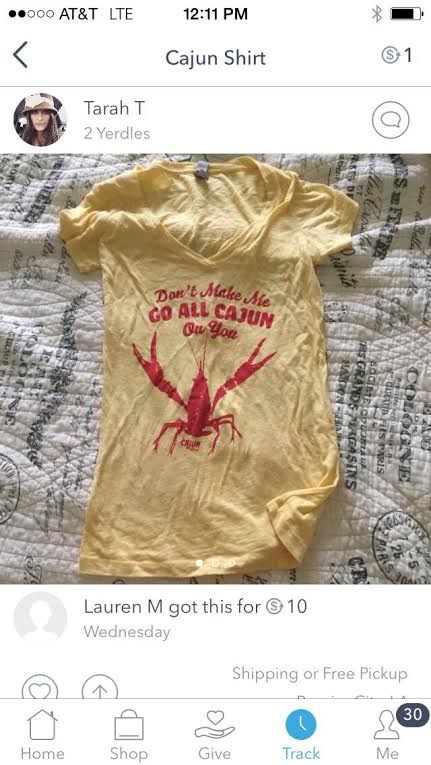 Tip: You can create wishlists based off key search words. My wishlist keywords include "vintage," "antique," "Southwestern," and "boots." Any time someone posts something with these keywords, you will be notified. 
One of Yerdle's biggest initiatives is to encourage the decluttering of our lives. Every day, Austinites throw away 3500 tons of trash. In the spirit of activists like Reverend Billy and the Church of Stop Shopping, Yerdle is launching a 30-day challenge asking folks to buy nothing new (except for food, gas, etc.) AND to unload their excess crap. I'm accepting this challenge, dammit. And it's not because Ashley Judd is doing it.
I'm a big fan of living a simpler life. I decluttered my life when I drove to Austin from LA- I took with me what I could fit into my car- and it's time to declutter my life again. I'm also a big fan of Mother Earth; we aren't sweet enough to her.
Will you join me in taking the challenge?
1.) Sign up for Yerdle through my URL, and you'll get an extra $10 added to your $25 for joining.
2.) Sign up to take the Unshopping Challenge.
3.) Enjoy a life of simplicity.