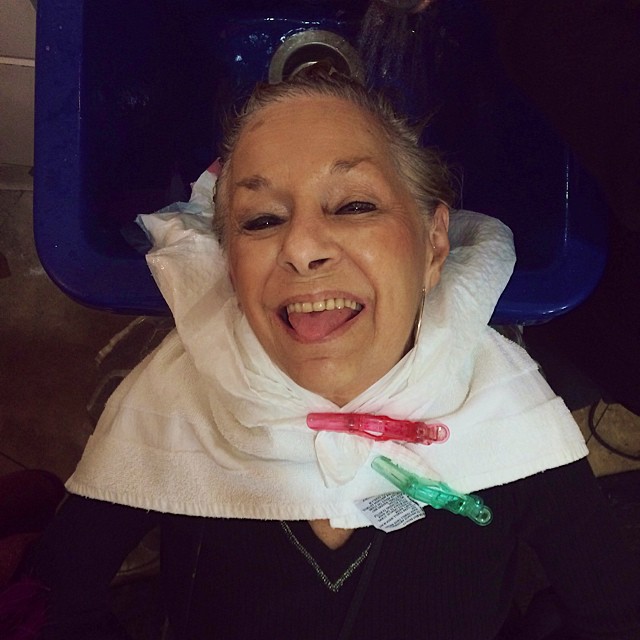 Grandma getting her hair did three days after her diagnosis
We heard those terrible, dreadful words- "you have cancer"- on Tuesday.
My grandmother, my stoic, indestructible grandmother, was diagnosed with lung cancer.
They found it by accident. She had fallen and wanted to see if she fractured her rib. A small shadow on her lung made itself known on an X-ray, and then a CAT scan. The doctor in the ER wasn't sure what the small shadow was, so he recommended that she see an oncologist.
An oncologist?!
Half of me thought it was impossible- ridiculous– that Grandma could have cancer. The other half knew for certain that she had cancer, but it was still small. She was asymptomatic, minus the general fatigue she felt as an 88-year-old woman with arthritis.
I arrived home for the holidays just in time for Grandma to see the oncologist, who ordered a biopsy. At the hospital, my grandma, mom and I made each other laugh. We were nervous, and the laughter felt good. Grandma was not supposed to talk for a few hours after the biopsy, but she broke that rule roughly thirty times. How could this mouthy woman be sick? Maybe we were experiencing denial of what could come, or maybe we were stronger than we knew.
We would not receive the results from the biopsy until the Tuesday after Christmas. I wondered if we would be able to enjoy the holidays having a dark cloud of anxiety and fear hanging over our heads. Somehow we did. In fact, it was one of the better family holidays. The pending news, with its capability of causing deep change within our family, made us communicate without frustration. Instead of the stress-filled nag that often hangs off of our words during the holidays, we were conscious to be patient with one another.
However, Tuesday was emotionally challenging. We stayed positive, but our hearts betrayed us. In fact, after Grandma received the news, they sent her to a cardiologist to monitor her spasmodic heart beat.
Leading up to Tuesday, I had been playing the scenario of hearing the words "you have cancer" in my head. Would we cry? Would someone pass out? Would the sound be vacuumed out of the room? Would the doctor act somber? Would we hate her?
I'll tell you what happened: she said it quickly without heightened emphasis. My grandma asked her to repeat herself. She said it again. Grandma looked down and said something like "oh really" or "oh well." I can't remember now. I remembered what she said on the day it happened because I had been watching my grandmother's face intently. I played her reaction over in my head throughout the day, and each time I did, it felt as those a shovel was digging at my heart and stomach. Watching someone you love receive these words is agonizing. I've since blocked the details from my memory.
My mom didn't cry. Her eyes became glossy and she let out one or two deep breaths. I was surprised; she is an emotional woman. She must have stayed strong for Grandma.
I cried intermittently, the sort of short bursts of face contortion. This is something Grandma pointed out to my cousin Sharon later on the phone. "I didn't even cry," she said with a sense of pride. "But Lauren did."
It wasn't all tears and deep sighs though. True to her nature, Grandma barked, "Hey! You guys are having a ball over there, but I'm the one who has cancer!" when the oncologist began conversing with Mom and I about how we felt.
Grandma still hasn't cried. The oncologist told her that she should. The oncologist, a fashionable, mature woman from Poland surmised Grandma the moment she met her. Our ancestry is Jewish, and my grandmother's parents emigrated from Poland and the Ukraine. "You're a strong woman," she said. "You care about your appearance. You are in control. You look at doctors and think they don't know what they're talking about." Grandma laughed. She knew the oncologist was right. When Grandma would protest that she's too old to be dealing with this, the doctor would tell her to shush it. "You're not ready to die. Get a job," she'd snap. In return, my grandmother would point to her face and say "You're wearing the wrong lipstick today!" Needless to say, we're really happy with her medical team and the care and speed they're putting towards my grandmother's recovery.
I should share that the oncologist said Grandma was very lucky that they caught the cancer when they did. She thinks it's highly unlikely that it's spread, but Grandma will have a PET scan on Monday to confirm this. This will be a very sobering day. Surgery and chemotherapy are both options; however, the surgeon will have to determine if Grandma is in good enough shape to handle the anesthesia (she is currently wearing a heart monitor, which she thinks looks unsightly). The oncologist told Grandma she will lose her hair. This is one of the few facts that Grandma has fixated on. As an 88-year-old, her cognitive and hearing skills are not top notch, so she has hyper-focused on certain aspects of her diagnosis.
I'm going to lose my hair.
I could die from this.
If she has thought or felt anything else, she has not shared it with us. The past few days since we received the news has been surprisingly happy. Grandma, Mom and I have spent a lot of time with one another, eating meals, going shopping, getting our hair done and laying on the couch together. Though none of us wanted to hear the news we heard on Tuesday, we've managed a pretty enjoyable holiday.
As I said, maybe I'm in denial, but I don't think this is what's taking my grandmother from me. Her medical team feels optimistic and so do we. Working for LIVESTRONG has also given me strength. As the Foundation's copywriter, I read, edit and write about this exact scenario, and now I'm experiencing it for the first time. No one is ever prepared for cancer, but my work has shown me that cancer is a very real and often a very beatable disease. I have met countless survivors- brave, strong individuals who have beaten cancer once, twice or three times. They give me hope. Also, several of my co-workers have already reached out to offer help, and we now have a LIVESTRONG Navigator to help us during this time. I've seen firsthand how LIVESTRONG Cancer Navigation Services have helped cancer survivors and their loved ones. I can't stress enough what an invaluable resource LIVESTRONG is.
At the Foundation, these words below are part of our manifesto. They mean even more to me now.
Knowledge is power.
Unity is strength.
Attitude is everything.
LIVESTRONG and Grandma's medical team have given us knowledge and our friends and family who have reached out to us have given us strength. We're still working on the attitude part. Obsessively worrying and finding the negative in everything runs in our family, but Grandma has already made a conscious effort to change that. When facing a cancer diagnosis, you have to look towards hope.
My small family- my grandmother, mother and I- have a fight ahead of us in 2015, but I know we're tough.