So, I didn't win the Snap Kitchen #21DaysforGood Challenge, but I did learn a lot over the past 21 days. Because of this challenge, I completed volunteer opportunities and physical challenges that I had been too lazy/fearful/forgetful to do. I'm becoming a regular volunteer at the Austin Resource Center for the Homeless, I'm attempting to walk to work at least one day a week and I'll being signing up for more aerial silk classes at Vamps Dance in the new year. I also learned that low dairy and low gluten makes my belly less poofy.
In the end, everyone won because Snap Kitchen donated $6,000 to charity!
One of the highlights of the challenge was doing an aerial silks class taught by Tolly (from Austin Eavesdropper). Kelly from SXSW was my partner in crime.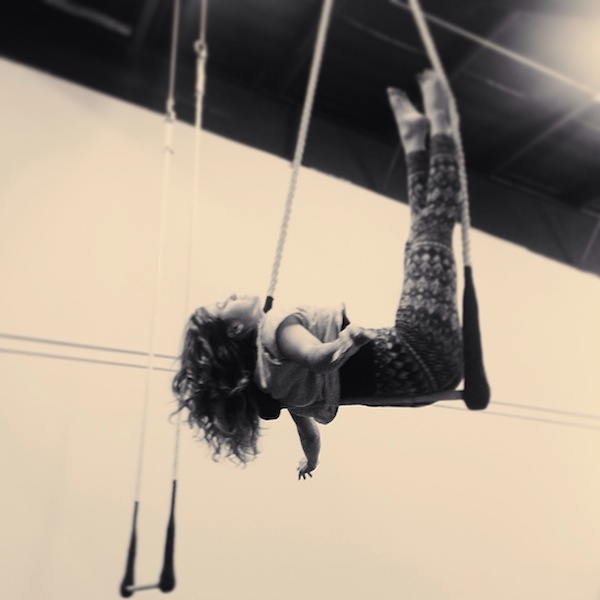 (Here is a picture of Tolly from her website, looking all gorgeous!)
Not only was this wildly fun, but it was also liberating! First, you use muscles you forgot you even had (my hands are so weak!!!). Second, it feels kind of sexy. And not necessarily in a "Mmmm I feel so sexy…LOOK AT ME!" kind of way, but more of a "Wow! I feel really comfortable in my body right now" kind of way. Balancing in the air on thick fabric allows your body to pose in ways that doesn't necessarily feel comfortable on the ground.
If you've had the pleasure of meeting or knowing Tolly, you know that she is a kind and gentle soul to be around. Her patience and encouragement made a somewhat challenging exercise extremely enjoyable. By the end, I felt a huge sense of pride in myself, which is something I haven't felt in a long time in relation to exercise.
I HIGHLY recommend taking a class at Vamps Dance. Kelly and I are planning on taking more aerial silk classes in the new year! Vamps Dance has two locations: 1601 E. 5th St and 2400 E. Cesar Chavez. This is a GREAT New Year's resolution.
Also, if you are a fan of aerial silks and Tolly, check out the crowdsourcing campaign for her aerial silks troupe, Rapt Aerial Dance. The groups says, "In founding Rapt, we wanted to create a successful business based on innovative aerial performance, an environment for artistic training, and collaboration with other artists. So we're fundraising to cover our start-up costs…"
So, please give them a boost and try a class soon!
(Me, Tolly and Kelly; pic from Kelly)