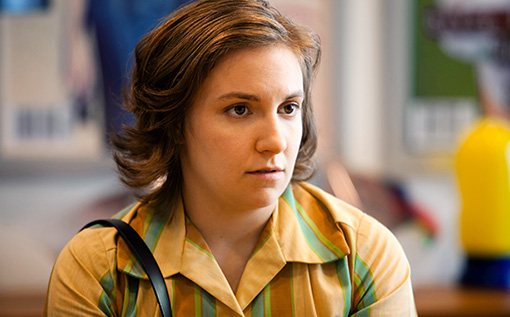 I used to dislike Lena Dunham simply for the fact that I was utterly and completely jealous of her.
She had everything I wanted: a respected film and television show loosely based off of her life, a book deal, cover stories in major newspapers and magazines, comparisons to Woody Allen, a friendship with Nora Ephron, alarming smarts, self-confidence and relatability. (I think I'll forgo the comparisons to Woody Allen now.)
I wanted to disapprove of her so badly, so I made myself. I became the person I despised: the woman who enjoys tearing down other women who are more successful than she.
Let me start by saying, I still think Tiny Furniture is a mediocre film, and I have only seen a few episodes of Dunham's hit show, Girls. I'm neither a big fan of nor a connoisseur of her career, but what has made me change my mind about her is who she is as a human and a woman. 
Unlike the majority of young actresses who have found success in their early years, Dunham takes nothing for granted. She is using her newfound spotlight to be advocate for the many social issues she is moved by. And though I disagree with her suggestion that being born from wealthy and connected New York-based artists didn't play at least a minor role in her career, I do think that she has used her perch of privilege for social good (read my previous rant about children of celebrities and their lack of creativity in career choices).
With the impending release of her first book Not That Kind of Girl, New York Times Magazine reports that in addition to partaking in a conventional book tour, Dunham will, with the help of her sister, Grace, offer workshops for young female writers. Representatives from Planned Parenthood also plan to be in attendance. Women's rights have been a major cause for the self-proclaimed feminist, in addition to her support of gay rights. Dunham famously stated that she wouldn't marry until gay marriage was legalized. Oh, and she is also "anti-pants."
When I researched Dunham for this post, I was not surprised to see mostly impassioned diatribes written about her both from publications and commenters (Gawker needs to take some happy pills). It reminded me of the same hate millenial Emily Gould recently faced. As a society, we cannot handle successful young women who benefit from taking a mirror to themselves and reflecting it back to the world. In Dunham's case, nobody wants to see a privileged white girl from New York City achieving fame. The cards were already in her favor, and her meteoric rise just didn't seem fair. How many young, talented people without money or connections will never have their work seen by a larger audience because of their unfortunate placement? And it also doesn't help that the media has put her on a pedestal, leading society to believe that she must be perfect. Dunham is indeed not perfect, and she most definitely doesn't paint herself as so (she is very open about her flaws, anxieties and quirks). She is not conventionally beautiful, she is not thin, she often wears ill-fitted clothing and no makeup. She is who she is, and she's become successful for that. We should be celebrating this rather than critiquing her for what she is not.
In an Indiewire article picking apart the aforementioned New York Times Magazine, a commenter suggests that Dunham will not be remembered in 50 or 100 years like Woody Allen. Two years ago, I would have agreed, but now I don't believe that to be true. Yes, she and her career are still young, but Dunham is smart, and unless she has an epic meltdown, I feel that her career and public persona will evolve in refreshing ways.
Though you may not seeing me running out to read or watch the next creative object that Dunham produces, and I won't go as far as to agree with publications that trumpet Dunham as the "voice of her generation," I do think Dunham is a voice offering smart opinions and articulate answers. And we need more people like her.