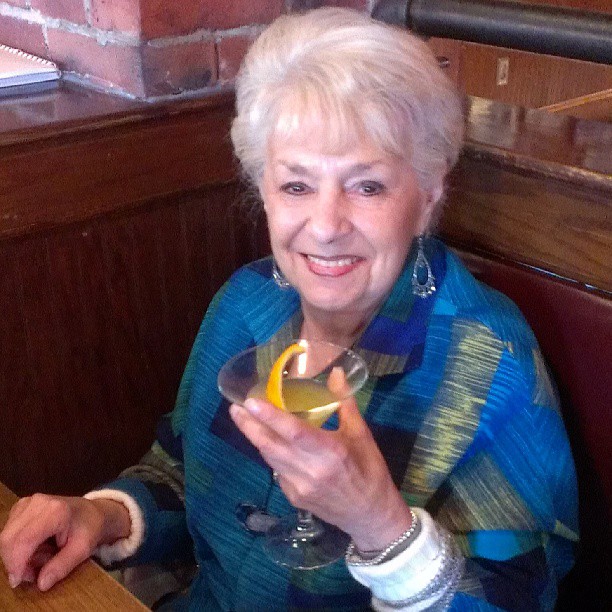 My grandmother drinking a margarita for the first time in her life
"This man started chatting me up in the parking lot," my grandmother called to tell me this past Saturday. "Man, did he like to talk a lot. He's 87 too."
 I wasn't sure where she was going with this.
"Anyway, he asked me out for dinner."
My grandmother and I talk several times a week. Over the past year, our conversations have taken a melancholic turn. Two years ago, her partner, Lionel, a tiny, spitfire of a Jew, just like my grandmother, was admitted to a home for people with Alzheimer's. Lionel was not my grandmother's greatest love- in truth, I'm not sure she's ever truly been in love- but he was a companion. She had grown dependent on his presence, and vice versa.
"I told him that I couldn't go, but he gave me his number."
"What?! Why did you say you couldn't go?!"
My grandmother has a tendency to miss out on the great joys in life. She was raised to be a martyr by martyr. In fact, when her second husband cheated on her, she asked for
nothing
in the divorce settlement.
"Because I don't know if I want to get involved with a man."
"Grandma! You're 87 years old! Do you think this guy is trying to bed you on the first date?!"
My grandmother is truly stunning. Even in her late 80s she stops people in their tracks. She has been married twice- once to my grandfather who she left due to lack of affection and once to the aforementioned man above, a former CIA agent named John who enjoyed extracurricular actives with women. She had grown to distrust men, similarly to my divorced mother, and similarly to me for the majority of my twenties.
I called my mother after my grandmother shared this news with me, and my mother explained to me that this talkative, short octogenarian named Harry who went to Cornell, used to own horses and still drives his car didn't want to ask Grandma for her number. He gave her his number and said, "You call me if you want to."
And so she did.
And she called me a few days later to give me the scoop.
"I talked to him on the phone this morning. He asked me out again. I told him that my friend is visiting and can't go out for two weeks."
"You better go out with him after Barbara leaves! You hear me?"
Barbara is my grandmother's best friend. Both my grandma and Barbara were career women- my grandmother owned a clothing business for 35 years, and Barbara was an executive for decades. Barbara is from Germany and doesn't believe the Holocaust happened the way it did; my grandmother was born from Jewish Ukrainians who fled to the States one hundred years ago.
"He told me that I'm beautiful. He doesn't know what he's talking about."
"Grandma, you are beautiful!"
"No I'm not! Beautiful is young. I am not young."
My grandmother has been going through a depression recently, though she will never admit that that is what she's going through. She despises the fact that she is old. We've had this conversation many times, and each time I try with all my might to change her point of view. But there is no changing Grandma's point of view. She's a stubborn broad. Stubborn to the point of madness.
For a time, I was concerned that the life was slowly draining from her. It absolutely pained me to see this vivacious woman with nothing to look forward to. Half of it was her fault; because she is stubborn, she's not always open-minded about new adventures. The other half is the fact that she is 87-years-old. "Most of my friends are dead!" she often reminds me.
Though Grandma has not officially accepted Harry's dinner invitation, he's stopped by the house several times. Each time he brings her flowers.
"My friend came over again," she told me yesterday.
"Harry?"
"No, it's Henry." (silence) "Wait, it's Harry!"
"Oh, really? That's wonderful!"
"He brought me flowers."
"That's so nice, Grandma."
"He wants me to go to Florida with him."
"Uh…wow…that's great too!"
"He said to me, 'I wish we met each other when we were younger.'"
Later, I spoke to my mother.
"I'm worried about how quickly this is moving," she said with a laugh.
"She certainly sounds happier."
"Did she tell you that he asked her what would happen if she got sick? Who would take care of her?"
"No."
"She said to him, 'Probably my daughter.' Then he said to her, "I'll take care of you if you get sick."
Grandma feels guilty about her new admirer. She feels guilty because of Lionel, and she feels guilty because she doesn't know any other way. I told her to stop overthinking things for just once in her life. I asked her to scrape away the stubborn tendencies and to be open-minded. I pleaded with her to just enjoy her life right now.