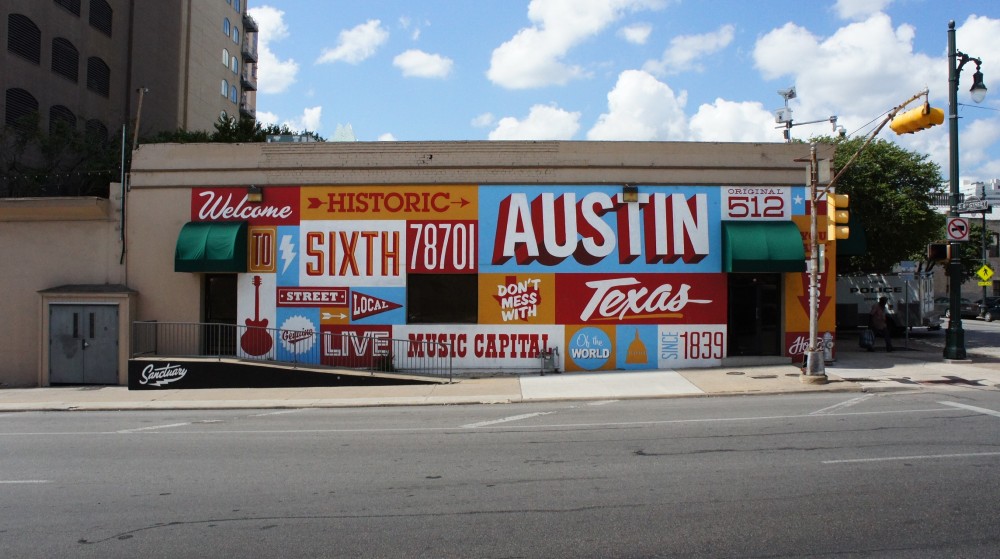 I stopped reading Vice last year after I spotted an article titled "The Woman Who Trains Dogs to Have Sex with Humans" on my Facebook feed, so I haven't actually read the infamous "Reasons Why Austin is the Worst Place Ever" article that wafted through the Internet last week.
I did, however, read many of the responses to the article and saw that people were quite upset by it. And understandably so. Even though I'm sure the article was pure clickbait, it's always difficult to hear someone trash your hometown or the town you choose to call home.
As much as I don't care for the city I grew up in (a small town in Central New York), it is my home and I get upset when anyone takes a giant, stinkin' crap on it (which happens often). It's where my family is from and where they chose to raise me.
No town is perfect, and Austin is certainly far from perfect.
I'm not blinded by the shining self-love that emits from this city, nor do I wear rose-colored glasses to shield it.
I'm not going to gush about how incredibly wonderful life in Austin is (though it kind of is). The reality is, Austin is changing. But the truth remains that Austin is still one of the most friendly, supportive and interesting cities in America.
Yes, it's expensive (according to the July 2014 issue of Austin Monthly, Austin beats Dallas, Houston and San Antonio for highest median household price).
Yes, traffic sucks (according to aforementioned Austin Monthly issue, Austin beats the other three major Texas cities for most hours commuters spend in their cars).
Yes, we have issues with our police department, drunk driving and pedestrian fatalities, and we have more condos than we know what to do with.
Yes, we have more film and music festivals every year than Courtney Love has mental breakdowns.
Austin is having growing pains so robust, it is challenging the love that many of us have for the city.
And even when there are the days that I feel that Austin is far too lost from its weird roots, all I have to do is remind myself of some of these simple facts:
1.) I've never lived in or visited a large city that has so many locally-owned businesses. The "keep it local" culture is big here and many independently-owned businesses have been Austin favorites for years. It is very easy for one to do the majority of their shopping at local businesses (Wheatsville! Book People! Waterloo Records! Breed's Hardware! P. Terry's! Thundercloud Subs!)
2.) Austin had a homeless man, the dearly departed Leslie, who ran for mayor- three times. Update: Leslie was not the only homeless person to run for mayor- so did Jennifer Gale.
3.) Complete strangers like to talk to you, and you find yourself wanting to talk to complete strangers. And not in a weird "leave me alone!" type way; more of a "wow…it's so nice to have a conversation with a complete stranger!" kind of way.
5.) Opportunities. If anyone tells you that there are no opportunities in Austin, they are full of longhorn shit. Or lazy. Probably lazy. The current unemployment rate is 3.5% (April 2014). We have one of the most diverse portfolios of companies based in Austin, from computer software to apps, health care to education. And if you're a creative person or entrepreneur, there are plenty of resources to get your work seen or funded.
6.) People kind of give a crap here. That's why there was so much backlash with that Vice article. Not only do they give a crap about what people say about their city, they like to volunteer, join causes and support one another. Volunteering is like a welcomed viral disease here.
7.) Innovation
. There are so many entrepreneurs and businesses doing impressive things. From
In.gredients
, 
the locally-sourced, environmentally-friendly grocery store, to Mikaila Ulmer, the 8-year-old founder of
BeeSweet Lemonade
. We have close to
2,000 startups in Austin
, and companies like
Capital Factory
that helps entrepreneurs find funding, resources and references for their ideas.
8.) The creative community. I'm partial to the creative people here because they have been incredibly supportive of my work through the years. If is become of them that this blog had more than just my mother reading it, and it is because of them that I have the confidence to keep trying. I've never encountered a community where people are so supportive of one another. You'd be hard-pressed to find back-stabbing or back-climbing here.
9.)
The music
. Even if you think the moniker "The Live Music Capital of World" is overrated, one can't deny that there is something for every music lover in Austin. The next hipster band at The Mohawk? An Austin original at The Continental? Jazz at The Elephant Room? Random oddball marching band walking down the street?  We've got in all, and there are way too many musicians and bands here that don't get the respect and recognition that they deserve (check out the afrobeat band
Hard Proof
).
10.) THE FOOD! DEAR GOD, THE FOOD! Even though I think we've gotten a little out of control with the whole "New American gastropub" thing, there is no shortage of delicious eateries in Austin. Our cuisine options are climbing the ranks of other major cities. The only downside: The Austin 15 (pounds).